The office space for the start-up video-gaming company Evil Genius Designs is about what you'd expect: small, but bright and airy.
It's outfitted with the sleek black IKEA furniture the staff took two days to assemble themselves when they moved in back in August, after starting the company in May. The cans of paint they used to paint the walls are still tucked under the stairs to the loft area.
A poster on the wall proclaims the company's signature product, "Get in Line." It's a system that allows people waiting in line at a concert, amusement park or conference to play "casual" videogames -- as more basic games like crowd trivia are known in the industry -- using their cell phones as the controller. The action takes place on a flat-screen console, where players also view ads worked into the game.
The office itself is whisper-quiet -- no shoot-'em-up explosions or fantasy quest music to be heard. Most of the nine employees are busy at their high-def computer screens, some collaborating in quiet conversations.
"Well, this is our place," says CEO and co-founder Tracy Brown. "What do you think?"
My first thought is: Well, if this is an example of Pittsburgh's Next Great Industry to replace steel-industry jobs -- 100,000 of them -- lost 25 years ago, we'll sure need a lot more like it.
The thing is, regional and national experts in the industry say Pittsburgh will get more -- lots more.
Evil Genius is typical of the rapidly evolving video-game industry springing up here: It's a direct spinoff from a concept first formed in the crucible that is Carnegie Mellon University's Entertainment Technology Center, which trains graduate students to work in the entertainment-technology industry. And Evil Genius is not trying to come up with the next Halo or Grand Theft Auto console game for Xbox or Wii -- though some other local companies have had hits just as lucrative in other venues.
"A lot of people who go to the ETC think they're entering the gaming industry and they're going to end up working at EA or Activision, but not everyone does," Brown says. "They forget: It's called the Entertainment Technology Center, not the Gaming Technology Center."
ETC's founders chose the broader title because "entertainment" better reflects the fact that game-design techniques are being applied to a wide array of uses. Computer gaming, it turns out, is far more expansive than many students expect when they enter the ETC program. "Games" hatched in ETC projects can, for example, help advertisers get their messages out, or educate teenagers on how to use money: Centscity.com is an online game designed by a fledgling Pittsburgh firm, Skill-Life, Inc., to do just that. Another application, designed by Etcetera Edutainment, teaches employees how to operate a forklift.
But there is traditional video-game development going on here as well. Schell Games, with more than 40 employees, and SilverTree Media, with 25 employees, both opened in 2004, and are now Pittsburgh's signature studios. That is largely thanks to Pixie Hollow, an online fairy world based on the Tinker Bell character from Peter Pan that the two studios developed together for Disney. Aimed primarily at pre-teen girls, the game allows players to create their own fairy avatar and play in a virtual world. And it has been a phenomenal success.
How phenomenal? In its first year online, more than 7.5 million fairy avatars were created on Pixie Hollow, which Disney credited with driving its worldwide revenue (from movies, toys and other merchandising) in the franchise from $1 billion, two years ago, to $2 billion this past year.
As recently as 2005, some Pittsburghers lamented that the ETC -- which opened in 1999 -- wasn't having much impact on the local economy. There were just three video-game companies up and running: Schell, SilverTree and eGenesis, a Cranberry-based company that produces an online role-playing game, A Tale in the Desert.
Back then, industry leaders said nearly all of the best students from ETC and the Art Institute of Pittsburgh (which has a game art and design program) who might work in the video-gaming industry were leaving town. Those students wanted to work at established companies, none of which seemed interested in opening a branch office here.
That was in part because while other states and Canada were offering tax breaks for video-game companies to open up, Pennsylvania seemed indifferent to the idea.
The state offers tax credits to make movies here, and the Pittsburgh Film Office has tried for half a decade now to expand that incentive to include gaming companies. But the state still does not offer any tax advantages to gaming companies.
At least one major player here, though, doesn't think we need to worry about The Big Company coming in and putting Pittsburgh on the video-game map.
"Pittsburgh is always better off when it goes it alone," says Jesse Schell, owner of Schell Games. Schell is given a good deal of the credit for the cooperative environment in town that has fostered the creation of the young industry. "Because of Pittsburgh's history of being dependent on these giants -- Carnegie, Frick, et cetera -- there tends to be this thought: 'Oh, where's the great millionaire who's going to save us?' I think a much better strategy is to plant these seeds of these small companies."
One reason planting seeds is important is because companies often pull up roots. Four years ago, one of the region's first video-game companies, Demiurge Studios, decided to move to Boston.
Demiurge was opened in 2002 by three CMU graduates, and has since grown into a successful mid-size studio, working on the Rock Band games, among others. But cofounder Albert Reed says that in 2002, "Our primary reason for leaving was there was no seasoned video-game talent in Pittsburgh and if the studio failed, people would have nowhere to go. Here in Boston, the industry has about 1,000 people. There are two dozen other companies you could go work for."
That conundrum -- companies not wanting to move or stay here because there aren't enough other companies around -- has hampered Pittsburgh's progress in game development. But many believe the problem has been alleviated by the success of pioneering companies like Schell Games and SilverTree.
"It's large enough now that, if you lose your job at Schell for some reason, you can go job-hunting at some other local company," says Drew Davidson, ETC's director.
Since 2005, six other video game-related companies, including Evil Genius, have opened here, each based on ideas that began when its founders were ETC students. In all, that's eight ETC-spinoffs opening locally since 2004 -- when Schell and SilverTree both opened. If you're keeping count, that's one or two new companies a year for the last five years.
Two of those spinoffs, Impact Games and Semiotic Technologies, closed in the last six months after clients and/or funding dried up.
"We were having trouble securing more funding. And the clients we worked with were beginning to tighten their purse strings in the recession," says Todd Waits, former CEO of Semiotic, which, like Etcetera Edutainment, was set up to develop interactive training and educational games. "The funding scene is tough and tricky, particularly when it comes to games."
But at both firms, several laid-off employees were absorbed by other companies in town. That probably wouldn't have happened even four years ago.
In 2005, there were only 20 locals working in the field. Today, the number has grown by more than 100 people, most located on the city's South Side. There are also two other non-ETC spinoff companies here -- eGenesis and Skill-Life. And the first branch office of a major gaming company, England-based Eutechnyx, is likely to open in Pittsburgh sometime in the next year. The company is known for its deft design of major racing games like Big Mutha Truckers, in which players race to deliver goods from city to city while driving 18-wheelers. It plans to design a new NASCAR racing game, among other titles.
Now, it's not as if it's the 1870s and Andrew Carnegie has just opened up his first steel mill along the Monongahela -- even though the local video-game industry is mostly clustered along the South Side. Silicon Valley is the long-established capital of the gaming industry, and will continue to be. But by most accounts, Pittsburgh stands to eventually be a major player in video games.
"There are four hotbeds of game development in the United States: San Francisco, Seattle, the Los Angeles-San Diego area and Austin," says Bob Bates, past chairman of the International Game Developers Association and a legendary video-game creator. "There are other places that are significant like Boston and Hunt Valley, Maryland, and Pittsburgh is at the beginning of that kind of activity.
"Usually there's some seed that gets planted that grows over time, and in Pittsburgh it's the ETC and Schell Games with SilverTree. Pittsburgh does not have a reputation as a hotbed of game development yet, but it's growing."
Why is it happening here?
Part of the reason, Davidson believes, is that the growth is beginning to feed on itself. The number of programmers, artists and producers working in the industry now in Pittsburgh has created a community of gamers here. The local chapter of the International Game Developers Association regularly gets 30 people out for its monthly "First Friday" social events. The events take place at bars on the South Side, where many of the employees live and work.
But the first, and simplest, explanation of the rise of Pittsburgh's video-game industry is that Pittsburgh has the ETC.
There are eight spinoff from ETC, and Seema Patel, CEO of Interbots, says they are so closely related that they should move in together.
For example, an Interbots founder splits her time between Interbots and Schell Games. Conversely, one of Interbots' programmers was temporarily hired away from Electric Owl Studios -- another ETC spinoff with whom Interbots shares office space -- to help with a project.
"We're all very nebulous with each other," Patel says.
The school's great skill is melding two very different groups of people who are each critical to game creation and development: free-spirited artists and geeky programmers.
The school does this so well -- and in just two years -- that graduation from the ETC virtually guarantees an interview at the big gaming companies, if not a job. Not surprisingly, the school has grown considerably, from a graduating class of eight in 2001, to the class of 75 slated to graduate in 2011. And it turns out that many, if not most, of the alumni would like to stay in Pittsburgh.
Todd Eckert, the North American director for Eutechnyx who has lived here for eight years, learned this firsthand.
A couple of years ago, when he was first exploring whether to locate the Eutechnyx office here, Eckert asked Don Marinelli, ETC's executive producer, "How many of your students would like to stay in Pittsburgh?"
Marinelli replied: "I don't know. Let's find out."
He then took Eckert on a walk through the building, asking every student they could find.
"All but two wanted to stay," says Eckert. The students liked the city for the same reasons he did.
"It's cheaper here, but it's still an interesting city. You have the ability to continue to charge your mind," says Eckert, who moved to Pittsburgh in part because his grandmother was a native. "We chose Pittsburgh in spite of the lack of incentives and because of the talent. We're here because this is where the best and brightest are."
The other major reason the industry is growing here is for the same reasons the steel industry landed here: cheaper skilled labor and affordable space.
Marinelli co-founded the ETC with the late, now-legendary CMU professor Randy Pausch. He looks the part of a prophet with his long grey hair and sculpted mustache and beard. When asked why Pittsburgh's gaming industry is positioned to grow, he gives a sermon-like explanation. The sermon rarely changes, and almost-verbatim transcriptions of it can be seen in other stories. But it goes something like this:
"When our students graduate from the ETC and move to the West Coast to make $75K working for one of the big game companies, they think they've arrived," says Marinelli. "But then they have to get three roommates to afford an apartment, and they have to have a bike to save on gas, and they're still eating ramen noodles," he says (in some retellings, he omits references to the noodles and the bike). "And after a year of this, if someone says, 'I'll give you $50K to move back to Pittsburgh,' they say: 'Punch the ticket!' They know they can have a life here."
Fred Gallart didn't even need to make that trip to a job on the West Coast to learn about Pittsburgh's economic advantages.
By the time he and three fellow ETC students graduated in 2007, they'd already developed a marketable project: custom-made kiosks that feature creative video games and activities for young kids to play while they wait to see a doctor at a hospital. For example, one game on the kiosk has players search an underwater scene until they find an obscured key, umbrella and ice-cream cone.
Gallart and his team created a company, Electric Owl Studios. They had their first sale to UPMC, and they got a $100,000 grant from Idea Foundry, a local business incubator.
When it came time to discuss where they were going to base the company, Gallart says, they all realized: "With the cost of being here, you can scrape by with a pretty meager paycheck."
It was tough going in the beginning; the company almost closed its doors in 2008. But, thanks to being able to stretch a buck in the 'Burgh -- they share office space in East Liberty with another ETC-spinoff, Interbots -- they lasted long enough to get a round of contracts for kiosks in other hospitals, which led to still other contracts. Soon they'll have 60 of the kiosks around the country in 35 different hospitals.
They're now working on some new projects while still selling the kiosks to more hospitals.
Gallart, who grew up in West Palm Beach, Fla., says: "It was a great decision to stay here. But I might have stayed here anyway. I fell in love with the city."
Shanna Tellerman understands that sentiment. Originally from Baltimore, she's the CEO of still another ETC-spinoff, Sim Ops Studio, and she wanted to stay in Pittsburgh, too.
But after having difficulty raising investments in Pittsburgh, she turned to some West Coast venture capitalists who asked her to move to San Francisco if they were going to invest, to better connect her company to the larger gaming community. They did, however, agree to keep the rest of the 20-person studio in Pittsburgh.
"It's so much more cost-effective to run a company anywhere than San Francisco," she says. For the same money, Sim Ops is "probably twice the size we would be out here, and that's what makes it possible to do what we're doing."
She co-founded the company with Schell in 2006 when she graduated from ETC, starting with Hazmat Hotzone, a 3-D emergency-response training game.
But the company took another, potentially dramatic direction when it realized that the idea behind creating a 3-D game could be applied even more broadly. They created the Wild Pockets platform to "simplify the delivery of 3-D content through the Web browser."
That might sound simple enough, but the upside is potentially enormous. They hope the platform makes it easier for people to create anything in 3-D -- games, ads or worlds.
It is games in particular they hope to attract to the site. They hope anyone and everyone -- from individuals to large corporations –-- would use the site's 3-D engine to create games for free, distribute the games and sell them -- all on Wild Pockets.
If the idea takes hold, Wild Pockets could become "the YouTube of gaming," says Mike Matesic, CEO of Idea Foundry, which is backing Sim Ops. "It's a gamble, but it's a big, big win if they win it."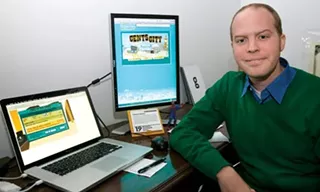 In the past, it's often been difficult to get local funders to make such gambles. Getting venture capitalists to buy into the gaming industry here has been difficult -- and the fact that Sim Ops moved two of its executives to San Francisco may be a cautionary tale.
"Historically speaking, most investors in Pittsburgh are into biotechnology and traditional technology. At this point, there's no venture capital for video gaming in Pittsburgh," said Eric Brown, CEO of Impact Games, in August, a month before he and his partners closed the company.
Impact Games wasn't able to secure enough investment to expand its critically acclaimed online game, Peacemaker, which challenged players to try to manage the Israeli-Palestinian conflict.
Marinelli has tired of the constant rejections ETC's spinoffs have gotten from local venture capitalists: "It's primarily because [venture capitalists] don't have the knowledge of this industry. We've got to get younger people running the money."
Terri Glueck, spokeswoman for Innovation Works, another Pittsburgh business incubator, says it shouldn't be a surprise that the video-game industry has had a tough time raising money here.
"It's kind of a clash of cultures," says Glueck. "Gamers are very free-thinking people. But the investment world is very down and dirty, very fact-based and conservative."
Seeing there was a gap between investors and the fast-emerging gaming start-ups coming out of the ETC, Innovation Works created the Alpha Lab last year. The lab provides start-up technology companies with $25,000 and a five-month-long crash course on the business side of being a start-up.
Alan Veeck, a principal at Meakem Becker Venture Capital in Sewickley and an adviser to the Alpha Lab, has heard pitches from some of the ETC-spinoffs. But he hasn't invested in any of them. That, he says, has to do with the companies, not the investors.
"ETC spits out people who, in my opinion, aren't ready to be entrepreneurs," he says. "I think you need that in-between incubation stage where they go to work for someone else first."
Such a mindset "will be the only thing limiting this growth," Marinelli counters. "I'd love to see more investment by Pittsburghers in these companies. I think a lot of Pittsburgh money is leaving town and could stay here with these companies."
Other companies have gotten by on business incubation money and "bootstrapping it" -- funding it themselves. But the four companies doing the best in Pittsburgh -- Schell Games, SilverTree Media, Sim Ops Studios and Etcetera Edutainment -- all are led, or co-led, by people who had extensive work experience before they started their companies.
Jessica Trybus, the founder of Etcetera Edutainment, worked in a variety of jobs, including some in Silicon Valley, and knows where Veeck is coming from.
Earlier this year when she was making a pitch to an investor about her company -- which develops video-game simulations for education or industrial training, like forklift operation -- she made it clear that her company uses new technology to do something old-line companies need to improve safety and save money.
"He told me, 'I get it. It's not sexy at all!' And he meant it as a compliment," she says.
The money Trybus raised from investors is allowing her company to move from its cramped Downtown office to a new, larger space in the Strip District, where she projects the company will grow from 16 employees now to about 100 by 2012.
It's not the kind of video-gaming she thought she'd be creating when she entered the ETC in 2002, but gaming nonetheless. It's "creating new worlds like we were taught," Trybus says.
In fact, such instructional games -- often referred to as "edutainment" -- may be Pittsburgh's video niche.
"We could become the edutainment center of the country, in part because [that niche] doesn't have the profit margins that gaming does," says Marinelli.
The foundation, says Trybus, has already been laid. "Think about what there was here four to five years ago," she says. "If someone then asked, 'Pittsburgh has a gaming industry?' Hah! But we had the ETC. And look at what we have now."