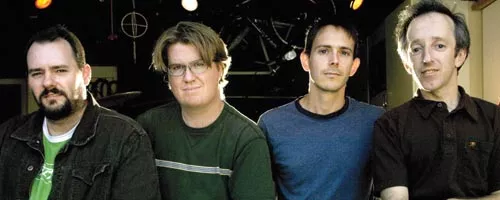 Toad the Wet Sprocket is now essentially a tribute band -- to its former self. The group hasn't released much since '97's Coil failed to go platinum, like Fear and Dulcinea before it. And, since topping the early '90s charts with singles like "All I Want" and "Walk on the Ocean," Toad has existed as little more than a vague memory you thought you made up -- like Orbitz soda, Leonardo DiCaprio's stint on Growing Pains, or Courtney Cox's appearance in the video for Toad's "Good Intentions."
Yet Toad the Wet Sprocket still makes a living playing music, and for that it is not only noteworthy, but fascinating as a business model. How does an act with no plans to create any new material -- and only a few years' worth of fame to spin on -- manage to avoid day jobs?
"If you play the game right and cut out unnecessary costs, you can do just fine," says bassist Dean Dinning, who also acts as manager for the label-less band.
Toad performs about 20 decent-sized shows a year for lingering die-hards and nostalgia nuts who don't feel like shelling out for Counting Crows. Also, the group sells rights to its songs whenever possible (Dawson's Creek years ago; Scrubs, Cold Case and even American Idol more recently).
Dinning says such practices leave the band's four members plenty of time to work on other, more fulfilling pursuits -- like scoring films and recording solo stuff. But who needs creative fulfillment when there's a living to be made, and college-radio youth to revive?
Toad the Wet Sprocket with Stephen Kellogg & The Sixers. 8 p.m., Sat., May 2. Carnegie Library Music Hall of Homestead, 510 E. 10th Ave., Munhall. $30. 412-368-5225 or www.librarymusichall.com