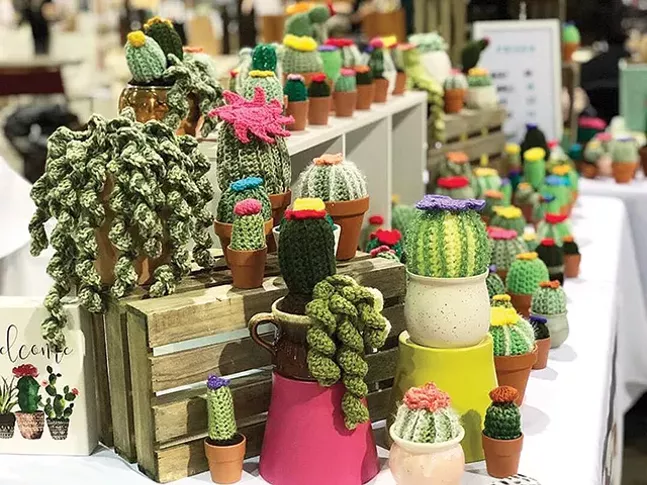 Handmade Arcade doesn't just reward folks looking for unique gifts, it benefits local artists. The region's largest independent craft fair returns to the David L. Lawrence Convention Center this weekend, giving local artisans the chance to sell their wares to one of the biggest crowds they'll see all year.
For the first time this year, artists will also have an extra night to sell. The event is opening a day early on Friday night for The Cutting Edge, a fundraiser aimed at keeping Saturday's event free to shoppers. For $30, you can shop from vendors before they open to the public and participate in hands-on activities, including block prints with East Liberty's DIY school WorkshopPGH. DJ Jeff Bower will provide music and there will be a cash bar.
Artists spend months preparing for this event, like Pittsburgh artist Annie Cole, owner of Plant Lady Wannabe, who will sell her crocheted cacti at the craft fair for the second year in a row.
Cole also sells her goods at local stores including love, Pittsburgh, Wild Card, Farm and Forest, and Songbird Artistry. But Handmade Arcade allows shoppers to meet the artists behind the products.
"I love the creativity of my fellow makers, and I love the desire to shop for handmade goods rather than from big box stores," Cole says. "The items that are being sold have meaning and care put into them and in that same way, I think the shoppers are shopping with more intention."
The event has become a local holiday tradition. This weekend marks its 14th anniversary and largest to date. Jennifer Baron, Handmade Arcade's director of marketing and outreach, told CP that vendors in 2017 saw a total of $400,000 sales in one day.
Carrie Robertson and John Elliff, owners of Pittsburgh's Hip Modern Soap Company, are returning to Handmade Arcade for the fourth year this weekend and attribute the success of the show to how well the event is curated.
"Handmade Arcade brings in massive crowds and it helps us gain customers that we would otherwise not reach," Robertson says. "They work hard to make it more than just a shopping experience."
Artists often use the opportunity to show off new works that haven't been sold in the past. Plant Lady Wannabe will bring a Christmas cactus, and Hip Modern Soap Company will debut its new handmade liquid soap.
Family-friendly events on Saturday include beat-making with Refresh Collective, a collaborative clay photo booth with Union Project, and holiday wrapping paper silkscreen printing with Artist Image Resource.
The Cutting Edge: A Fundraiser for Handmade Arcade
5:30-8:30 p.m. Fri., Dec. 7. $30. 18 and over. David L. Lawrence Convention Center, 1000 Fort Duquesne Blvd., Downtown.
Handmade Arcade
11 a.m.-7 p.m., Sat., Dec. 8. David L. Lawrence Convention Center. Free. handmadearcade.org