Pittsburgh Ballet Theatre opens its 2018-19 season with a triple-bill of masterworks from two titans of the dance world, George Balanchine and Jiří Kylián. The Mozart in Motion program with the PBT Orchestra — running October 26-28 at the Benedum Center — is particularly significant in that it will be the last for company star Julia Erickson.
Erickson, who has been enthralling area audiences and critics alike with her artistic and technical skills for the past 17 years, says it is time for her to see what else the world has to offer.
"I am at a juncture in my career where I feel I need to take a leap and see what else is out there," says Erickson. "I want more, even if it is not in dance."
A Seattle-native, Erickson trained at the Pacific Northwest Ballet School and then spent two years with Texas Ballet Theater before joining PBT in 2001. Her career at PBT has been chock-full of memorable roles and performances, including the deliciously wicked Queen of Hearts in Derek Deane's Alice in Wonderland, Odette/Odile in Swan Lake, Nikiya in La Bayadère, and in contemporary ballets such as William Forsythe's In the Middle, Somewhat Elevated and the one she will reprise with partner Cooper Verona in all three of PBT's Mozart in Motion performances, Kylián's 1991 piece Petite Mort
A French euphemism for orgasm, Petite Mort pits six couples and six fencing foils in a battle of the sexes. Set to two Mozart piano concertos, the 18-minute ballet for a dozen dancers dazzles with illusionary reveals, killer choreography, and its female dancer corps floating about the stage behind stiff-gowned dress forms.
Pittsburgh Ballet Theatre performs Mozart in Motion with the PBT Orchestra, 8 p.m., Fri., Oct. 26 and Sat., Oct. 27. 2 p.m., Sun., Oct. 28. Benedum Center, 237 Seventh St., Downtown. $28-117. 412-456-6666 or pbt.or

click to tweet
Also making use of those dress forms will be the second of Czech choreographer Kylián's ballets on the program, 1986's Sechs Tänze danced to Mozart's "Six German Dances" (KV 571). The 15-minute comedic ballet, with its eight dancers in chalk-white makeup and its men in powdered wigs, is an outlandish representation of the Rococo period of Mozart, ripe with slapstick humor.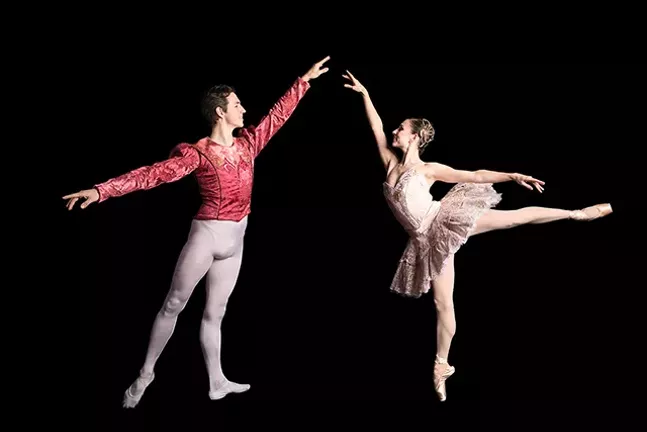 Erickson will also dance in the program's opener, Balanchine's 1956 piece "Divertimento No. 15" set to excerpts of Mozart's composition of the same name. One of Balanchine's best tutu and tiara ballets, the 33-minute work for 16 dancers is a tour de force in the Balanchine style.
While Erickson is retiring from PBT, she is not retiring from dancing. She has already begun testing the freelance market by guesting with Santa Monica-based Barak Ballet this summer and in September, with former PBT principal dancers Ying Li and Jiabin Pan's Suzhou Ballet Theatre in China.
"It is going to be super hard to leave PBT and I will miss being stuck in a room with my favorite people for eight hours a day," joked Ericson. "My relationships with them go beyond friendship, but I feel good about my decision and am seeing the vastness of possibility that lies before me."