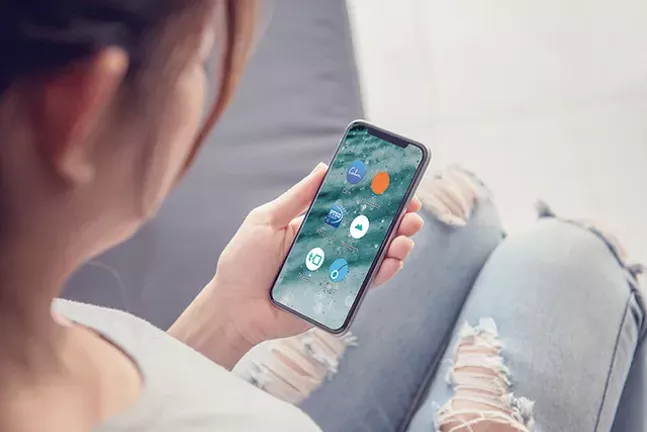 To some degree, the culture has become much more open about mental health. Celebrities like Kristen Bell and Dwayne "The Rock" Johnson have promoted the conversation by detailing their own struggles with depression, anxiety, and other issues. The nationwide Healthy Minds Study, a recently released, 10-year-long survey of more than 150,000 college students from 196 campuses, found that while incidents of mental health diagnoses, treatment, and suicidal thoughts had increased among young people, rates of mental health stigma had decreased.
But even as evidence suggests that people have become more comfortable with talking about mental health, there are few treatment options for those with limited means or who lack insurance. Not everyone can afford to take a "mental health" day off from work or pay for weekly therapy appointments. With that in mind, Pittsburgh City Paper compiled low-cost ways to help get you through your darkest days.
Yes, There's An App For That

Wellness apps have grown in popularity among users with too little time or money for a couch session. Talkspace matches users with over 2,000 licensed, experienced, heavily vetted therapists who are accessible via unlimited text, audio, or video messages, or in person. Plans cost $45-79, making it far cheaper than the average therapist visit.
If Talkspace seems too expensive or intense, apps like Calm, Headspace, Moodpath, Optimism, and others offer helpful stress management tips and mood trackers and are all free to download. There's even PTSD Coach, a free app developed by the U.S. Department of Veterans Affairs for service members and anyone else dealing with the effects of trauma.
However, Dr. John Torous, chair of the American Psychiatric Association (APA) Smartphone App Evaluation Work Group, cautions against depending on apps for treatment.
"As we demand higher quality evidence that these apps actually work, we are finding that the early exciting results are not holding and a more complex picture is emerging," says Torous. "There is perhaps a hope that apps will be a quick fix for mental health, but it is increasingly clear that they can be useful tools to augment or extend care, but likely not panaceas as often marketed."
As a result, Tourous helped create the APA App Evaluation Model, a way for medical providers and users to make informed decisions about therapy apps. "Just like there is no one medication or therapy I would recommend to every patient, there is no one app," says Torous.
Sleep Aids

Mental health can both contribute to and be exacerbated by lack of sleep, which is why it's helpful to find ways to better drift into dreamland. While they may seem strange, one method that has grown in popularity is weighted blankets, which are filled with pellets, balls, or chains to add heft. One 2015 study in the Journal of Sleep Medicine and Disorders found that four out of five participants, all of whom had insomnia, preferred weighted blankets and slept better with them compared to traditional bedding. Other studies have shown that children and adults with attention-deficit/hyperactivity disorder (ADHD) and autism spectrum disorder benefit from weighted blankets, as the item provides a comforting, cocoon-like feeling.
In terms of cost, one online search found blankets ranging from $40 to upwards of $400. Experts recommend buying a blanket that weighs between 7 and 12 percent of your body weight.
While weighted blankets cover the tactile element of sleep, there are visual, olfactory, and auditory resources to self-soothe. Sprays, lotions, and essential oil diffusers, as well as unorthodox methods like microwaveable neck pillows, relieve stress with a shot of aromatherapy. White noise machines provide ambient sound to calm anxious thoughts. You can also outfit your bedside lamps with blue-light-free bulbs. Researchers at Harvard Medical School theorize that blue light, a type of light emitted by certain lighting and electronics, represses the secretion of melatonin, a hormone essential for healthy sleep.
Find Your Zen

Yoga stands out for its triple threat of fitness, breathing, and meditation techniques, which have become a popular way to relieve stress and anxiety. While yoga studios can charge a bundle, there are plenty of Pittsburgh venues, community centers, and other spaces that charge nominal fees. Totally Yoga in the North Hills and Salt Power Yoga in Sewickley offer classes for as low as $5; Bloomfield Yoga on Liberty Avenue has weekly pay-what-you-can classes; and Belvederes Ultra-Dive in Lawrenceville hosts weekly sessions of Silent Sukhasana, a silent disco-style yoga for pay-what-you-can or a $10 suggested donation.
If yoga has little appeal, or if you have limited mobility, the Union Project in East Liberty has a regular schedule of classes for one-on-one fitness and Taoist tai chi (as well as yoga) for little to no cost.
When It All Becomes Too Much

Sometimes all the wellness apps, weighted blankets, and yoga classes in the world aren't enough. In that case, resources like the UPMC Western Psychiatric Hospital Crisis Services number 1-888-7-YOU-CAN (1-888-796-8226) will put you in touch with trained mental health crisis counselors. There's also the free, confidential, 24/7 National Suicide Prevention Lifeline (1-800-273-8255), a national network of over 150 local crisis centers that combines custom local care and resources with national standards and best practices.