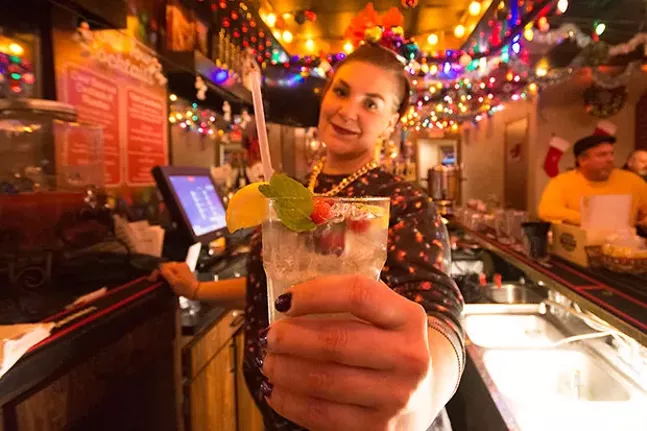 Happy holidays, Downtowners!
The Harris Grill, on Fourth Avenue Downtown, is putting some extra sparkle in Sparkle Season with its holiday pop-up bar, Tinseltown. After taking over the former Tavern 245 space in June, and opening the second and third floors, the owners weren't sure what to do with the small first-floor space.
That is, until the weather started cooling off. "The timing just seemed right. When we started to not have as much patio weather, we thought it would be great if we kicked off on Light Up Night," with a holiday-themed spot, says general manager Amy Kluczkowski. "This seemed like a fun, perfect way to show everyone the space for the first time."
The bar is cheerfully cozy and decorated for the season with plenty of red and green. When City Paper visited last week, the bartender was sporting a so-ugly-it's-cute Christmas sweater, and patrons filled the bar seats. Booths line one wall, and there are a few high-top tables, but much of the space is standing-only.
On offer is a selection of both hot and chilled cocktails, plus an early-in-the-season cure for your eggnog craving. All of the cocktails are crafted by Harris Grill bartenders, and Tinseltown partnered with Diageo, a producer and distributor of multi-national brands like Smirnoff, Guinness, Tanqueray and others. Kluczkowski says that the menu isn't static and will rotate new drinks on and off while keeping a few beloved classics.
If you're driving or prefer to do your holiday shopping sober, nonalcoholic versions of hot cocoa and cider are available. (This is also a great option for kids heading to the nearby ice skating rink.) And grab a bite to eat from Harris' menu, the entirety of which is available at Tinseltown.
Throughout the season, there will be Secret Santa guest bartenders from other Harris locations and bars across the city, as well as movie nights featuring holiday classics and cartoons for the kids. Tinseltown is open 4-11 p.m. every night through New Year's Eve.
245 Fourth Ave., Downtown. 412-288-5273