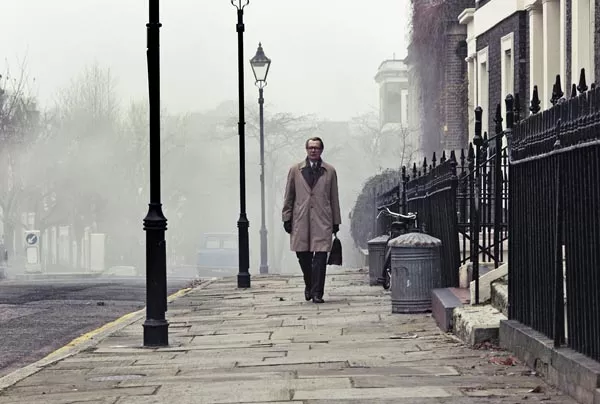 How do you make a good movie out of a something that doesn't matter anymore? We won the Cold War long ago — I'll leave it to you to decide what we won — and for the most part, the only casualties were a handful of spies (not including what else we could have done with all the money we spent fighting it). So John le Carré's famous 1974 novel, Tinker Tailor Soldier Spy, seems more like an artifact now than a drama with something at stake.  
And that's how you do it. "There's as little worth on your side as there is on mine," George Smiley (Gary Oldman), a British intelligence officer, tells a Russian counterpart. This grim observation elegantly crystallizes the cold heart of Tinker Tailor (and spying).
The story is simple: There may be a Russian double agent in the highest ranks of the highest level of British intelligence, so the agency brings Smiley out of retirement to find out whether it's true. It's probably one of four people — played by Colin Firth, Ciarán Hinds, Toby Jones and David Dencik — or it could be no one at all.
And so we have a retired spy spying on spies to find a spy. Smiley's detective work is meticulous, but Tinker Tailor is much more rewarding than a thriller. It's a thrilling character study, and in the hands of director Tomas Alfredson, it's absorbing precision filmmaking: A waiter in a Budapest restaurant sweats, and you know he's a nervous assassin; a fly buzzes about a moving car, and the characters' eyes follow it.
"The war was a good time," one intelligence officer (a woman no less) laments, "a real war. Englishmen could be proud then." And when, as two lovers go off for a tryst, she tells Smiley, "I don't know about you, but I feel seriously under-fucked," she's also talking about the enervating war they're now fighting.
Oldman made his film debut as Sid Vicious, and his scenes in Tinker Tailor with Tom Hardy, the new young wild boy of British cinema, are especially captivating. He beautifully channels Alec Guinness, who played Smiley in 1979, adopting the elder's cadence to portray a taciturn, jaded, self-assured spy. The actors seem to have rehearsed this like theater, then notched it down just a bit for the cinema, creating a film that's sure to please Anglophiles, literati and conspiracy theorists, although perhaps not the stray remaining Cold Warrior.
Tinker Tailor Soldier Spy
Directed by Tomas Alfredson
Starring Gary Oldman, John Hurt, Tom Hardy, Colin Firth, Toby Jones
Starts Fri., Jan. 6