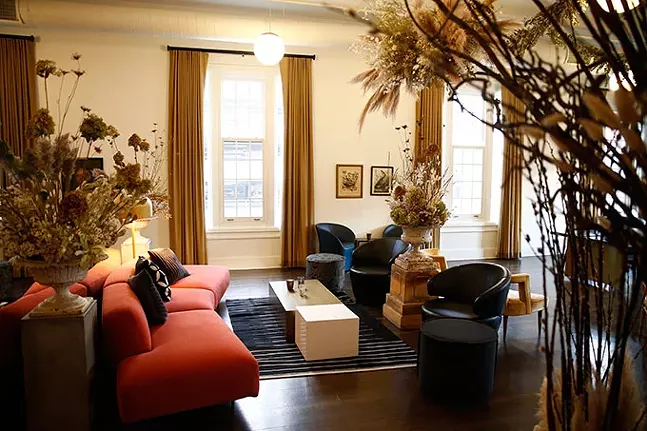 The newest seasonal pop-up in Downtown Pittsburgh is not what it sounds like: tina's (holiday) gives Pittsburghers what owner Sarah Shaffer calls a "new sense of holiday magic." It's a respite from holiday fanfare, not another celebration of it.
Shaffer, in partnership with skilled florist and event designer Tommy Conroy of 4121 Main, has created an escape from holiday chaos. Unlike the other seasonal pop-ups, which boast head-to-toe decoration and far too many animatronic Santas, tina's (holiday) is strikingly calm: Conroy and Shaffer have transformed the members-only social club into a sophisticated, "dreamlike" space.
The entire experience is leisurely. At entry, a staff member leads you to the second floor, where frosted winter florals and grasses bloom over a dimly lit lounge. Candles throw an elegant glow over lush couches that turn corners into cozy, intimate hideaways. Accordion doors block one-person phone rooms, a peak into the space's past life as the Americus Republican Club of Pittsburgh.
As part of Shaffer's effort to design a "genuine hospitality-driven experience," there's no bar line at tina's (holiday). Anywhere you sit, a server will find you.
Cocktails mimic the handcrafted excellence guests expect from Tina's, the year-round location in Bloomfield, featuring classic drinks divided into four categories: stirred, punch, spritz, and after dinner. Natural wines, Belgian beers, and champagne make up the remainder of the list. Shaffer hints that the menu will be a preview of a new concept coming to the former Elbow Room in Shadyside.
The pop-up is open from now until Dec. 29. But if you're in need of a little holiday kitsch, don't worry: There's no shortage of holiday pop-up bars in Pittsburgh this season.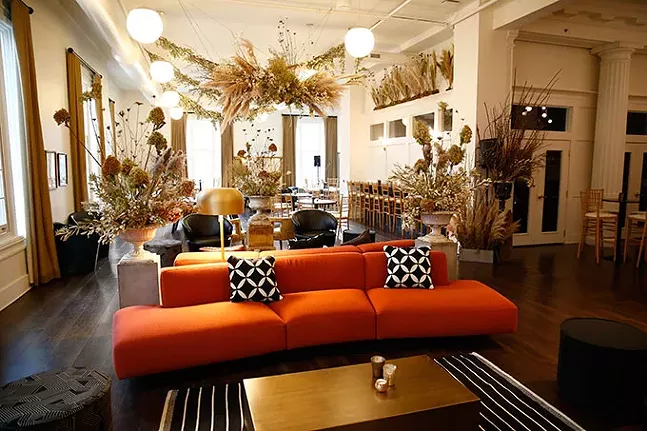 Chrismukkah Galley

Federal and Smallman Galley are coming together to create Chrismukkah Galley, a Christmas and Hanukkah pop-up in Bakery Square. Two bartenders from the Galley Group have transformed the space into the home of the Gingermans, a gingerbread family who celebrates both holidays. A quarter of proceeds will benefit the Tree of Life synagogue, and another 25% will be donated to the East Liberty Presbyterian Church.

Miracle

Miracle has not one, but two locations this year. Get your fix of excessive holiday cheer — there's not an un-Christmas'd spot in the bar —Downtown (705 Liberty Ave.) or in the South Side (2204 E. Carson St.).
Jingle Bar

The Downtown bar (268 Forbes Ave.) has officially made it full circle; after running through seven concepts, Pop-up Pgh is back to its first form: Jingle Bar. Watch out for the abominable snowman!