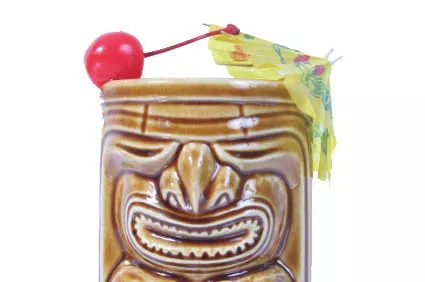 For most people, the words "151 Rum" bring one name to mind: Bacardi. But true tiki-cocktail connoisseurs associate the high-proof moniker with a less familiar brand: Lemon Hart's 151 Demerara Rum.
Named for early-19th-century British rum merchant Lehmynn Hart -- and made from a blend of high-proof Demerara rums aged in Guyana and colored with caramel -- Lemon Hart 151 was de rigueur for the original tiki drinks of the 1930s.
That's why the tiki world panicked when spirits behemoth Pernod Ricard discontinued the brand a few years back. But last week, Lemon Hart 151 Demerara Rum re-appeared in select states, thanks to new Canadian owner Mosaiq and rum expert Ed Hamilton, whose Caribbean Spirits company is the sole U.S. importer.
Pennsylvania will carry the "magic ingredient" soon, says blogger Nathan Lutchansky, who follows PLCB inventory. Though it likely won't appear on shelves for a little while, consumers will be able to special-order a single bottle for $29.99 "any day now," Lutchansky says. (Follow developments at plcbusersgroup.org.)
"There is no substitute," Hamilton says: The layers of flavor -- which include "burnt caramel," "ripe banana" and "baked apples" -- give Lemon Hart more character than other 151-proof rums.
Craig Mrusek, a local cocktail blogger known as Dr. Bamboo, agrees.
"I'd liken it to grilling with gas versus charcoal," Mrusek says. "Lemon Hart is 'smoky'… and it stands out in tiki drinks."
If you get your hands on a bottle, Mrusek recommends the 1950 version of a "Zombie": 1 oz. fresh lime juice; 1 oz. fresh lemon juice; 1 oz. unsweetened pineapple juice; 1 oz. passion fruit syrup; 1 oz. light Puerto Rican rum; 1 oz. Lemon Hart 151-proof Demerera rum; 1 tsp. Demerara sugar syrup; 1 dash Angostura bitters.
Not feeling that ambitious? Try a "Boomstick" shooter, which Mrusek says was designed to showcase Lemon Hart 151's flavors: 1/2 oz. Lemon Hart; 1/4 oz. fresh lime juice; 1/4 oz. vanilla syrup; strain into chilled shot glass and garnish with cinnamon.