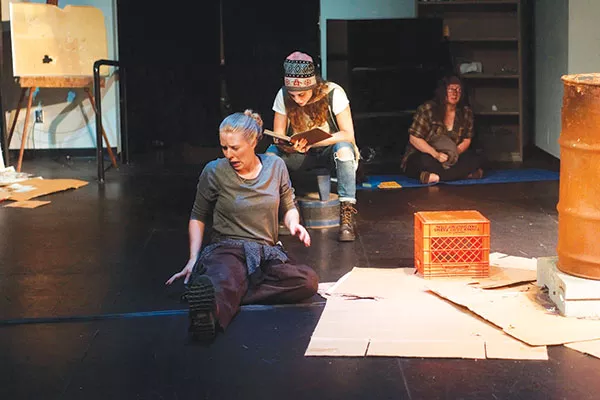 There's nothing like a 15th-century morality play to shake off the doldrums of summer. It definitely helps that the anonymously written Everyman is in the public domain, meaning not only that the rights are free, but that the Throughline Theatre Co. can be as free as it wants in its new interpretation.
Co-directors Abigail Lis-Perlis and Joseph Ryan Yow have taken the allegorical text into an even more allegorical piece of theater. The conceit is that the apocalypse has happened, or might still be going on, and nine women in what remains of a library have been surviving, or at least staying warm, by burning books. Heavy symbolism, right? But after staving off death for however long, the nameless ladies prepare for their demise reading the old tome.
The production is more layered than a Dobosh torte, if you can imagine one with mystery ingredients. There's no explanation of the doom raining down via Lis-Perlis' evocative sound design: It could be military action, the earth falling apart in volcanoes and earthquakes, or all the seals of the Book of Revelation fulfilling biblical prophecy. But it doesn't matter.
It's also beside the point that the characters have no names and, really, so little personality remaining from their shared hardships. We get only glimpses of individuality as the women multi-cast themselves as the title character and his various life companions. At first, they seem playful, and the stilted verse somewhat comic. Everyman's masochistic version of Christianity is as off-putting as it is scary.
There's a lot of leeway for actors portraying amateurs acting. Most arresting are Asia Bey and Samantha Westervelt as youngsters teetering between terror and acquiescence. Amy Portenlanger processes her character's pain for Everyman's pivotal companion, Good Deeds, and Hannah Brizzi provokes a few laughs channeling Kardashiana as Goods and Riches. Lauren Connolly provides music and songs for her companions.
Quite a medieval hit under its title Middle English title (The Somonyng of Everyman), this stunningly ambitious take on Everyman is thick but short.