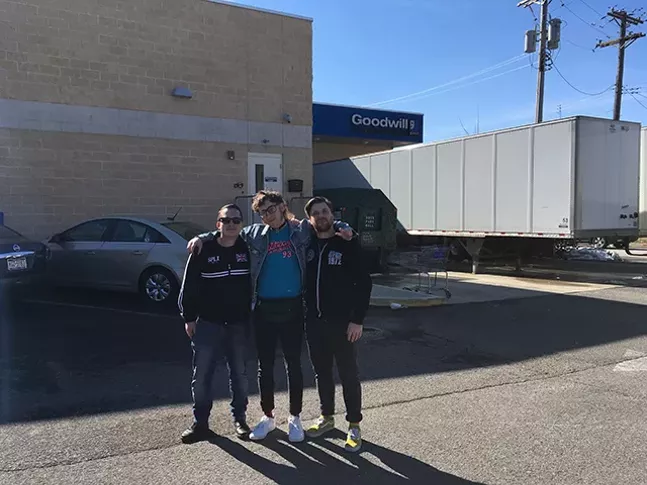 It's an unseasonably warm, sunny February day outside the Goodwill Outlet Center in Heidelberg, Pa. That might explain the fairly large crowd on a weekday afternoon, with a few dozen people lined up along rows of large, blue bins, all digging through haphazardly piled clothing, housewares, and toys.
Among them are Thrifty Podcast host Toddy Tondera – easily spotted with his signature haircut and conspicuous outfit of a bright blue novelty t-shirt, large-framed glasses, and black choker - and his co-hosts, Josh Larkin and Ryan Thompson. The three have been coming to this particular outlet for the past two years in search of cool finds and collectibles to discuss on their show, a mix of casual, comedic banter and item appraisals.
"When you go to a Goodwill outlet, there are all types of different stereotypes," says Tondera. There are the hardcore thrifters like him who come multiple times a week to find items to sell. There are the more causal shoppers. And then there are the unsavory types, such as the "shoe guys" who elbow their way into bins to grab as many shoes as they possibly can.
If it wasn't already apparent, this isn't boutique thrifting, where a shop will sell curated items at steep prices. It's not even like a regular Goodwill, where clothes are at least separated and hung on racks. Here shoes are found without their mates, discarded action figures are tangled in old Halloween wigs, and bags are full of chipped glassware. And that's after all the loose cords, hangers, and other useless debris are pushed out of the way.
But sometimes all that digging produces a true gem. On this particular trip, Tondera finds an old sports jacket emblazoned with the name of his hometown, McKeesport.
Even when a day's haul doesn't result in a "heater" – a term used to describe a rare Holy Grail item – at least everything is sold by the pound.
Each Thrifty member has their preferred items: Tondera gravitates to wrestling, sports, and film memorabilia, VHS tapes, and video games.
"Oh god, we had so many Xbox 360s," says Thompson, as they relay how, before the rules changed, everything with a cord cost $1 (the cost is now $1.49 a pound with a $4.99 max). Currently, Tondera has a closet filled with video game consoles.
While Larkin and Thompson have previous thrifting experience, Tondera introduced them to a whole new scene when they started the podcast, and not just in terms of atmosphere.
"Toddy and I, we were just sitting at work one day … and he said, 'hey, I'm thinking about doing this podcast, do you want to come on it?' And I was like, 'what the f*ck is a podcast?'" says Larkin.
Tondera had hosted another show, but Thrifty offered a chance for him to hang out with Larkin, who he met while they were working at a now defunct art school. It also gave Tondera, who came out as queer within the last two years, an unexpected support system.
"I got more comfortable with myself," says Tondera, adding that he was initially hesitant to come out to Larkin. "I needed validation because I never had it. I never had friends who did this. I never had friends who were like, 'this is awesome.'"
To date, they've released around 60 to 70 episodes (they don't number them, so it's hard to keep track). The show also survived a dark period last summer when Tondera lost his job and the hard drive with all of his podcast files fried. To help bounce back, last August they hosted THRIFTYthon, a fundraiser at the Mr. Roboto Project that included a thrift-themed music set by Thompson.
After they got back up and running, they worked to improve the production and even added a new segment, Vintage vs. Modern, where they compare an old item's eBay selling price to that of a comparable new item. They also started selling items from their thrift hauls on their Instagram page.
But even as the podcast continues to grow, Larkin believes the mission stays the same.
"It's just sentimental trash that friends hang out and talk about," says Larkin. "We try to welcome everybody in."