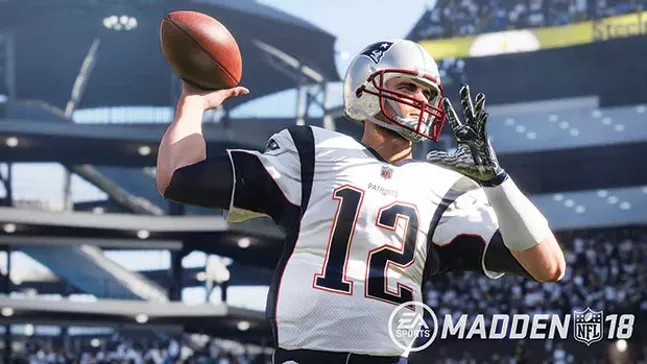 It's only January, but the weather outside is already as frightful as the thought of James Harrison plowing over Ben Roethlisberger in the event that the Patriots and the Steelers play each other in the upcoming AFC Championship. As I write this, the East Coast is currently being smacked around by something called the Bomb Cyclone.
So, at this point most of you are learning what I figured out years ago — outside is for suckers. But those of you who insist on getting exercise and the recommended daily allowance of Vitamin D from the sun likely have no idea what to do with yourselves as you're stuck indoors for what's shaping up to be a pretty harsh winter. The answer is simple — video games.
Playing video games gives you the illusion of doing something meaningful with your life, while sitting around pants-less in the toasty, warm house. I've taken the liberty of making a short list of video games you might want to get into as the temperature continues to drop.
Madden NFL '18
It will be tough for you to buy this game because there is a photo of Tom Brady on the cover. I was originally happy to see him there because the Madden coverboy usually suffers a season-ending injury. But, alas, this fair-haired sonofabitch is still walking around. This is the long-reigning king of sports games, and this year it is even more awesome thanks to a well-developed story mode. Also, for fun, I like to play as the Cleveland Browns and change all the players' names to things like: A. Loser, Terry Bull or, simply, Dumb Ass.
Assassin's Creed Origins
This sequel in the AC franchise transports you to Egypt and gives you the chance to explore a huge, open world. Sure, there's a story — a pretty good one, in fact — but you could spend five snow days within this game, and there'd still be plenty of land to explore. This game is immersive and addicting and one of the best in the franchise; certainly, the best to hit next-generation platforms.
Overwatch
If you're stuck inside playing video games, it's easy to become lonely. But thanks to Overwatch, the hottest massive multiplayer game on the market, you can make friends easily. This title has taken online first-person shooters to another level in terms of gameplay and content. It's one of the few well-done shooters that has been Rated T (teen). Another plus is that this game contains a large number of positive female characters, a trait lacking in a lot of video games. And if you need more proof that it's a perfect winter game, it's made by Blizzard Entertainment.