DIRTY WARS. Rock Rowley's documentary follows investigative journalist Jeremy Scahill through the shadows — from a covered-up U.S. Army night raid in Afghanistan to the current off-the-books actions of the super-secret Joint Special Operations Command (JSOC) in Yemen and Somalia. The film is part investigative report, part docu-drama and part meditation on the long-term costs of clandestine U.S. military actions overseas. "The war on terror," Scahill summarizes, "has transformed into a self-fulfilling prophecy."
Scahill writes for The Nation, and also penned the influential exposé Blackwater, about the titular military contractor. A lot of the shocking detail is buried in mountains of data, and that's the value of a yard dog like Scahill. Before JSOC came to light, Scahill would find photos, often buried in foreign press or overlooked reports, of U.S. military commanders wearing uniforms missing key insignia. He converts military numerical charts of enemy kills into the names of women and children killed by secret strikes in Yemen. It's a story, he says, of the "seen and the unseen, and what's hidden in plain sight."
The rub with black ops, of course, is that it's hard to find independent sources to verify one's claims. But if only a fraction of what Scahill posits is happening, it's disturbing enough.
Scahill is expected to attend the screening. 4:15 p.m. Thu., Nov. 13. Melwood (Al Hoff)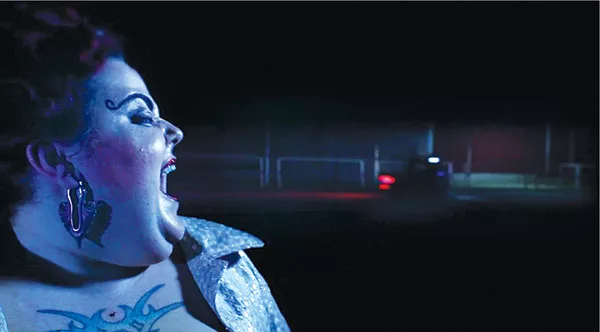 FILM KITCHEN. The series' Three Rivers Film Festival edition honors filmmaker Emmett Frisbee, a longtime linchpin on the local underground scene. Two new films screen. One is "Rumor Rides Again," a 20-minute comedy based on a true story: the (false) rumor that vocalist Jimmy Sapienza and his jump-blues band, Five Guys Named Moe, are the new house combo on the The Howard Stern Show. The music-filled film stars Sapienza, his family, his band, Frisbee himself and local notables including Phat Man Dee. Also premiering is "Metamorphosis," a 16 mm color short that's a portrait in motion of the late Betty Hollingsworth, a children's entertainer and clown. Film Kitchen, curated by Matthew Day, also includes several older Frisbee shorts, including: "Chin Up" and "El Dorado," two of his comedic collaborations with the loquacious D.J. Huber; the manipulated-video work "A Man Has Lascivious Thoughts While Walking His Dogs"; and "Maculate Conception," whose visuals are cartoon drawings and whose soundtrack is a humorous stream-of-consciousness essay on male privilege. The evening also includes a set by Sapienza and Five Guys Named Moe. 8 p.m. Thu., Nov. 13. Regent Square (Bill O'Driscoll)
STRAY DOGS. For 90 minutes, acclaimed filmmaker Tsai Ming-Liang offers a realistic portrait of a dispossessed man and his two children in a Taiwanese city; the man works a dehumanizing job as a human billboard for expensive apartments. By contrast, the film's final 45 minutes are a half-surreal psychodrama about those three's relationship with a woman who works in a giant supermarket. Tsai is known for his remarkably long takes, minimalist camera movement and scant dialogue. But if Stray Dogs demands a good deal of patience it also rewards it, with haunting imagery, intriguing motifs (food is everywhere in this film) and wrenchingly strange scenarios. Tsai portrays a society both populous and lonely, where the poor are invisible though in plain sight (and where it is nearly always raining). Stray Dogs suggests both a parable on contemporary Taiwan and a more personal story about living people who haunt others, and themselves, like ghosts. In Mandarin, with subtitles. 9 p.m. Fri., Nov. 14 (Harris) and 7:30 p.m. Wed., Nov. 19 (Melwood) (Bill O'Driscoll)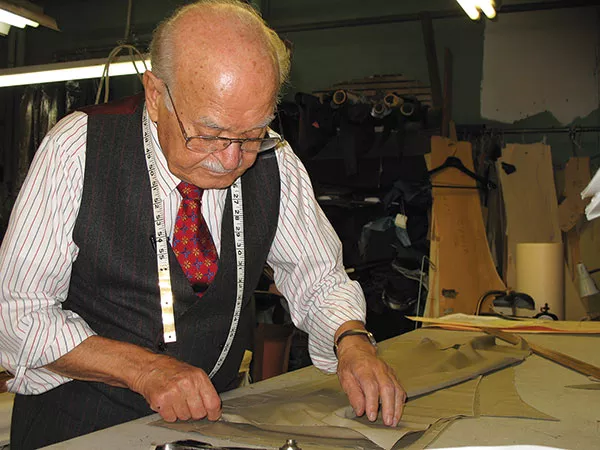 MEN OF THE CLOTH. While it's likely few of us can ever afford a bespoke suit, we should still be sad that the world is running out of master tailors. Constructing a suit the old-fashioned way — personally fitted and converted to patterns, employing quality yardage and hand-sewn — is both an art and a skill that takes years to achieve. And so it's no surprise that the tailors that filmmaker Vicki Vasilpoulos profiles in her documentary are all eligible for retirement, though still working.
Tailoring was a trade developed in Italy, so naturally these three are all Italian or Italian-American. One runs a shop in Manhattan (after working years at Brooks Brothers), while another has a shop near Philadelphia and is mentoring a young man. Back in Italy, we meet a master tailor who helps run the internationally known suit-maker Brioni.
In an age when most clothes are made by factory machines, with human assistance, the exquisite handicraft these men do is an anomaly. They began as children, and devoted a lifetime to learning a trade. Their tools are old-fashioned — scissors, chalk, hand needles, metal steam irons — and they work in cramped spaces seemingly untouched by time. But time is taking the last of these craftsmen, and there's no certainty the trade will be picked up by younger generations.
Anyone interested in clothing, art or craft will enjoy this profile of these gifted men, but be prepared to be melancholy afterward. The director is scheduled to attend. In English, and Italian, with subtitles. 3 p.m. Sat., Nov. 15 (Harris) and 4:30 p.m. Sun., Nov. 16 (Melwood). (Al Hoff)
ROCKS IN MY POCKETS. This animated Latvian film from Signe Baumane follows the life of a young woman during the Soviet era. The story is propelled by each new clue she finds while trying to solve her grandmother's suicide attempts and eventual death. In the process, Baumane takes the viewer down several wormholes, including commentary on women's socialization and history lessons on mass starvation caused by Soviet policies. The histories of the young woman's family and friends peel away layer by layer, as she investigates her own mental illness and its connection to her grandmother. The animation is playful, and even more so is the narrator's voice, changing character by character. Ultimately, Rocks in My Pockets offers a hopeful account of everyday human struggles. 4 p.m. Sat., Nov. 15, and 7:30 p.m. Thu., Nov. 20. Melwood (Ashley Murray)
STRANGE LITTLE CAT. In Ramon Zurcher's unassuming but intriguing film, a mother (Jenny Schily) preps food in the small kitchen of her Berlin apartment, where the majority of this film takes place. Her youngest daughter (Mia Kasalo) screams in sync with the howling blender. Their dog barks at the (rather ordinary, despite the film's title) purring cat. The room feels claustrophobic with only a few people inside of it, and as the film advances, more and more family members gather in the apartment for this evening's meal. One has to wonder whether the mother's calm demeanor is destined to crack.
The buzz of a hand-controlled toy helicopter. The clicking noise of pieces being dropped into a game of Connect 4 at the kitchen table. A bottle spinning in a pot on the stove. The dog barking at the doorbell — wait, they're going to squeeze even more people into this kitchen? Every sound is like an additional family member, fighting to find a place to sit.
Nothing particularly extraordinary happens in the film, but it's not what has been done or said that makes it worth watching. The entertainment comes simply from trying to guess what is going through the mother's head, especially during the few times the noises stop and the room is still, even for just a moment. In German, with subtitles. 7 p.m. Sat., Nov. 15, and 7 p.m. Fri., Nov. 21. Regent Square (Lisa Cunningham)
FROM DEEP. Local filmmaker Brett Kashmere's new docu-essay uses basketball as a lens to examine not only the various forms of the sport (from street ball to global brand Michael Jordan), but also its influence on music, fashion and broader culture. Told in three chapters, the film recounts the history of basketball, both as a professional sport and a street game, and the cross-fertilization of the two forms.
Also in the mix, the sport's racial history, from non-pro, but still popular and gifted teams like the Harlem Globetrotters, to the NBA's more recent attempts to make the game seem "less black," as well as its cultural representation in films. Kashmere also charts the birth and rise of hip hop, and outlays a case for how the music and the sport intertwine to form a lasting and mutually beneficial partnership.
But basketball is not only a rarefied sport for pros, as Kashmere depicts with kinetic footage shot during street games, accompanied by a voiceover from John Edgar Wideman's "Hoop Roots: Playground Basketball, Love and Race." From Deep will certainly entertain fans of basketball, but its focus is larger, examining provocative topics such as race, money and the process of cultural appropriation.
Screening to be followed by a pick-up basketball game at the library's gym. 2 p.m. Sun., Nov. 16. Carnegie Library, 419 Library St., Braddock. (Al Hoff)