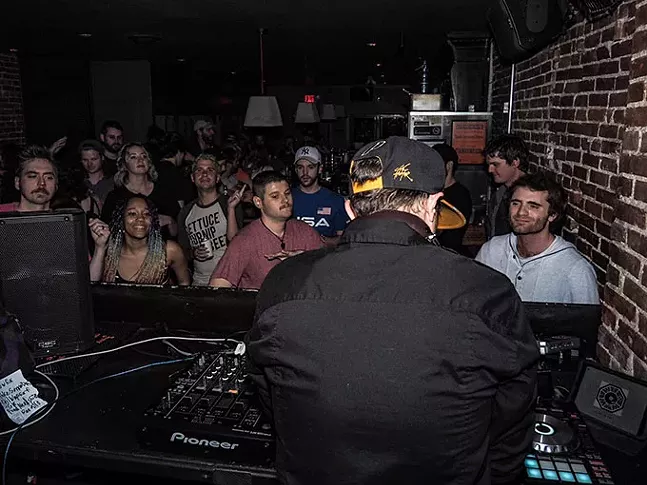 The Back Room. 9 p.m. Thu., Aug. 22. TFS Bar & Grill, 2515 E. Carson St., South Side. $2. www.facebook.com/bassburghpromo

DUB N BASS. 9 p.m. Fri., Aug. 23. Cattivo, 146 44th St., Lawrenceville. $12. www.facebook.com/FluxCapacitorProductionsLLC

Reverie. 9 p.m. Sat., Aug. 24. Market Street Grocery, 435 Market St., Downtown.
www.longturnmusic.com
---
This week, three new recurring EDM events kick off in Pittsburgh, providing a diverse taste of subgenres for every kind of electronic music fan.
Starting Thu., Aug. 22 is Bassburgh's The Back Room. Every other Thursday, the Bassburgh team will bring "the best" local and regional DJs to TFS Bar & Grill, with a "bangin'" sound system, immersive lighting, and more. Ivan Rojas, Mike V, Kinetik, Kped, Nick Johnson, and Zach Ross are DJing the opening night.
"We decided to do The Back Room [in] an effort to bring EDM back to the South Side strip on Thursday night and feature some of the underground talent in Pittsburgh," says Chris Stankay, one of Bassburgh's owners. "We'll be booking a lot of different DJs to play a lot of different styles. In one night, you might hear house, dubstep, drum and bass, trap, funk, et cetera, and then the next one could be totally different."
Friday at Cattivo in Lawrenceville is the grand opening of DUB N BASS, put on by Flux-Capacitor. As the title implies, expect to hear dubstep and drum and bass. Playing the first edition on Aug. 23 are local DJs Kilo, Eryn Evans, Doverspike, Soyka, and Byngi.
Then on Sat., Aug. 24, Longturn Music's Reverie takes place in Downtown on Market Street Grocery's newly renovated third floor. Curated by Brendan Barstow and CJ Cooper, Reverie is an "opportunity to explore the melodic side of dance music," according to the event's Facebook page. "Soul-stirring, evocative productions are blended to keep the dance floor moving and the mind musing."
Flux-Capacitor is also the team behind re:vision, a house and techno night which saw a six-week run at Cattivo over the summer. Justin Sheppard, along with his partner, Keith Patrick, says that the initial every-week run was a way to gauge the temperature of Pittsburgh's interest in electronic music. "And it turned out fantastic," says Sheppard. Both DUB N BASS and re:vision will be taking place monthly.
Compared to re:vision, which has a tropical theme, Patrick says DUB N BASS will have a darker, edgy vibe. Additionally, the duo plans to bring in a new set of speakers. Dubstep and drum and bass, which are categorized by heavy bass and sub-bass frequencies, call for a different sound system than house or techno.
For hardcore electronic lovers, the culmination of these nights means an eclectic mix of EDM can be heard up to three nights in a row, without having to leave the city.
"There's a lot of different crews hosting electronic music nights now, each with their own sound and style," says Stankay. "There's a little bit for everyone, no matter what specific genre of electronic music you're into."
But that's not always been the case in Pittsburgh, with EDM fans having to travel to festivals and shows outside to see their favorite artists. The hope is that these nights will help grow the scene locally while also making Pittsburgh a destination for larger acts to make tour stops.
Specifically, Sheppard and Patrick plan on utilizing their connections and experience in the electronic world to bring national and international artists to Pittsburgh after getting DUB N BASS and re:vision off the ground. "Bringing in global talent is more beneficial to the city and the scene," says Sheppard.
Regardless of who's playing, it's a good time for electronic music in Pittsburgh, and there's little sense of competition between the different promotions groups.
"As a collective, it's a very good thing for the city," says Sheppard, who booked Stankay to play at re:vision. "It's only going to help the scene in general and bring even more people out into this community of music — whatever genre it may be — and also expose new music to people [who] might not understand different genres or different types of electronic music. … That's what we're here for."