Page 3 of 3
click to enlarge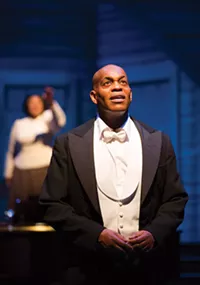 Michelle Pilecki's Best Surprises in Pittsburgh Theater 2013
Decades of reviewing have confirmed over and over the wisdom of Sturgeon's Law: "90 percent of everything is crap." So what keeps crusty critics going back to the theater again and again? It's the surprises. The bad ones make good party chitchat. The more pleasant reawaken the joy that reminds us why art is essential.
In no particular order, here are my favorite surprises:
A maturing master: Starting with his long-ago "Strindberg on a Shoestring" in a former upholstery-factory-turned-VFW-dancehall, Martin Giles' passion and affinity for dour Scandinavians has been no secret. Fast-forward to Quantum Theatre (always a mine for surprises) and Giles' bold direction of Henrik Ibsen's John Gabriel Borkman (Jan. 31-Feb. 24) with dry wit and, yes, surprising insight. A few months later, Giles' mercurial actor persona got its best display ever in Pittsburgh Irish & Classical Theatre's production of The Kreutzer Sonata (May 30-June 22), a virtual one-man show by playwright Nancy Harris adapting Leo Tolstoy.
Polished nonsense: As a musical and as a play, Jake Oliver's Viva Los Bastarditos! (July 12-27) is a train-wreck of strained credulity, clichéd characters and boilerplate songs. But No Name Players' production was just so much fun. The energy level never fell below frenetic as the ensemble — mostly cast in multiple roles — overfilled the company's new home at Off the Wall Theater.
Perfect grace in classical drama: I'm always grateful for a chance to see and hear the works of the ancient masters, but was absolutely thrilled by Point Park University Conservatory Theatre's Hecuba (Nov. 8-24). At the time, I praised the chorus as the best I'd ever seen, but didn't name them: Erin Ulbert, Viveca Chow, Te'Era Coleman, Lexi Gleichauf, Linda Kanyarusoke, Aine Lafferty, Ariana Livingston, Corinne Scott, Kristin Serafini and Nicole Stouffer. Monica Payne directed them in Euripides' tale of revenge.
Learning something new: City Theatre's production of Daniel Beaty's Breath & Imagination (March 15-31) was a joy even without the revelation that it was a mostly true story about a real guy very much worth knowing. Roland Hayes rose from tenant farmer to international stardom singing both opera and spirituals, but was caught in the Jim Crow net in his native land. Vocalists Jubilant Sykes and Kecia Lewis were superb.
Cross-dressing and multi-casting: Daina Michelle Griffith is a beautiful, sexy woman who totally rocked as various men — whacked-out hipster/Nazis — in Off The Wall Productions' The Zero Hour (Oct. 25-Nov. 9). Madeleine George's play is a bit bony, but there's enough meat for Griffith and co-star Erika Cuenca to create a series of engaging characters.