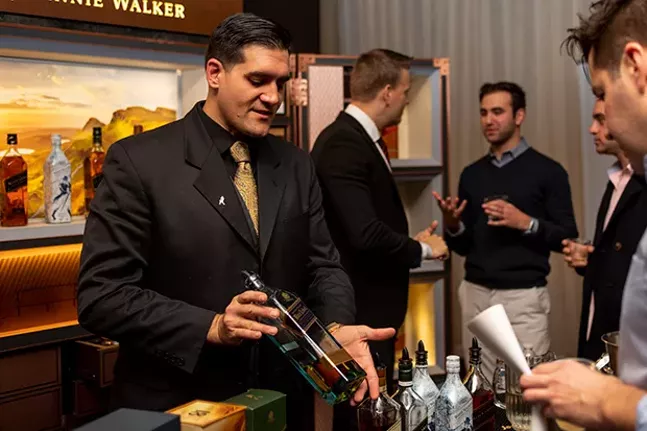 What happens when a bunch of bartenders, bar owners, alcohol vendors, and miscellaneous booze enthusiasts cram into a casino for three hours of drinking? The Pittsburgh Whiskey & Fine Spirits Festival answers that question every year. It unspools like a liquor-soaked three-act play, revealing a wide spectrum of human behavior throughout the evening. If you weren't at Rivers Casino for this year's festival on Fri., Oct. 26, here's a brief overview:
Hour 1
Restless, eager attendees line up for the all-important wristbands. Everyone is ushered upstairs, trading one din for another, as the sensory blitzkrieg of a busy casino floor gives way to a multi-room event space rapidly filling with adult beverage devotees. All demographics are represented, united by a quest to promote and consume booze.
It's scouting time. Everyone surveys the area, forming strategies. At this point, the vendors' tables are pristine, and the people staffing them are welcoming and energetic. Spirit brands showcase their goods in a variety of ways, ranging from elaborate, camera-ready displays to "This is what fit in the trunk of my car." Attendees clutch tiny glasses, gliding from table to table, sipping thoughtfully. The whiskeys dominate, but rums, gins, vodkas, and tequilas valiantly plant their flags.

Hands are shaken. Drinks are poured. Everyone is smiling.

Hour 2
The event gains momentum. It's loud, crowded, and a pleasant energy pervades the space. The tables with the most popular products quickly develop clusters of appreciative tasters. It's a blur of flannel and fleece, with a handful of sparkly dresses and jacket-and-tie combos sprinkled throughout.
At this point, it's clear who's here to explore new products, and who's here just for a few drinks. Brand loyalties and preferences are openly declared. Samples are dispensed at a faster tempo. Discussions become vigorous.

Hour 3
Two hours of drinking strips away the facades. Whiskey's marketing touchstones (old-timey earnestness, 19th-century package design, distillers who look like Wilford Brimley) are apparent and abundant. Vendors maintain their cheerful demeanor, but clearly have their eye on the finish line. Those treating the event as a turbocharged happy hour are showing the effects.
The three-hour mark looms, giving an urgency to the proceedings and prompting the crowd to get their final swigs in. There is no last call. Lights snap on and bottles are swiftly packed up. Groans of disappointment everywhere. Attendees shamble toward the escalators like a zombie horde.

The event may be over, but it's clear some people are just getting started.