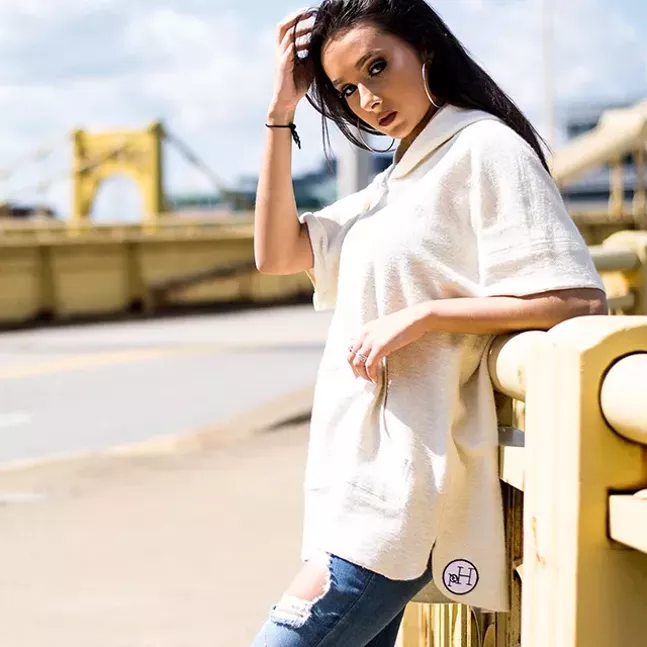 Samuel Graeb says the idea for planetHEMP came from above.
"It has its own heartbeat," the 22-year-old from Scott Township says about his business, a fashion line of activewear and athleisure clothing and accessories made from hemp fiber.
Industrial hemp is a strain of the cannabis plant, but unlike marijuana, it contains less than .3 percent THC. (So no, you can't smoke the clothes to get high.)
Graeb started planetHEMP about four years ago while living in Montana before moving back to Pittsburgh. It's a family-run operation, with Graeb, his mother, and grandmother at the helm. The two women do most of the sewing in small batches.
planetHEMP's line ranges from hoodies and leggings to blankets and underwear. While the product photos online do contain some marijuana references — a blunt tucked into an armband; smoke coming out from behind a bandana, only one of the products for sale online actually includes a weed reference. (It's a T-shirt with a drawing of an alien smoking a joint if anyone needs to buy a gift for their favorite stoner friend.) The rest of the collection is trendy and stylish with minimal, clean designs throughout.
The company also recently teamed up with Pittsburgh musician Charles $lum (aka Cameron Bell) for a collaborative collection called #MICRON, kicking off with merchandise to promote his upcoming album. "I wanted fabric for my products that didn't have as strong of a connation for the enslavement of my people," Bell wrote on Facebook. "Hemp should be the powerhouse ingredient of the fashion industry."
CP asked Graeb a few questions about planetHEMP before he celebrates 4/20 with Cannabis Education Day at the Millvale Community Library.
Why hemp?

It's sturdy, good for the soil, naturally pest-resistant (requires no pesticides), and because it can be made into thousands of eco-friendly products.
Who designs and makes the clothes?

We design the clothes and make sample runs and small batches in-house. If we need a production run that is larger than our capacity, we send the samples and patterns to our manufacturer in Brooklyn to be produced.
Did you grow up wearing homemade clothes by your mom and grandma?

Yes, my grandma made us clothes until she thought we were too old for the clothes she was making us. But there were always little ones around, so she would make kids PJs, and pillows, and bags, and other little things.
My mom used to sell shorts to her classmates back in high school, but took a break from sewing until planetHEMP got started.
Do you think there's a crossover market between people who wear hemp clothing and folks who smoke pot?
I do think there's a crossover market between weedheads and non-weedheads, mainly because the plant and lifestyle are becoming less taboo.
In other words, are you all just big potheads?

We are definitely not all potheads. Especially my momma and grandma.
How did you hook up with Pittsburgh musician Charles $lum?

I'm not really sure how I met Charles, but it was a blessing. He's a real cool dude and he makes great music, so I'm pumped that we can promote each other's movements.
What inspires you?

Family and my responsibilities to them: protect and provide. That's what inspires me. I have a bunch of little cousins and a younger sister that mean the world to me, and I want to show them something positive.
Who's your fashion icon?

My fashion icon has always been Wiz. Lol.
Congress legalized the cultivation of hemp late last year. Have you noticed any growth?

Yes, now that hemp can be grown here legally, we are starting to see our supply chain open up. Supply is something we've struggled with from the beginning, but it keeps getting easier.