SUNDAY
Sun., 6 a.m.
WRCT 88.3 FM, Oakland
Jazz Corner
Like every Sunday for the past three decades, Kevin Amos starts the day early at Carnegie Mellon University's volunteer-run station. WRCT is a stronghold of free-form radio, and Amos, 61, DJs for six hours straight, hosting Jazz Corner and One to One/H Dread. He arrives with a backpack of CDs but no playlist: "I'm going by the way I'm feeling the music as it's flowing." With jazz ranging from Duke Ellington to brand-new Esperanza Spalding, Amos is keen to educate listeners. "Try to give everybody an even look at the music," he says. "Everybody that listens aren't the jazz diehards." (For more on Amos, see "Last Page.")
— Bill O'Driscoll


Sun., 11:45 a.m.
Mount Ararat Baptist Church, Larimer
Sunday Morning Worship
A six-piece band accompanies a nearly 40-person — mostly male — choir, whose voices, pitched at varying degrees of deep and wise, fill the sanctuary. Trini Lopez Massi, who says his energy comes "straight from heaven," leads the ensemble. While he sings up and down the musical scale, he claps, raises his arms and even incorporates footwork. Parishioners embrace this space where they can sing out loud without judgment. Parents hoist toddlers onto their hips and dance along; men and women openly wipe tears away; and everyone raises voices and hands to the sky in a collective release of the week's tension.
— Ashley Murray
Sun., Noon
James Street Speakeasy and Gastropub, North Side
Live Music Yoga with CJ Hoffman
Yoga in bars is not such a remarkable thing of late, but seeing the James Street banquet hall in the cold light of day is a surprising treat. I set my mat down directly next to the bar, which is decorated with such jazz-age imagery as top hats and canes. CJ Hoffman begins filling the high-ceilinged room with ambient electric guitar. The room is chilly but it's also full of possibly hung-over yogis, so things warm up fast. Hoffman's music evokes the post-rock of Explosions in the Sky, but I'm too focused on planking to really take it in, which is probably how it's supposed to be.
— Margaret Welsh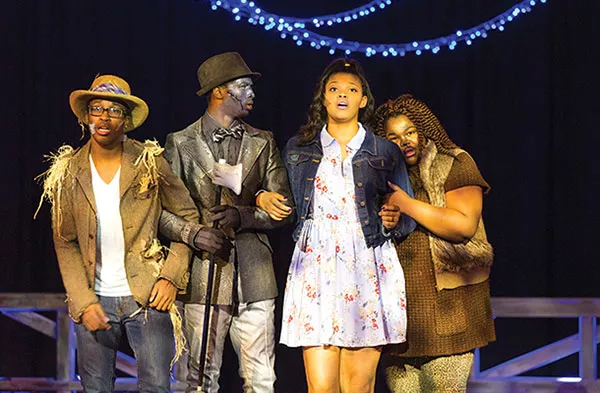 Sun., 2 p.m.
Perry Traditional Academy, North Side
The Wiz
Sitting in the auditorium a few minutes before the show starts, it becomes obvious that this isn't just another high school musical. This is a community event and the community is proud to be here. Even for the last show of the four-day run, the auditorium is more than three-fourths full. Folks shake hands, laugh and, when it comes time for the show's signature song, "Ease on Down the Road," some even sing along. Sophomore Mariah Fowlkes plays Dorothy, and her strong voice and charismatic stage presence clearly leads this ensemble cast. But there are many strong, talented musicians, singers and performers in this show. What others lack in natural ability, they made up for with hard work, charm and personality. After all, the purpose here isn't to win a Tony Award, it's to bring the community together through music, and The Wiz does that 10 times over.
— Charlie Deitch

Sun. 8:45ish, maybe 9 p.m.
Thunderbird Café, Lawrenceville
The Scratch n' Sniffs, The Jasons, Weird Paul
It's a dark and stormy night. Suddenly, at approximately 8:15, a chord rings out. The Scratch 'n Sniffs begin their set. Where am I? Leaving my house. I miss them entirely. I'd gotten home from work about 7 and then cooked and ate dinner. I arrive in time for The Jasons. I'm impressed by their songs, energy and willingness to remain anonymous by wearing hockey masks. Unfortunately, my amp's power cord is misplaced so I can't pay full attention. Finally, The Weird Paul Rock Band goes on. I exclaim, "It's a Sunday night in Pittsburgh!" — meaning that on a Sunday night, you're lucky just to have your friends there. Afterward, I stand outside in the rain, talking to them.
— Weird Paul Petroskey