SATURDAY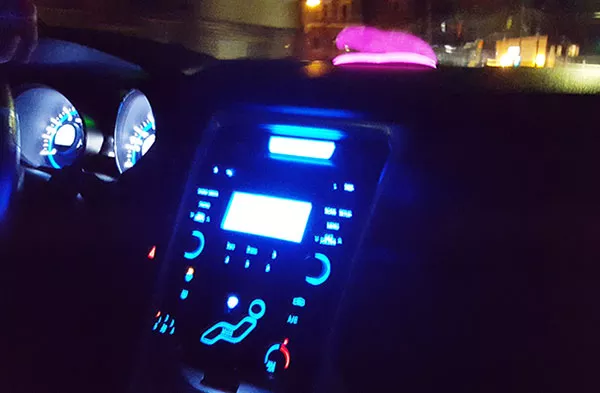 Sat., 7:30 p.m. to Sun., 2 a.m.
All over the city
The music of Lyft drivers
A safe night out often requires the use of the city's ride-hailing services. But the music doesn't have to stop as you travel from spot to spot. The night starts with SiriusXM radio's "FLY" channel airing hip hop and R&B hits from the 1990s and 2000s, like Faith Evans' "Love Like This Before," and Ini Kamoze's "Here Comes the Hotstepper." By 9 p.m., another driver mellows the mood with SiriusXM's Coffeehouse station, playing Ruth B's "Lost Boy." New location, new car and no radio this time, it's the driver's personal playlist, featuring Hole and the Rolling Stones. Hours later, the trip home ends with the soulful sounds of American Idol winner Ruben Studdard on I Heart Radio's gospel station.
— Rebecca Nuttall
Sat., 7:30 p.m.
First Unitarian Church, Shadyside
Carrie Newcomer, Jenn Gooch,
Music in any church setting, even this warm, welcoming space, can feel solemn. But traditionalist folk/country artist Jenn Gooch keeps it light as she opens for (and outplays) Carrie Newcomer with her wildfire of a set, playing songs on fiddle, guitar and piano. "Where I come from, if you played piano that was your ticket to marrying a preacher," she says in her Texas accent, after charmingly flubbing a piano line. "But I knew I couldn't get through a set without saying, 'Oh crap!'"
— Margaret Welsh
Sat., 8 p.m.
Andy Warhol Museum, North Side
Sound Series: An Evening with Son Lux
A crowd of more than 100 is tightly packed into the dimly lit entryway of The Warhol for post-rock/electronic/hip-hop/pop artist Son Lux. Son Lux, also known as Ryan Lott, leads drummer Ian Chang and guitarist Rafiq Bhatia in a set that includes "This Time," "You Don't Know Me" and "Your Day Will Come." In between songs you can hear a pin drop, but when the music starts, the sound explodes through the building. Lott adds to the cacophony with tambourine and cowbell. The crowd's energy reaches its peak during the show's final song, the commercial success "Lost It to Trying," from the Paper Towns soundtrack.
— Rebecca Nuttall
Sat., 8 p.m.
Frick Fine Arts Building, Oakland
Gamelan Fusion: New and Traditional Music of West Java, Indonesia
Led by two professional Indonesian musicians, composer Ismet Ruchimat and vocalist Masyuning, University of Pittsburgh music students sit cross-legged in front of traditional West Java instruments — gongs, metal-keys, drums and a bamboo flute. Students play hypnotic pre-independence melodies. Ruchimat's effortless flute playing follows Masyuning's vocals — an instrument itself. Then, Ruchimat presents fusion compositions, the best of which incorporate local musicians on guitar, djembe, baritone sax, and Ruchimat on bass. The piece "Sahara Sunda mix" — introduced as "West meets West [Java]" — results in a funky African beat, psychedelic guitar and Masyuning's rapping in the Sundanese language, complemented by her expressive face and body language.
— Ashley Murray

Sat., 8:30 p.m.
Smiling Moose, South Side
Sunflower Bean
There's an official '90s Bar Crawl taking place on the streets of the South Side. Upstairs at the Smiling Moose, Brooklyn's Sunflower Bean is channeling the era, a pure amalgamation of its members' influences — dreamy Belly, sludgy Throwing Muses, jangly The Sundays. The musicians and audience are young, barely humans during the era they're emulating. Lead singer Julia Cumming, an androgynous bassist with a charming falsetto, croons, "You're getting old, so act your age." A girl who's standing in front of me suddenly passes out. She's unconscious on the floor. I dial 911 and feel my age.
— Caralyn Green
Sat., 9 p.m.
Hambones, Lawrenceville
Stephanie Nilles, Midge Crickett, LRAD, UkuLizzy — Brash, Bawdy & Bold
Hugs and hellos are big through the first hour at Hambone'stonight. There are reunions and first-time introductions. Once things kick off with "Mama Jo" Coll as emcee, ukuleles take center stage.UkuLizzy and Midge Crickett, both ukers with a taste for dark, funny, sometimes-silly songs, team up for a number called "That's What She Said," with lyrics culled exclusively from bathroom graffiti at Howlers. There's also an Emily Dickinson poem set to the Gilligan's Island theme, but you probably knew that. The sets from guitarist LRAD and New Orleans-based pianist Stephanie Nilles lean towards slightly heavier subject matter, but the in-between-song stuff is just as funny all night long. Everything smells like Buffalo wings and everybody is nice.
— Alex Gordon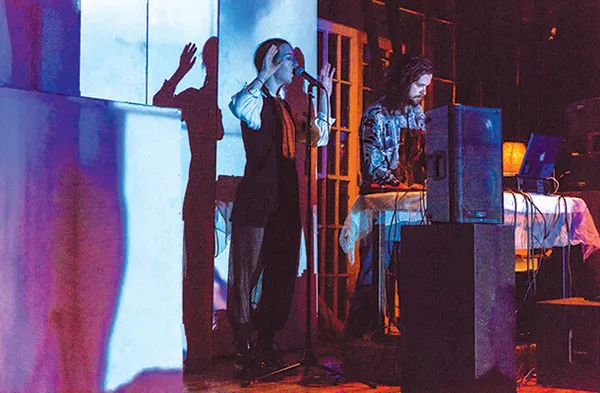 Sat., 9:10 p.m.
The Space Upstairs, Point Breeze
Second Saturday at the Space Upstairs
Donations, not tickets, are collected at the door of this bohemian venue. The high-ceilinged, open space above Construction Junction is renowned for being a home to modern (well, post-modern) artistic performances. Formerly known as the Pillow Project, the Ellipses Condition hosts new-jazz movement performances on the second Saturday of each month. This month, Slow Danger commands the floor with an auditory and visual performance. In squashy armchairs or on the floor, the crowd sits on the periphery of the large room while the duo performs. The only words to describe it: eerie and sensual.
— Aaron Warnick
Sat., 9:15 p.m.
Howlers, Bloomfield
Lowly The Tree Ghost, Lone Wolf Club, The Tilt Room
The backroom show space at Howlers is halfway full as Pittsburgh-based Lone Wolf Club opens the show. The Americana band is running through songs from its Many Moons EP: "Making an Exit," "Mantis" and "I Went Walking." Members' hands move swift and deftly from chord to chord as cigarette smoke wafts in, almost rhythmically from the adjoining room.
— Rebecca Nuttall

Sat., 10 p.m.
Spirit, Lawrenceville
JENESIS Presents: Wiz Khalifa Appreciation Party
The official Wiz Khalifa Day in Pittsburgh isDec. 12, but there's never a bad time to show appreciation for someone you love, even when he's not around. That's exactly what's happening tonight at Spirit. There are DJs, a disco ball and pizza — which describes somewhere around 100 percent of nights at Spirit — but it's pretty crowded nonetheless. People drink and dance not only to Wiz's tracks, but to tracks in which he's featured. But when the Wiz-less "Hey Ma," by Cam'ron, comes on, no one seems to mind. They keep dancing. The disco ball keeps spinning. There's pizza. It's a party.
— Alex Gordon


Sat., 10:30 p.m.
Gooski's, Polish Hill
Reign Check, The Lopez, Birdcloud, Liquor Store
I immediately run into a friend who comments that the crowd is more colorfully dressed than she's used to seeing at Gooski's. That's at least true of the members of riot-grrrl-inspired punk/dance duo The Lopez, who take the stage in red flannel and tie-dye, respectively. As always, they play with high intensity and enthusiasm: A couple o' seasoned pros, they are. Foul-mouthed, non-PC, mandolin/guitar duo Birdcloud is up next, and elicit mixed reactions — mostly laughter, though a joke about getting roofied at Bonnaroo spurs a disgusted "Jesus!" from one listener. Not really my humor, but damn, these ladies are charming — I skip Liquor Store and head home with a grin on my face.
— Margaret Welsh

Sat., 10:45 p.m.
Nico's Recovery Room, Bloomfield
Karaoke
It's noisy, smoky and crowded, but you get a welcoming crowd here. The room is cheering for the guy who sang Collin Raye's "The Gift," but with words of his own choosing. Popular songs quickly become sing-alongs: The whole bar is chanting "one time, one time" as a gal lays out "Killing Me Softly" in "the style of The Fugees"; some baby boomers may be singing in "the style of Roberta Flack," but it's all good ("two time, two time"). Everybody is a star.
— Al Hoff
Sat., 11:45 p.m.
Remedy, Lawrenceville
Feeling without Touching
Remedy feels like college house party. In the haze of smoke, everyone is beautiful and no one is over 35. A jog up the back steps brings the darkness of the living-room bar, which is packed with people dancing tightly and mouthing the words to favorite late-'90s and early-2000s jams. This ritual repeats every second Saturday with Dave Zak's dance party, Feeling Without Touching. Touching is certainly happening between strangers, lovers and friends but when you feel the camaraderie that the music creates, it's easy to understand why he chose the name.
— Celine Roberts