Hey, Pittsburgh. You don't know me.
This is my first — and probably last — piece for this fine publication, seeing as I live way the hell over in Philly.
You know what? Since I was old enough to pull on a Ron Hextall jersey I was raised to despise your city in a casual, underinformed, us-versus-you sort of way. But right now I'm a Pittsburgh fan.
See, until last October, I was the music editor for Philadelphia City Paper, and I had a dream. I called it "One Night in Philly." The idea was to pick a date and send every writer I could out to every show each of them could get to, and report back. We were all set to do it when the paper went under. Folded. Sold for scrap.
In a final issue already overflowing with lamentations, I made sure to lament the premature demise of the "One Night" idea. Somebody, somewhere, I suggested, should pick up that flag and run with it.
So far, only Margaret Welsh, Charlie Deitch and the rest of the Pittsburgh City Paper crew have answered the call.
The result is the issue you're reading now. Twelve writers and photographers covering more than 20 shows in Pittsburgh all in one weekend — a mad dash to take literal and kinda literary snapshots of the city circa right now. I'm amazed and humbled by this. Ideas are easy. It's hard work that really impresses me. Welsh and company did the work.
Contrary to common sense, the City Papers of Pittsburgh and Philadelphia share no direct lineage. None of the same founders or owners or anything. Just two newspapers with the same name on the same mission, the mission all alt weeklies have: to tell the stories nobody else is telling.
People of Pittsburgh, I hope you know what a good thing you've got here. Alt weeklies are kind of an endangered species these days. When they're not going out of business, they're shrinking and trying adapt to an online existence where the possibilities seem endless but the ad revenue is hard to come by.
Still, the alt-weekly mission remains critical, and their work is as relevant as ever. Very few publications have the moxie and the motivation to take on a story like "Three Days in the Life." It's a fun, weird project that relies heavily on group effort and lots of legwork.
It's what alt weeklies do best. It's a good thing you've got one of those.
Good night, Pittsburgh.
— Patrick Rapa

FRIDAY
Fri., Noon
Children's Museum, North Side
Lee Robinson
Jazz musician Lee Robinson strolls around the Children's Museum like someone out of The Music Man, or the Pied Piper (without the sinister undertones). Toddlers and tweens alike are mesmerized by the notes emanating from the clarinet and saxophone. He alternates between jazz versions of "Somewhere Over the Rainbow," the Flintstones theme song, and Cyndi Lauper's "Time After Time"; the music drowns out the tears and happy shrieks of the children. In the nursery, an unsteady baby stands bobbing to the beat. "Awesome," cheers a girl in a purple-and-silver sparkly sweater.
— Rebecca Nuttall
Fri., 9:10 p.m.
City Grows, Lawrenceville
Jake Simmons & the Little Ghosts, Roaring Spring Girlfriend, The Otis Wolves
When you're in a band, sometimes the only people who show up are in the other bands (along with maybe a friend or two). That's the scene when Kalamazoo's Jake Simmons & the Little Ghosts kick off in the dark, unfinished basement of City Grows. Upstairs, fresh green plants, seed packets and potting soil line the shelves; below, the band plays Ted Leo-esque soulful folk rock as though the crowd is eight times bigger than it is.
— Margaret Welsh
Fri., 9:20 p.m.
Rex Theatre, South Side
King of the Burgh
Standing by the stage, the low hiss of the fog machine is clearly audible. Until, that is, the DJ drops his next beat. The cement floor of the Rex vibrates just a little. The all-ages attendees stop their conversations dead when DJ Afterthought, the promoter and host of the event, steps center-stage to start the show. About 30 artists will battle over the next several hours (and a real fight actually broke out later on that evening) to see who's the king of the city's hip-hop scene — at least for one night. They each have a different approach to their eight-minute sets. Some will step to the mic, drop their rhymes, take their applause and leave. Others, like Munhall native Louie Petrone, do more to play to the crowd, like when he joins the crowd in a back-and-forth chant of the always popular line: "Fuck Donald Trump."
— Aaron Warnick

Fri., 10:50 p.m.
Spirit, Lawrenceville
Spirit's First Anniversary Party
With a lineup of nine musical acts, free (real) tattoos, a dance party and lots of booze, Spirit is celebrating its first year in business on a scale usually reserved for a 10th anniversary. This is an event to see and be seen; a noisy, disco-light-filled party that provides just the right amount of sensory overload. Jazz singer Phat Man Dee pops out of a brightly lit plastic cake, while her husband Tommy Amoeba, dressed in silver lamé, looks on. Headliners Grand Buffet take the stage and super-fans crowd to the front to rap along with the hip-hop duo, who instruct the audience to chant the current events-inspired (yet probably always apropos) words "fuck Vince Neil / Nicolas Cage stand up."
— Margaret Welsh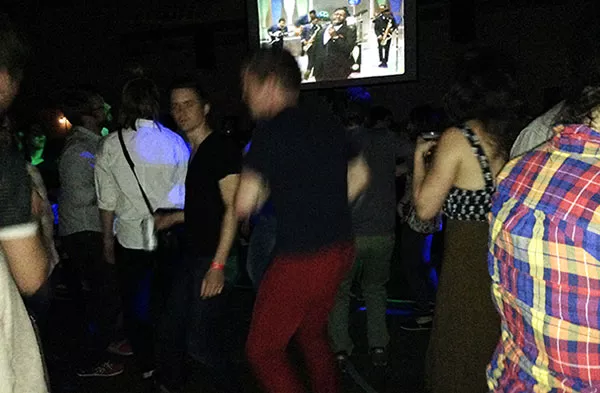 Fri., 11 p.m.
Ace Hotel, East Liberty
Title Town
The new home for Pittsburgh's long-running, 45s-only soul and funk dance party is the former YMCA gym. High ceilings, wooden floor, dark corners barely illuminated by a disco ball, red-hot jams — this is truly the best high school dance you never went to. Get your smooth groove on to rare Northern Soul tunes, or wave your hands in the air like you just don't care for a floor-filler like Earth, Wind and Fire's "September."
— Al Hoff
Fri., 11:30 p.m.
Elks Club, Braddock
Rave and Chill Tekko After-Party

The mostly twentysomething crowd is finally coming to life in this no-frills building. This event is an unofficial after- party for the first day of the Tekko Conference, which celebrates Japanese culture. The dress code is, let's say eclectic, with outfits ranging from costumes typically worn at the furry convention to outfits with a strong Pokémon/anime vibe and everything in between. Hell, even Jesus is here. Billed as a pajama-themed party, the revelers start out slow — taking advantage of the "chill" part of the program. As the music picks up, the serious dancing begins. Status Jackers (Matthew Hiber and Michael Morgavo) spin some drum-and-bass followed by DJs Sammy P and Kenetic taking over with some dubstep. Lasers move around the room as people dance with hula hoops, yo-yos and lighted pendant balls — and this is just on the main floor. More DJs spin in the lower level room, which hosted a bar for the over-21 crowd.
— John Colombo