The human face is capable of countless expressions. As a mostly involuntary aspect of emotion, facial expressions can project happiness, sadness, surprise, fear, disgust and anger as well as far more subtle sentiments. Both expressions and emotions are in abundant supply in the current Bridge 11 exhibition.
While Bridge 11 is actually three different solo exhibitions sharing one space, the works on display -- all curated by SCC's Kate Lydon -- have much in common. So much so, in fact, that it would have been a better installation had the work of the three artists been integrated rather than separated, allowing for more interesting and dynamic juxtapositions.
This particular exhibition is the 11th biennial in a series that started in 1988. It includes the work of three women artists, each chosen for her craftsmanship, and each working in a different medium: Lia Cook in fiber, Mariko Kusumoto in metal, and Anne Drew Potter in ceramic.
The Seattle-based Potter's The Captain's Congress is a sculptural installation just to the left of the entrance. It draws the viewer in because it is both disturbing and humorous. Situated in a circle is a parliament of deformed children with countenances at once stupefied and authoritative. Made of ceramic, the children have ashen, yellowish skin. Some are sickly thin while others are grotesquely rotund. Some have stunted limbs and most of them are contorted. They sit on crates expounding to one another, a couple of them gesturing assertively with pointed fingers. Their pontifications are animated by expressions that fall somewhere between repulsion and exasperation.
Potter uses her medium to its greatest advantage, molding the figures as if they were toddler versions of the damned on Rodin's Gates of Hell. But these figures, wearing paper captain's hats as symbols of their self-designated importance, will not go down quietly. Their pompousness is countered by a sole adolescent figure, normally proportioned, sitting silently apart from this bombastic crew.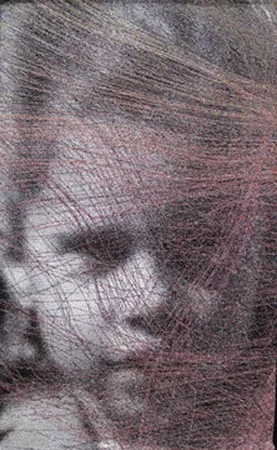 Beyond this installation is an entirely different sort of emotional drama played out in the work of Japanese-born, Massachusetts-based Mariko Kusumoto. While also sculptural, these works are on a completely different scale. They are miniature, delicate and precious. Each piece is like a tiny stage where a surreal and layered narrative is enacted. The most intimate piece on display here is "Kodomobeya (Daughter's Room)," which expresses the thoughts and feelings the artist had while she was pregnant. Shaped like a female torso, the piece is a box that opens up to reveal hinged metal pages etched with anatomical renderings of bones, organs, muscles and fetus. The final layer is a shadowbox of objects including gears, butterflies, numerals and a music box. Kusumoto explains that with her work she is trying "to create a world of shadows, light, silence, spirituality, and … personal memories."
Kusumoto's works have multiple moving parts. But because the work is fragile, it is displayed here in enclosed cases and vitrines. A welcome addition to the exhibition would have been the videos that are available on YouTube showing some of the pieces animated and in use. "Kaitenzushi," for example, is meant to be a participatory game for two players, one who acts as sushi chef and the other as customer. "Self-Entertainment Kit" has boxes filled with intricate games and toys, and "Side Show" contains a miniature stage with doors that open to reveal a variety of fantastical cages, butterflies and performers.
While Kusumoto's miniatures require close scrutiny, Lia Cook's work should be seen both up close and from a distance. This shift in perspective offers a deeper understanding of the artist's technique. Cook's pieces combine tactility with the visual and explore several mediums at once -- weaving, photography and computer technology. Viewed from behind, they appear like photographic negatives. But unlike photographs, these weavings have three-dimensional depth, texture and pattern. What appears to be abstract when viewed a few inches away actually reveals itself as a portrait from a distance: Distance, rather than proximity, is what creates intimacy here.
During a recent residency at University of Pittsburgh School of Medicine, the Berkeley, Calif.-based Cook collected data that mapped the human brain responding to her woven faces, giving her greater insight into how the brain responds to shared emotion or memory.
Cook's subjects are mostly children. She crops the image so that each captures a subtle and fleeting human expression. These images are the perfect counterpoint to Potter's vehement imps, bringing the exhibition full circle.
BRIDGE 11: LIA COOK, MARIKO KUSUMOTO, ANNE DREW POTTER continues through Oct. 22. Society for Contemporary Craft, 2100 Smallman St., Strip District. 412-261-7003 or www.contemporarycraft.org