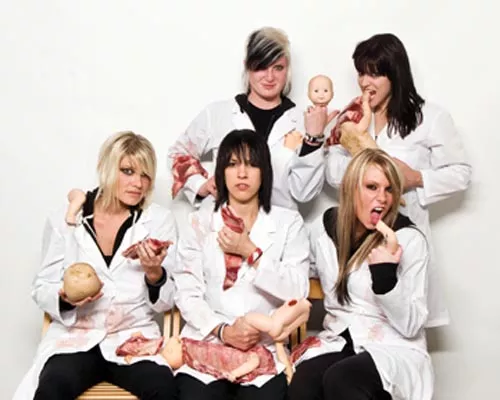 Warped Tour has been a summer staple for more than 15 years now, morphing aesthetically with the times, but maintaining a basic theme: bands that are sort of on the fringe, kind of, if you're a 15-year-old from the suburbs. Rather than look at the tour as an annual ritual full of jock-ish metalcore, Christian ska and crabcore, let's look at Warped as an opportunity. Each year, there are a few really quality acts that make the lineup, and we hope that a certain number of kids catch one or two and see that the world is bigger than just Gym Class Heroes. Here are a few of the bands we hope you'll make time for if you're going:
Lucero: While this band is nothing new -- it's been around for more than 10 years, and spent some time on a major label -- it's one of the more genuine acts on the bill. Frontman Ben Nichols was kind of the forerunner of the late crop of post-emo alt-country acts, combining a DIY spirit and a sleeve full of tattoos with lovelorn country-rock crooning.
Peelander-Z: Sometimes I daydream about living in an alternate universe in which this band is the gold standard for Warped Tour-style rock. They've got the essentials down: catchy pop-punk hooks, an impeccable sense of summer fun. But the members of the Japanese four-piece also dress up in colorful superhero suits and sing wonderful novelty tunes.
Sick of Sarah: This Minneapolis-based band has an in-your-face visual aesthetic, but a sweet pop-rock sound. Elements of Kathleen Hanna-style subversion show through the band's straightforward pop hooks and '80s-style anthems.
VANS WARPED TOUR Noon, Fri., July 22. First Niagara Pavilion, 665 Rt. 18, Burgettstown. $44.60. 724-947-7400 or www.firstniagarapavilion.com