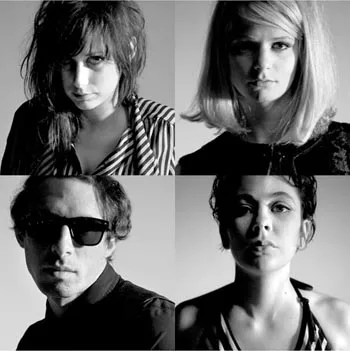 When Those Darlins released their self-titled debut in 2009, one track got the most attention: "The Whole Damn Thing," about devouring an entire chicken, and not feeling bad about it at all.
On follow-up Screws Get Loose, it's "Be Your Bro," about wanting to "run and play in the dirt" with a boy who "just wants to stick it in."
Two totally different situations, sure, but both tracks highlight the appeal of the scrappy, country-punk Tennessee band -- three ladies (and a dude drummer) singing about topics so simple and relatable, they almost sound silly.
"I may have girly parts," sings Jessi Darlin, "But I have a boy's heart / I wanna be your bro."
"People are just attracted to being blatant and honest," says Darlin. Adding almost obnoxiously catchy hooks doesn't hurt, either.
Originally a trio of Jessi, Kelley and Nikki Darlin (who are not actually sisters), Those Darlins mixed classic country with bratty punk rock, harmonized with the Darlins' Southern accents. All three grew up in the South, converging in Murfreesboro, Tenn., where they started the band after meeting as volunteers at the Southern Girls Rock & Roll Camp. Their first record closed with a cover of the old country classic "Keep My Skillet Good and Greasy," an obvious nod to the region that spawned them.
Growing up in Russell County, Ky., Jessi Darlin says, "I took guitar lessons from my grandfather when I was 9. He taught me all these country standards. But growing up in the country, you wanted to rebel from that. For a while, I didn't want anything to do with country music."
Enter the Ramones.
"I remember when I first saw Rock 'n' Roll High School, it blew my mind. I was like, 'I cant believe these people are real!'" she says.
That punk influence has begun to really show on Screws Get Loose. It was released in March, with scratchy, loud guitars, simple melodies and a full-time drummer, Linwood Regensburg, taking Those Darlins off the front porch and into the garage.
There's still a song about eating ("Fatty Needs a Fix," with its chorus "I'm starving for something, and it ain't your touch"), but Screws Get Loose is a fuller, more developed album. Even with less Hank Williams poking through, though, Those Darlins still proudly rep -- and defend -- the South.
"People think that everyone in the South is stupid, but there are rednecks in any rural area," says Darlin. "You can go out in the country, middle-of-nowhere Pennsylvania, and you'll have the same kind of people. There are idiots everywhere in the world."
Darlin remembers one show in Boise, Idaho, where she met "a woman from a small town in Tennessee, way out in the country. She'd been married for 50 years, but she'd never been back to visit because her husband was afraid of the South," she says. "We gave him a good talking to."
THOSE DARLINS with Natural Child, Ursa Major 10 p.m. Fri, June 17. Brillobox, 4104 Penn Ave., Bloomfield. $10. 412-621-4900 or www.brillobox.net