This weekend, the Strip District Music Festival will bring some of the area's best up-and-coming rappers and DJs to one place. The Taylor Gang/Daily Bread Beats Stage will feature artists who are just starting to gather buzz, a few who have performed in multiple cities and a couple who have already toured the country. Breaking into the hip-hop scene isn't easy, but a large-scale festival like this gives artists from across the city an opportunity to shine.
Gaining attention outside of the city is a goal of all the artists and DJs who will take the stage, and some of them have already tasted that kind of success. Opening the stage at 4 p.m. is DJ Afterthought, who certainly knows what it takes to be an engaging performer and has been riding across the country alongside Houston rapper Riff Raff, as his tour DJ.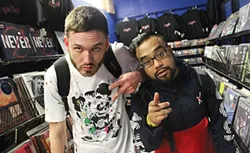 Other festival performers who have taken their shows nationwide are Beedie and his DJ, Bamboo. Beedie recently dropped his highly anticipated mixtape Counter Culture but says he still understands the importance of local shows like this.
"I think it's a good opportunity for young artists to find a new crowd they may have not otherwise reached," Beedie says. "When you're up-and-coming, you have to be hitting them from every angle."
The festival will also feature DJ Spillz, who will not only be on stage for his own two sets, but also spinning for artists Palermo Stone, JKJ and B Mattie. DJ Spillz understands the power of collaboration and has been taking full advantage of it, helping to provide sounds for many artists and events this past year.
"We're all from Pittsburgh, and we all love music. We need to work together to build an even stronger music scene in our city," DJ Spillz said. "This is a great festival to add to any résumé — the exposure always helps."