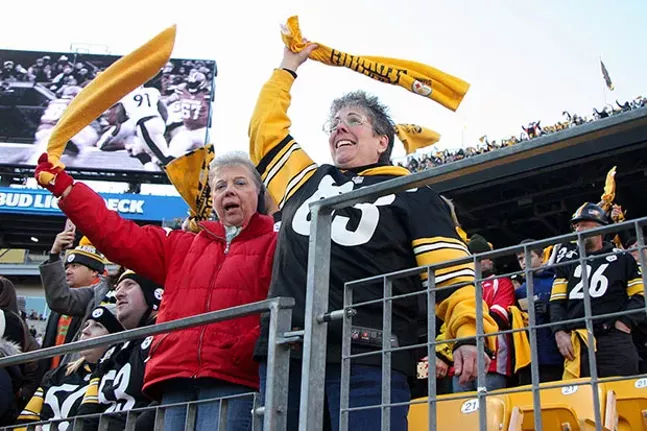 December 21, 1947
The city's first NFL playoff game kicks off at Forbes Field. The Steelers lose to the hated cross-state rival Eagles.
December 23, 1972

The Steelers take on the Raiders in Pittsburgh's first playoff game in 25 years. It's also the day that one of the greatest plays in sports history took place — The Immaculate Reception. Quarterback Terry Bradshaw's pass to Frenchy Fuqua hit and bounced off the hands of Oakland's Jack Tatum. Before the ball could hit the ground, Steeler Franco Harris scooped it up and scored the game-winning touchdown. Raiders fans say the ball hit the ground. Pittsburgh fans roundly believe they are full of shit.
December 23, 2004

Allegheny County native and former NFL head coach Dave Wannstedt is named head coach of the Pitt Panthers. Wannstedt would be out by 2010, and his dismissal would start a coaching carousel at Pitt, with six men taking the job over the next seven years.
December 24, 1913

World Welterweight champion and New Castle native George Chip defeats former champion Frank Klaus at Duquesne Gardens. Chip beat Klaus for the strap two months earlier at a fight at the former City Hall in Market Square. It was the first time Klaus had been knocked out in his career.
December 24, 2005

Steelers linebacker James Harrison flattens a Cleveland Browns fan with a body slam after the fan ran onto the field during Pittsburgh's 41-0 defeat of the Browns.
December 25, 1979

The Pitt Panthers win 16-10 against the Arizona Wildcats in the Fiesta Bowl to finish 11-1.
December 26, 1925

The NHL's Pittsburgh Pirates and the New York Americans set an NHL record for shots on goal in a single game with 141. The Americans win 3-1, but Pirates goalie Roy Worters makes 70 saves.
December 26, 2009

The last basketball game ever is played at Mellon Arena, by the Harlem Globetrotters.
December 27, 1975

The Pittsburgh Steelers take on the Baltimore Colts in a playoff game at Three Rivers Stadium. It is the first time that Terrible Towels are waved at a Steelers game.