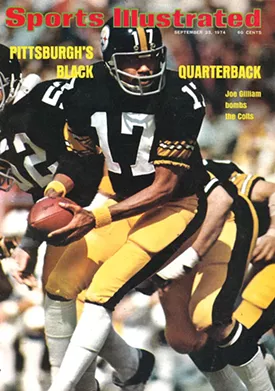 Nov. 30, 1952
While we all know the Pittsburgh Steelers as a six-ring powerhouse, times weren't always so golden. Quite frankly, before the Chuck Noll era, the team sucked. So when the Steelers scored nine touchdowns, forced nine turnovers and held the New York Giants to 15 rushing yards en route to a 63-7 victory at Forbes Field, fans were so excited that they stormed the field and ripped down a goal post.
Nov. 30, 1976

Pitt's Tony Dorsett is awarded the Heisman Trophy after rushing for more than 6,000 career yards.
Dec. 1, 1999

After its 75th season hosting college football, work crews begin demolishing Pitt Stadium.
Dec. 2, 1976

Just two months after retiring, former Pittsburgh Pirates manager Danny Murtaugh dies following a stroke. He was 59. Murtaugh compiled a managerial record of 1,115-950 over four separate stints with the Pirates from 1957-1976. He won two World Series.
Dec. 2, 1997

Former Steelers quarterback Bubby Brister tells reporters that it's tough to play in Three Rivers Stadium because the wind "blows off the lake."
Dec. 3, 1973

Pittsburgh Steeler Joe Gilliam becomes the first African American to start an NFL game as a QB. Miami beat the Steelers on Monday Night Football.
Dec. 3, 1987

The uneven play of Steelers quarterback Mark Malone could drive a lot of fans crazy. Fan Tony Morelli, of Wintersville, Ohio, really took his anger with the mustachioed signal-caller to the next level. According to the Pittsburgh Post-Gazette at the time, Morelli plowed his Plymouth through the gates of Three Rivers Stadium and ran over eight, 10-gallon vats of nacho-cheese sauce before driving to the third level via interior ramps. According to the P-G, Morelli "attributed his frustration [to] the performance of Mark Malone, the Steeler quarterback." Stadium officials found Morelli on the field "kicking field goals without a football." The charges against Morelli were dropped the following April when he made restitution of $1,345 — of which $685 was the cost of the nacho cheese.