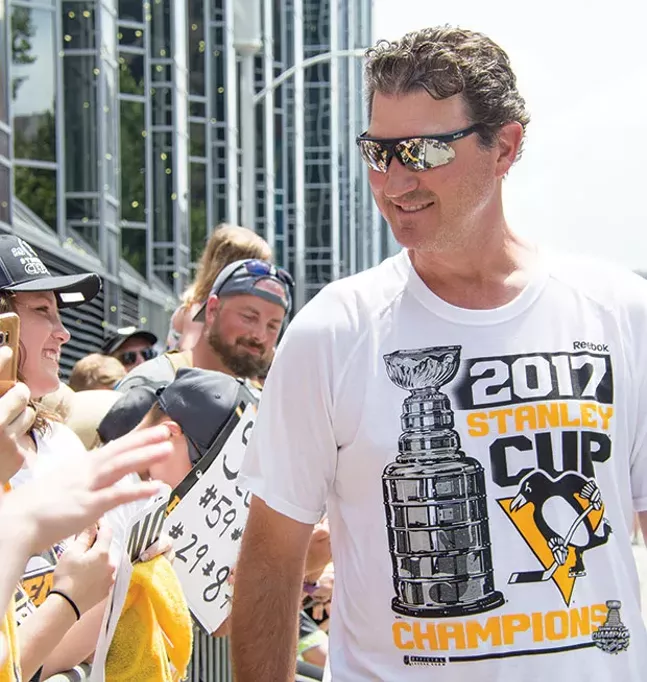 Oct. 19, 1964
Former National League batting champ, and star of the 1946 World Series, Harry "The Hat" Walker is hired to replace Pirates skipper Danny Murtaugh. Murtaugh, who had already won the World Series helming the Pirates, would return on three more occasions and win another world title in 1971.
Oct. 19, 1997

The Pittsburgh Penguins' Tom Barrasso becomes the first American-born goalie to win 300 games.
Oct. 20, 1956

The Pitt Panthers play in their first-ever Oyster Bowl, defeating Duke 27-14. The Oyster Bowl was an annual invitational game held in Norfolk, Va., as a fundraiser for Shriners Hospitals. The game was played continuously from 1948 to 1995, and again between 1999 and 2016.
Oct. 20, 1983

Pittsburgh Steelers rookie nose tackle Gabe Rivera is badly injured in a two-vehicle crash in Ross Township. The other driver is unharmed, but Rivera is paralyzed from the chest down, ending his short, but promising, NFL career. Rivera was charged with DUI and other offenses, but Common Pleas Court Judge Robert Colville dismissed the charges, saying, "There is no punishment that the law can give that would be comparable to the loss he has had."
Oct. 22, 1992

Penguins star Mario Lemieux notches his 30th career hat trick.
Oct. 23, 1976

Pitt's Tony Dorsett breaks the NCAA's all-time rushing record, previously held by Ohio State's Archie Griffin. Dorsett ended the season with the record, the Heisman Trophy and a national title.
Oct. 23, 2000

The Pirates hire Lloyd McClendon as their manager, making him the first African American to head-coach any of Pittsburgh's three major professional sports teams.
Oct. 24, 1972
Pirates second baseman Bill Mazeroski retires after 17 seasons with the team.