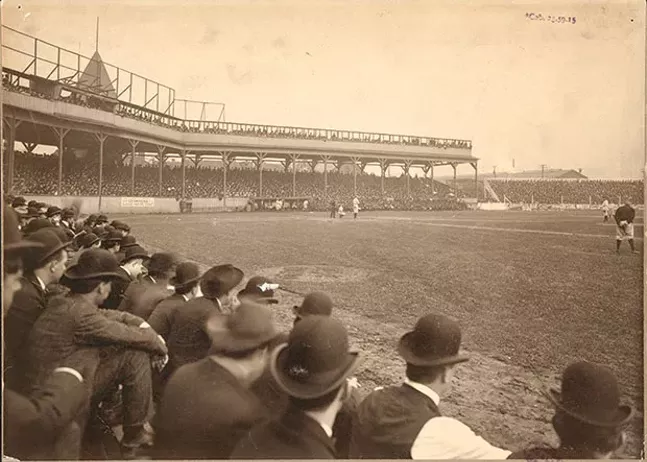 Oct. 12, 1963
The final game is played at New York's Polo Grounds. It was the Hispanic American All-Star game, and the Pirates' Roberto Clemente and Manny Mota played in it. The exhibition drew very little media attention, and only about 14,000 fans in a stadium that held more than 52,000. But in a 2013 story about the game, Mota told the New York Daily News, "For us, it was a question of prestige and pride, because we were representing our countries." Other legends in that game included Luis Aparicio, Juan Marichal and Orlando Cepeda. The National League won 6-0.
Oct. 13, 1899
On this day at Pittsburgh's Exposition Park, the Pirates beat the Louisville Colonels by a score of 5-6. Well, not exactly — here's what happened. Going into the ninth inning, the Pirates had a 5-2 lead. In the top of the ninth, though, Louisville scored four runs to pull ahead, 6-5. During that inning, though, according to Charlton's Baseball Chronology, thick, black smoke from nearby steel mills covered the field, making it impossible to play. Pittsburgh players couldn't bat because they couldn't see, and umpires eliminated the half-inning that just occurred and awarded the Pirates the 5-2 win.
Oct. 13, 1960
Bill Mazeroski hits the first and only walk-off home run to occur in a World Series Game 7.
Oct. 15, 1892
By all accounts, the career of Cincinnati pitcher Bumpus Jones was what the experts refer to as unremarkable. But he did have one highlight, and it came at the expense of the Pirates. Jones became the first of only three major-league pitchers to throw a no-hitter in his pro debut. It wasn't a pretty sight. Jones walked four batters, and a fielding error allowed a run to score, making the final 7-1. Jones wouldn't start another game all season and, in fact, would see the field only eight more times in his brief two-season career.