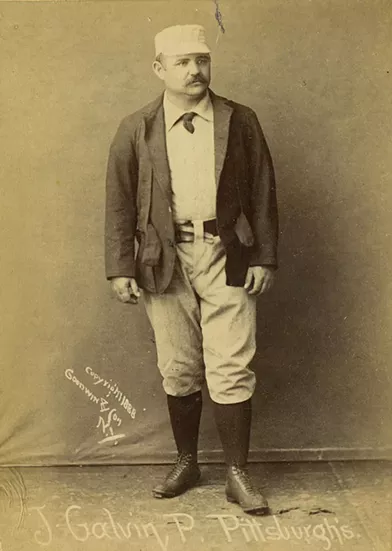 Aug. 13, 1889

Pittsburgh Pirates pitcher Pud Galvin leads his team to 9-0 shutout win over Boston. But, this entry is just an excuse to talk about Galvin, who had a career ERA of .285 and pitched an average of 400 innings every season (for perspective, San Francisco Giants ace Madison Bumgarner has never thrown more than 226 innings a year). But the most interesting thing about this game is the fact that Galvin, way back in 1889, used performance -enhancing drugs before the game and everyone knew it. Galvin mixed "Brown-Sequard" elixir into a drink prior to what would be this fantastic game. And what is Brown-Sequard? Why, it's testosterone drained from the nut sack of a monkey. But instead of being given the bum's rush, The Pudster and the elixir were hailed in the Washington Post: "If there still be doubting Thomases who concede no virtue of the elixir, they are respectfully referred to Galvin's record in yesterday's Boston-Pittsburgh game. It is the best proof yet furnished of the value of the discovery." Not only was Galvin not chastised, he was lauded and not just by the Post. In 1965, Galvin was inducted into the Baseball Hall of Fame. So maybe there's a chance for Roger Clemens and Barry Bonds.
Aug. 16, 1890

Pittsburgh Pirate Bill Phillips becomes the first pitcher to ever give up two grand slams in the same game. He would remain the only person to do so for the next 109 years. Los Angeles pitcher Chan Ho Park gave up two to St. Louis' Fernando Tatis … in the same inning.
Aug. 16, 2012

Los Angeles shortstop Hanley Ramirez hits a home run and taunts Pirates pitcher A.J. Burnett as Ramirez rounds third base. In the sixth-inning, Burnett struck out Ramirez and promptly told the Dodger infielder to "Sit the Fuck Down." You can still buy S.T.F.D. t-shirts around town to this day.