A look back at events that you've either forgotten about or never heard of in the first place.
July 13, 1900

While it doesn't set a record, it's still embarrassing as the Pirates lose to the Philadelphia Phillies, 23-8.
July 13, 1939
"The Pittsburgh Kid," Billy Conn, wins the world light-heavyweight boxing championship in a 15-round decision.
July 13, 1962

Latrobe's Arnold Palmer wins his second consecutive Open Championship (more popularly known as the British Open), crushing the field by shooting a 276 (12 under par).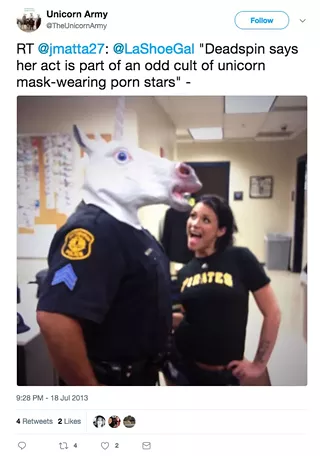 July 13, 2013

Adult-film actress Andy San Dimas is ejected from a Pirates game for wearing a unicorn mask and dancing in the aisles. Controversy would surface later when a Pittsburgh Police sergeant posed for a picture wearing the mask in the PNC Park security office. A departmental investigation was apparently launched, though no results were ever made public.
July 16, 1970

Three Rivers Stadium officially opens to a sellout crowd and a loss to Cincinnati. The Pirates' Richie Hebner scores the first run in the new park, and Willie Stargell notches the first home run.
July 17, 1939

After spending more than 10 seasons with the Philadelphia Phillies, the "Hoosier Hammer," Chuck Klein, is released by the team in June 1939, then is signed by the Pirates. In his first game as a Bucco, Klein hits two home runs against the Phillies in Philadelphia.
July 18, 1930

The first night baseball game in the city's history is played between the Homestead Grays and the Kansas City Monarchs.