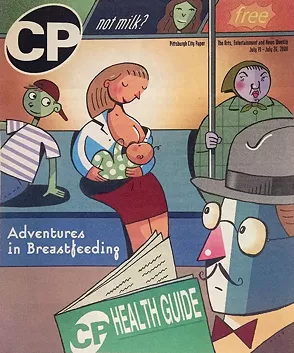 Yes, We Are Open (July 15, 1992)
This issue marked City Paper's eighth month in operation. Back then, there were many media choices to choose from including the Pittsburgh Press and the Pittsburgh Post-Gazette. But at this time, both those daily papers were in the middle of a heated strike that had already lasted eight weeks and would continue for six more months. Like any startup, CP took the opportunity to prove its usefulness to the community by printing a "newspaper strike survival guide." The first topic? Where to spend those ad dollars that are burning a hole in your pocket. "Weekly newspapers, such as the one you're reading, reach the coveted 18-to-35-year-old market. If you want to capture your audience's attention, you owe it to yourself and your clients to consider weeklies as a key element in your successful media buy."
What's a Little Hazardous Waste Between Friends? (July 21, 1993)
Most people may not know it today, but less than 30 miles northwest of Pittsburgh in East Liverpool, Ohio, on the banks of the Ohio River, sits a hazardous waste incinerator. But back in the late 1980s and early 1990s, everyone in the country knew about plans to build the plant; it was set to be near the water in a residential neighborhood and a stone's throw from an elementary school. The protests were ferocious. Picketers came from dozens of miles away or more to express their dissatisfaction. Actor Martin Sheen came to protest and even got arrested. This week, writer Don Beaulieu wrote about the ongoing campaign against the plant and about the protesters' disgust with the new Clinton-Gore administration that had promised to shut the plant down. Instead, the EPA permitted the plant, and it's been burning hazardous waste ever since. Beaulieu's story outlined the connections between former President Bill Clinton and the project's founder, Jackson Stephens, who was one of Clinton's largest campaign donors.
Live From Pittsburgh (July 20, 1994)
One of the best parts of doing this history project is checking out the entertainment that has passed through the city. The following artists played Pittsburgh this week: Kansas, Electric Light Orchestra, Molly Hatchet, Bachman-Turner Overdrive and Donnie Iris live during the Rib Fest at Three Rivers Stadium; Humble Pie, at The Boardwalk; The Village People, at I.C. Light Amphitheatre; Mojo Nixon, at Graffiti; Tom Jones, at the I.C. Light Amphitheatre; and Sorry About Your Daughter, at the Electric Banana. Most of these bands are still around, but none of these venues still exist.
Breast Practices (July 19, 2000)
Writer Frances Rupp contributed a personal story to a cover piece entitled "Adventures in Breastfeeding." The two-story package told the tale of some local mothers and the reaction they received for breastfeeding their children in public. For her part, Rupp relayed a story about feeling "dirty" while breastfeeding her baby at a restaurant. A woman was "watching my every move with scolding eyes. I might as well have been standing on their table wearing pasties, shaking my tits and saying 'lookie here,'" she wrote. "All day people are telling me I need bigger breasts to be more of a woman. … You're supposed to make them bigger so more people will look at them. But the last thing some people want to look at are your bigger jugs with an infant sucking at them like a pufferfish."