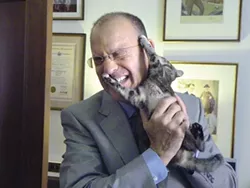 On May 4, 2011, frequent Pittsburgh City Council critic Yvonne F. Brown surprised everyone in council chambers when she hauled a cat out of her bag and presented it to Councilor Bruce Kraus. While Brown wasn't much of a fan of Kraus (still isn't, in fact) as a representative, she knew he was a cat-lover because he once asked Brown, "Why do you hate cats and dogs?" But when a neighbor could no longer keep the cat, Brown brought it to Kraus. Brown told city council: "This is to build a bridge between [Kraus] and me. … I don't know how good of a council person he is, but he has a heart." For his part, Kraus told writer Lauren Daley for a July 14, 2001, story that he named the cat "Yvonne F. Brown" because the cat — who often swatted, scratched and bit Kraus — shared Brown's temperament. "She's definitely a little wild and definitely a free spirit that speaks her mind." The best part of this story, though, was the photo Daley captured of Yvonne the cat attacking Kraus (at right). The whole thing is kind of a feline version of The Manchurian Candidate. The kitten lived for several months in council offices but was later removed and adopted by a staffer when complaints were made, allegedly by Kraus' political rivals.
Fraud was much simpler in the 1990s (July 13, 1994)
If there's one thing we've learned throughout this history project, it's that the best stories are the ones that, while outdated, still relate to issues we face today. The cover story this week was "Phonies," by writer Rebecca Baker. The story detailed fraudulent telemarketers and the people they hurt. The cover featured an ominous push-button phone with handcuffs on it. The FBI had recently shut down a large-scale telemarketing scam that had victims of all ages sending money through the mail for broken cameras. One positive was that most victims lost "usually only a small amount of money." Compare that to the Internet age, where victims send thousands of dollars to Nigerian princes to help secure their share of $20 million.
But You're a Girl! (July 14, 2004)
Just in case you thought you were special because you're currently living in age of "New Pittsburgh," you're not. The phrase "New Pittsburgh" is as annoying and dated as hearing people (mainly hipsters and transplants) say "yinz" every five goddamned minutes. Chris Potter wrote about how women were being left out of opportunities in the New Pittsburgh. Potter highlighted a study that showed, among other things, that women in the city made on average 60 percent less than men; that despite one of the highest concentration of college-educated women, their expertise wasn't being taken advantage of; and that, even though women were more likely to work at nonprofits than men, they still made less money than their male counterparts. Potter even pointed out that CP's editorial staff of 11 had just three women employees and no female editors. Well, at least at City Paper, we can report that we are doing better. Out of 10 editorial positions, six are held by women — four women are editors and one is the art director. Viva "New Pittsburgh."
A Chip, A Chair and a UFO (July 16, 2009)
Writer Charlie Deitch profiled a Hazelwood man named Kent Senter, who was in the middle of playing in the World Series of Poker in Las Vegas. Senter had moved here from North Carolina through his job with the Lowes home-improvement chain and had recently been diagnosed with terminal cancer of the plasma cells. The cancer was caught late because it had originally been misdiagnosed. By the time it was caught, the disease was advanced. Unable to work, Senter began playing free online-poker games and nearly won himself a free entry to the tournament, which costs $10,000. He was disheartened, and his wife went online and asked for help. An online-poker site paid for him to enter and put Senter and his family up in Las Vegas for the trip of a lifetime. Senter didn't win money at the tournament, but this is not a sad tale. A little research online finds that Senter's still alive and dreaming. In 2013, according to the Huffington Post, Senter got a sizable settlement for his cancer misdiagnosis, though unfortunately he went out of remission. But he used some of that money to realize another dream: to hold a UFO conference in his hometown. Senter said he had two past experiences with UFOs and founded the Center for UFO research. Despite the cancer, he's still around and has speaking engagements scheduled through the fall.
A Law Worth Breaking (July 8, 2015)
Summer intern supreme Jessica Hardin tells the compelling story of a mom from the South Hills who consciously and publicly broke the law to give her daughter medical cannabis oil. The fight to legalize the medication had been ongoing for years in the state, and some prickly Republicans were doing everything they could to block the inevitable passage of the law. That left people like Jessica Hawkins and her daughter Antania, who suffers from Dravet Syndrome and has dozens of seizures every day, without the only medicine proven to help. When Hardin asked her if the risk of arrest was worth it, Hawkins told her: "It comes down to either going to jail or a funeral." The state finally passed its medical-cannibis law in April.