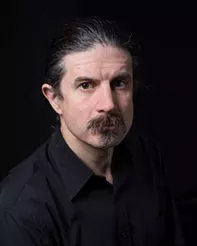 Our featured item in this week's history column hasn't actually happened yet. Well, it hasn't happened as this column was being written. It happened the moment this issue came out on May 25, 2016. But it won't be history until at least May 26. Luckily the subject of this week's column writes a lot better than what you've just read. This issue is the 1,000th issue of City Paper for Arts Editor Bill O'Driscoll. O'Driscoll's first was April 3, 1997, and featured a Rich Lord story titled "McCopsPort," a story featured in this section several weeks ago, about the political power of the McKeesport Police Department. O'Driscoll was hired as the paper's film reviewer and his first story here was a review of the Val Kilmer film The Saint. O'Driscoll has seen the paper go through several transformations over the years, and says the biggest have been "the big improvement of the paper's visual aesthetic; the rise of web-only content; and the post-internet, post-crash downsizing of the print edition." He's also written a ton of stories, but his favorites include "a 2004 profile of cantankerous falconer Earl Schriver called 'Rare Bird,' and 'Wild Times Ahead,' a 2006 profile of anarcho-primitivist and writer Kevin Tucker. I liked the big ideas in both articles," O'Driscoll says. And while he says there aren't any stories that he would want to do over — "too much work" — he does wish he would have followed up on a story on a series of tire-pile fires in Washington County. Although since it is Washington County, the next tire fire is bound to happen sometime in the next 1,000 issues.
Market Plunge (May 25, 1994)
Staffer William Loeffler wrote about the closing of City Foods, a Homewood grocery store. It was just the latest in a string of neighborhood grocers to close up shop within the city, including markets in the Hill District, East Liberty and Manchester. Joni Rabinowitz, of nonprofit Just Harvest, told Loeffler: "There's a market for food in the inner city," she says. "Everybody eats." The loss of urban grocery stores would continue over the years. Then, in 2013, Shop 'n Save opened a full-service grocery store in the Hill District, the first such store there in 30 years.
Other Party People (May 21, 1997)
Bill O'Driscoll took a look at Gov. Tom Ridge's promise to help businesses meet environmental regulations. Critics, on the other hand, believed Ridge's only plan was to help companies avoid compliance. O'Driscoll wrote: "Advocates say the administration, as a payback to corporate supporters, is rolling back protections at an alarming rate."
Medical Malpractice (May 24, 2006)
Charlie Deitch examined the case of Dr. Bernard Rottschaefer, an Oakmont doctor who was charged with more than 100 counts of improperly prescribing pain medication to patients. In some instances, prosecutors alleged, pills were exchanged for sex. But the case had many, many problems. Most of the witnesses against the doctors received sweetheart plea bargains in exchange for testimony, and one admitted several times in writing that she lied on the stand and that the case was bogus. Rottschaefer, however, lost appeal after appeal. (He was released from prison in 2013 after serving more than six years.) Deitch wrote: "All that stands between him and a prison cell is the U.S. Supreme Court ... and the hope that someone will care that something with his case just isn't right. Because in this drama of drug use, it's not entirely clear who was using whom."
Way of the Gun (May 24, 2007)
In any crime where a firearm is used, one question that kept arising in the CP newsroom was: Where did the gun come from? Staff writer Violet Law decided to find out in this piece that traced the origins of a gun used by two 17-year-olds to rob a Yellow Cab in 1997. The story looked into the issue of straw purchasers, or individuals with a clean criminal record who buy firearms for those looking to use them illegally. Law wrote: "By the time [the gun] ended up in the back of Ayi-Kumi's cab, it had already traveled thousands of miles — from a factory in Arizona to a gun shop in West Mifflin and a crime scene on the North Side. And it passed along from a store clerk to a drug-addicted mother of three, to a drug dealer — and, finally, into the hands of kids barely old enough to drive."
Your Honor? (May 28, 2009)
Staff writer Chris Young delved into the qualifications needed to be a district judge in the state of Pennsylvania. He found that holding a law degree was not necessary, but being politically connected and able to raise campaign funds was. The job had become, in several instances, a political stepping-stone for politicians and political-party denizens. Young wrote: "To become a district judge, candidates must merely be 21, live in their magisterial district for at least a year and pass a month-long training course. Less than one-third of the county's district judges, each of whom earns $76,508, are attorneys."
Slice of Sadness (May 22, 2013)
There's a lot of great pizza in Pittsburgh, but when you're talking about the best, two names are always on top: Aiello's and Mineo's. The two shops have sat near each other in Squirrel Hill for decades. But in this issue, CP remembered Joe Aiello, who died that week at the age of 71. Aiello opened his shop in 1978 after working for years at Mineo's. According to the story: "Customers tell of Aiello growing the vegetables he'd use — long before it became trendy in the restaurant scene to use local produce. Staff say he was a stickler for doing things the right way. 'He made [the shop] come into being without advertising and without delivery,' says Tim Watts, an Aiello's employee. 'Think about that: Don't advertise and don't deliver. You really have to stand on your recipe.'"