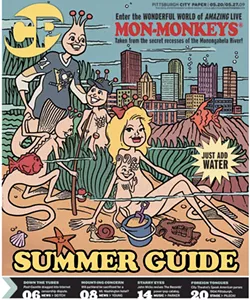 There are certain issues of City Paper that we publish annually, and finding original concepts can be challenging. Take our Summer Guide. Each year we try to come up with a great image that says: "Hey, it's summer; pick me up and see all the awesome stuff going on from now until Labor Day!" On May 20, 2009, then-editor Chris Potter had a fun, quirky idea based on the old ads in the backs of comic books that sold Sea Monkeys — underwater creatures that could be "trained to do tricks" and "entertain." Of course, the original product was something of a scam, and our spoof was so obviously fake that we thought nobody could mistake it for a real product. Artist Mario Zucca drew the cover, and an inside cover even included a description of the creatures and ordering information. The "Mon-Monkeys" could be trained to do "all sorts of things: waving tiny towels over their heads and voting for members of the Zappala family." It also came with a water depurifier to "ensure there's enough pollution to keep your Mon-Monkeys feeling right at home." For $2.50, plus $1.50 shipping and handling, you could get a Mon-Monkey starter kit by sending the money and order form to the Allegheny Conference on Community Development. Sure, the ACCD was a real organization and we even printed its real address, but what's the problem? It's obviously a joke, right? Not only did we receive inquiries at City Paper offices about ordering the creatures, but the ACCD received several order forms in the mail that included real checks for a fake product. Two weeks later, CP issued a clarification under the headline: "Mon-Monkeys do not exist." The mea culpa concluded: "Mon-monkeys do not exist, and the only purpose of this 'ad' was to create a loving satire of Pittsburgh life. We apologize to our readers who may have been confused and to the Allegheny Conference for any headaches caused by our ridiculous stunt."
Bilking Competition (May 17, 1995)
It seemed like an innocuous story at the time. Thrift Drug, a once-large regional drugstore chain, held a big-time annual cycling event in Pittsburgh. Alan Wallace wrote a story for CP about the event adding a women's invitational. Also, in 1996, the event would be part of the selection process for the U.S. Olympic team. But the most fascinating item in this report is about a young cyclist named Lance Armstrong. Armstrong had won this event the three previous years, including in 1993, when he'd won $1 million for taking three races known as cycling's Triple Crown — the first round of which was in Pittsburgh. Many years later, as allegations came out about Armstrong's decades-long history of cheating, came the admission that he paid off opposing riders in the Thrift Drug Triple Crown to let him win.
Won't You Cut My Neighbor? (May 16, 1996)
John Gardner wrote about how WQED, the public-television station that brought Mr. Rogers to the world, was facing some hard business decisions in the face of a $12 million debt. QED was considering selling off its flagship publication, Pittsburgh Magazine (a move that wouldn't happen for many years), and was looking for ways to cut its budget. Prior to this story, the station was hit with allegations of mismanagement and high pay for executives. Not much positive would come of this, however. There were staff and programming cutbacks from time to time, but the station's debt remained high, as did executive salaries, until 2015, when executive pay was cut and a quarter of the station's staff was laid off. The remaining debt, about $5 million should be retired in 2030.
Patience, Mr. Peduto, Patience (May 25, 2005)
Chris Potter reported from the election-night campaign party of then-city councilor Bill Peduto, who had just been drubbed by newly elected Mayor Bob O'Connor. Peduto told reporters that a new political movement was coming. Potter wrote: "Every candidate says he's building a platform for the future, of course. … But Peduto may actually deliver." It didn't happen four years later, but the 2013 campaign was filled with the buzzword "New Pittsburgh.
The Healing Power of Ohio (May 15, 2008)
CP writer Al Hoff decided to take a road trip as the main feature of our Summer Guide. But Hoff, never one for convention, toured religious attractions in Pennsylvania, Ohio, West Virginia and Maryland. Among the highlights was a visit to Ernest Angley's ministry outside of Cleveland, in Cuyahoga Falls, Ohio. She attended a Friday-night service, led by the famous/infamous Angley, that featured one of his classic healing sessions. Hoff reported: "I see no genuine miracles. A young man with crutches discards them, then limps a few steps. Angely pronounces him healed but returns the crutches, telling him to 'use them 'til you don't need to anymore.' Well, duh."