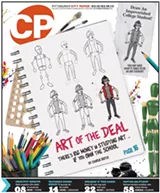 Nowadays, it's common to hear about a for-profit education company screwing over its students by providing a high-cost education of debatable value to students who were surprised by the final price tag and will likely default on their loans. But in 2008, very little was written about the business practices of some of these companies, although the largest is located right here in Pittsburgh. Charlie Deitch went behind the scenes of Education Management Corp. and its flagship school, The Art Institute of Pittsburgh. The story focused on the high price of the education and the financial difficulties of students saddled with massive debt and an education that couldn't even get them a job earning enough money to pay back their loans. Since then, the company has had massive layoffs, settled a Department of Justice lawsuit for $96 million and watched its stock price drop from $30 a share to roughly 9 cents a share today.
A green story once meant something completely different (March 16, 1994)

Back in the day, CP staff went all out for St. Patty's Day coverage. Editor John Hayes tried to get to the bottom of what constitutes an "authentic" St. Patrick's Day. One bar-owner called the day "an American tradition like Thanksgiving or the Fourth of July." Elsewhere, the editors ranked Irish musical acts from Van Morrison to The Cranberries.
Councilman, heal thyself (March 15, 1995)

Pittsburgh City Councilor Joe Cusick was causing controversy when he proposed a nightly curfew for juveniles. It caused a civil-rights fire storm and also had folks wondering whether Cusick was the right person to be handing out advice on proper behavior. A year earlier, Cusick had been arrested for brawling with police officers outside a bar late one night. Look for Cusick later in the year in this spot when we talk about his conviction in 2000 for charges related to taking bribes and selling jobs at ALCOSAN.
To threaten not to serve (March 13, 1997)

Sadly, the issue of police accountability in Pittsburgh isn't a new issue. A CP editorial took on comments made by Fraternal Order of Police union chief Smokey Hynes in light of a federal consent decree forcing sanctions and reforms on a department that seemed to struggle with the constitutionality of its tactics. Hynes threatened that officers would lower performance levels if the city "cave[d]" to the mandate. The city did follow the order, but while officers might have lowered their performance levels in protest, it was already so low, who the hell could tell?
At least if you can watch HGTV, you can see someone's home being remodeled (March 17, 1999)

Facing a budget deficit of more than $7 million, and forced to cut resident programs and essentials like subsidies for heat and electric bills, the Pittsburgh Housing Authority decides it's the perfect time to spend several hundred thousand dollars on cable-television hookups Said one resident: "It just seems like the wrong place to spend money."
Hell-a-copter (March 15, 2000)

CP staffer Chris Potter spends time with Mal Hellett, a broker from Regent Square, and other residents pissed off about the ruckus caused by WTAE's helicopter early in the morning. Hallett called it a "scene out of Apocalypse Now." He also questioned whether the chopper's early-morning flights were really necessary. "I love WTAE; I love Sally Wiggin. But I think we all know there's going to be traffic on the Parkway East in the morning. I think everyone's kind of psychic that way."
Everybody starts somewhere (March 13, 2002)

Staff writer Brentin Mock profiles an up-and-coming young African-American politician making a run against a seasoned, well-known incumbent. The challenger was Jake Wheatley, and he would go on to beat William Robinson in the primary for the state House Rep seat he still holds 14 years later. As Wheatley told Mock, "You only fail if you don't try."
Bad sentence structure (March 16, 2005)

This issue featured the first City Paper story from now-editor Charlie Deitch on the disparities that still existed in federal sentencing guidelines. Despite a Supreme Court ruling that said judges weren't strictly beholden to the guidelines, judges in the district weren't getting the message. The report profiled two "low-level" drug dealers with no priors who received near the maximum penalty under the structure that was allegedly no longer mandatory.
Somebody's watching you (March, 15, 2006)

Anti-war protests were quite common in post-9/11 Pittsburgh. The heart of these protests seemed to stem from the people involved in the Thomas Merton Center. In 2005, the center, along with the ACLU, requested copies of the FBI's file on the Merton Center. Among the reasons the group had been watched since 2002 included "international terrorism matters" and pacifism. Apparently the FBI was troubled by the fact that there were "more than a few Muslims and people of Middle Eastern descent among the regulars attending meetings." It also turned out that the FBI had placed an informant among the group's ranks.
Here we go, Steelerbaby, here we go (March 19, 2009)

Steelerbaby, a kewpie doll clad in a black-and-gold knit outfit, had become something of a local online celebrity. Its creator, designer Larkin Werner, sold merchandise online related to the doll. One set of items got the attention of nationally known artist Shepard Fairey, best known for the original Obama "Hope" poster and art featuring an image of pro wrestler Andre the Giant and the word "Obey." Werner began selling Obey Steeler Baby merch and Fairey lost his shit, and had his lawyers send cease-and-desist letters. The fight was dropped, however, after CP writer Chris Young reported on the issue and pointed out that Fairey is no stranger to gaining "inspiration" from other artists either.