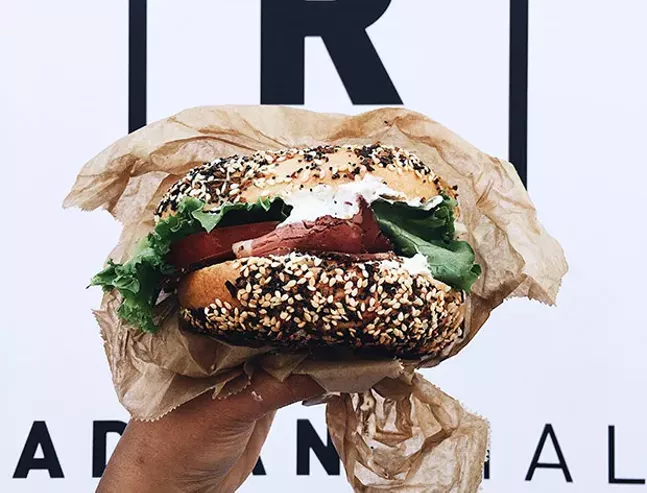 Pigeon Bagels
The lack of quality bagels in Pittsburgh has long been a blemish on the city's otherwise flourishing food scene, but things might be looking up in that regard. Pigeon Bagels, a beloved 'Burgh pop-up and wholesaler, announced an upcoming storefront in late December. After late nights (or early mornings) cooking in rented space from Badamo's Pizza, 26-year-old Gab Taube, founder of the shop, is ready to claim a spot in Squirrel Hill.

Taube plans to create a casual eatery, featuring Pigeon Bagels' sought-out sandwiches and spreads. In addition, Taube is exploring the possibilities of kosher items. Tentative plans show the shop opening this spring.
Spork's Cheese Dinner
Spork is hosting a Cheese Dinner on Wed., Jan. 23, featuring seven courses of delicious cheese products. Dishes include a Raclette-style cheese melting into a house-cured ham, a souffle of coffee-aged goat cheese and Swiss chard, and linguini in a Grana Padano wheel.
Courses will feature a wine pairing curated by sommelier Olivia Lindstrom.




Mayfly Market & Deli
The team behind Gilligan's Sorbet took over the Mexican War Street's old Allegheny City Market on Arch Street, turning sorbet into sandwiches, soups, and other city favorites. Mayfly Market & Deli, a cafe and store focused on good food and good service, opened on the North Side in early October.
There's a wide range of staples and other fare available every day, including an extensive menu that combines classic deli offerings with international flavors. Despite global tastes, the market sources local, with produce and other products from local vendors. Shop for all your Pittsburgh favorites like Leona's Ice Cream Sandwiches, Pigeon Bagels, and Rolling Pepperoni.
Millie's Homemade Ice Cream
Millie's Homemade Ice Cream is a Steel City phenomenon. Even in the winter, with snow falling and wind blasting, lines are out the ice cream shop's front doors, the aroma of freshly-baked waffle cones luring in passersby. Much to the delight of Pittsburgh's collective sweet tooth, Millie's is opening a Lawrenceville location in 2019.
The new store is scheduled to open in June. This marks Millie's third location, in addition to the self-dubbed "crazy baby" (Millie's Ice Cream Truck), and a commercial facility and tasting room in Homestead.
Adda Coffee & Tea
Adda Coffee & Tea, an East Liberty favorite, expanded to a new location on Western Avenue in early December, adding to the list of North Side newcomers.
"Adda" is the Bengali word for friendly conversation between a group of people. The shop takes this to heart, renovating a Victorian-style home into a welcoming space for coffee, conversation, and community. Each month, Adda features a region of the world, showcasing coffee and tea from the area. Stop by to taste this month's global pick!



Arbynator

In an attempt to rise above the rest, Arby's is taking cues from Pittsburgh traditions. The result? The Arbynator, a spin on a classic roast beef and cheese 'wich, topped with a handful of curly fries. Primanti Bros. might have some competition. Just kidding.
Deconstructed latte
Mediterra Cafe in Sewickley is taking a page from high school chemistry for its new coffee drink, a deconstructed latte, the first of its kind in Pittsburgh comes in four parts: frozen coffee cubes, a shot glass of espresso, a small pitcher of milk, and a syringe of simple syrup. From there, it's all DIY.
Coffee aficionados claim deconstructed is better. But a syrup syringe seems like one step too far. Mug preferred.
Pastel de nata
Venture to Azorean Cafe in Bloomfield and discover the wonder of the Portuguese pastries. Puff pastry, filled with an egg custard, is baked and finished with a char. It's sweet, lush, and completely addictive.


Have food news to share? Send restaurant openings, closings, and menu changes to Maggie Weaver at mweaver@pghcitypaper.com.