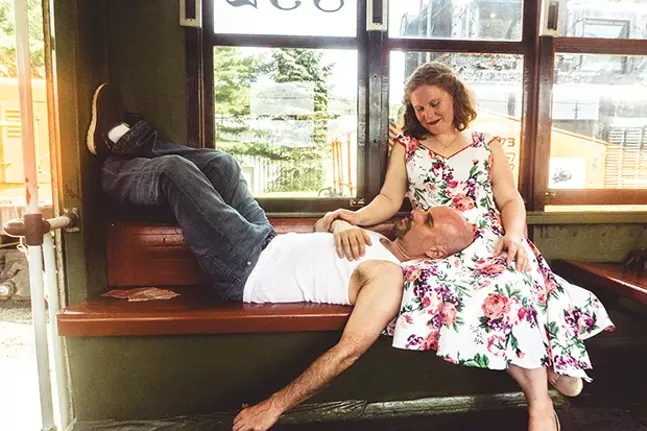 A faded woman carrying a faded suitcase stumbles into a seedy corner of the French Quarter and says, "They told me take a streetcar named Desire." And with that, Tennessee Williams introduces one of the America theater's most indelible heroines, Blanche DuBois, in his 1948 Pulitzer winning A Streetcar Named Desire — now in production at Little Lake Theatre.
In that opening scene, Blanche arrives in the Quarter looking for her sister, Stella, to provide safe haven. Blanche has run out of money, options and hope, and we're about to watch her final descent into negation. Driving her to that end is another famous Williams creation — Stanley Kowalski, Stella's husband. While Blanche lives in a twilight world of illusion and magic, Stanley exalts in the blunt force of his own masculinity. His entrance famously finds him walking onstage carrying a package of meat. Williams pits these two in battle to a brutal finish with Stella the fulcrum; loyal and loving to her fragile sister but held in thrall by the feral Stanley.
Because the original production and subsequent film featured the almost inhumanly magnetic Marlon Brando, Streetcar is sometimes thought of as Stanley's play. But I'm happy to report that this Little Lake production is more in line with Williams' original intent. This is Blanche's story, and Stanley is only one of the horrors she must confront. (Perhaps her biggest enemy is her own deteriorating mental health.)
Art DeConciliis directs a foursquare, forthright and honest production. That may not sound like high praise, but DeConciliis' goal is to stage Williams' play, not his own "reconceived" version. It's the current fad for directors to use a script as a jumping off point for their "vision," but anyone who thinks they can "fix" Streetcar probably shouldn't be in theater.
Ponny Conomas Jahn begins her Blanche perhaps a little more "together" than she should, but the plus side of that is making Blanche's fall more vertiginous and frightening. It's impossible not to be moved by this performance.
Jena Oberg is a strongly convincing Stella and her struggle between her sister and husband is powerful. Buddy Wickerham luxuriates inside the dark, primal urgency of Stanley's interior and Gregory Caridi is poignant and sad as Mitch, the last of Blanche's last chances.
With the beauty of his work, Williams lit candles to provide solace to life's wounded, and Blanche DuBois is one of his brightest.