Millvale's borough manager, Amy Rockwell, concurs that businesses interested in Millvale are also interested in the sustainable practices preached by the community. "Businesses seem to be focusing on sustainable practices which focus on long-term commitment to address community challenges," writes Rockwell in an email. "Being a community-minded business allows for the business owners to shape and grow our communities. Millvale is at the forefront of the sustainable community practices."
Rockwell says this focus on sustainability has garnered the borough a Certified Gold Community award from Sustainable Pennsylvania, an organization that encourages municipalities to make goals to save money, conserve resources, and encourage innovation.
But it wasn't always smooth sailing in Millvale. Walker says it took a couple years for the MCDC, the community and the borough government to get on the same page.
Zaheen Hussain, Millvale's sustainability coordinator, says that even after the groups came together to create the EcoDistrict plan, it didn't take off right away, even though it has now gained widespread support. "Early on in 2012, the room of active participants had maybe 10 or so people," Hussain wrote in an email. "Last year, as we kicked off our second round of EcoDistrict planning, we had nearly 100 people fill up our community center, with a majority of those folks being residents and business owners, and the rest being regional professionals interested in partnering with Millvale.
"There is a genuine desire from community leaders to learn from residents so that programming can be developed to fit the needs of the community. This means not only making participation an option, but actually increasing ease of participation by having multiple platforms of involvement to fit into people's busy schedules."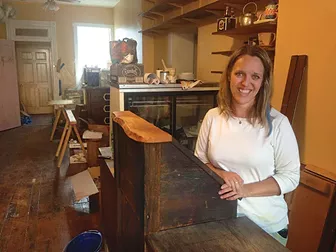 One of those new businesses actively participating in the community is Tupelo Honey Teas, which is set to open this month, right next to the Millvale Community Library. Tupelo owner Danielle Spinola grew up in Millvale and is actually a descendent of Simon Girty, the namesake of the creek that runs through town. She participated in New Sun Rising's Millvale business incubator and was convinced to open up shop in Millvale after attending an EcoDistrict meeting.
"There was this collective idea to raise the community up without gentrifying it," says Spinola. "This is definitely the right time to come in. I feel back at home again."
Spinola says that so far the borough has experienced manageable, controlled growth. Walker says this is intentional, because MCDC doesn't want to see multi-national chains move into the borough. Spinola says this commitment to small business builds a loyalty between residents and business owners that is common in small towns.
"When you come in and are loyal to the town, they are loyal back," says Spinola.
Either way, the town might need to continue this growth to tackle some of its long-term problems. According to data compiled by Applied Graphic Solutions, at 6 percent, Millvale's unemployment rate is higher than the county average of about 4.5 percent.
A surge in economic growth has some people in the town worried that new wealthier residents will move in, drive up housing prices and rents, and push out longtime residents, as some say has happened in East Liberty and Lawrenceville.
"Gentrification is a very real fear, and it should be, as there are countless examples of it happening all over the country," wrote Hussain. But he believes that Millvale is ready to take on any gentrification challenge and cites Millvale's community garden as proof.
"The Gardens of Millvale had high interest from businesses who wanted to develop it into something else," wrote Hussain. "Understanding the importance of green space, residents not only banded together in support of the gardens, but also raised grant funds to formally purchase the property to protect it while also preserving good relationships with the businesses that are interested in growing in Millvale. I'm not sure that would have happened 10 years ago."