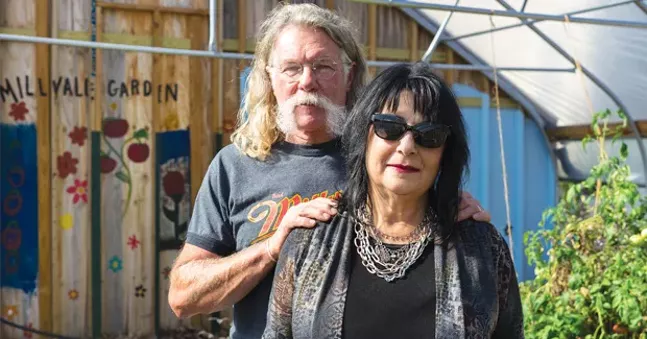 In 2007, Millvale was hit by a disastrous flood. Girty's Run, the creek that runs through the borough, swelled to mammoth proportions and engulfed the town's main drag, Grant Avenue, and most of the business district. Millvale, like many small towns along one of Pittsburgh's three rivers, had been declining for decades and the flooding harshly punctuated the town's struggles.
"After the flood, residents had two choices," says Scott Wolovich of New Sun Rising, a social-enterprise incubator that has been working in Millvale for years. "You either fold up your tent and go home, or you roll up your sleeves and see what you are made of. Folks here were not going to fold up the tent and go home."
Dozens of community members volunteered to clean up after the flood, and Wolovich says that during the clean-up, residents realized their borough could use some more community spaces. Residents started setting goals to start a library, a small park and a community garden.
All of those goals have come to fruition in the past few years. And now, small businesses and millennials are flocking to Millvale, revitalizing the old mill town in an organic, community-led way uncommon among the region's old industrial boroughs. Millvale is set to extend its bike trail, get a new coffeeshop/farm stand, open a tea shop, and even launch a hotel in the near future. Additional proposals keep flowing in.
Community stakeholders hope that the new jobs that small business brings to the town will help reduce Millvale's unemployment rate, which is above the Allegheny County average. But Wolovich is confident that the momentum that started when the community came together to clean up after the flood will push Millvale above the troubled waters of the past.
"At that point, it was like a ball rolling down hill," he says.
And while Millvale started recovering after the flood in 2007, Tina Walker, president of Millvale Community Development Corp., says the borough really started to take off economically over the past two years. She references explosive growth of the Business Association of Millvale, which formed a few years ago with about 10 businesses; now it has 47 members. She also says that young people have not only moved to Millvale in recent years, but are also getting involved in the community.
"We have all these amenities here; it is what everyone wants," says Walker. "Now, the youth want in, and they want to participate in the growth. They realize this is a part of life that roots them in the community."
Millvale has a post office, two diners, a music venue, a record shop, a bowling alley, a bakery, pharmacies, a deli, and multiple bars and breweries all located within a square mile. The borough will add a coffee shop, Tazza D'Oro, and a farm stand when the near-complete Bennett Station building is finished at the town's main intersection of Grant Avenue and North Street.
Census figures show the town's demographics are shifting, too. Millvale has increased its percentage of millennial residents over the past few years, and has added hundreds of residents with college degrees since 2000. Walker says these new residents are attracted to the borough's throwback, small-town lifestyle, where they can walk to everything and they know business owners by name.
Walker says this explosion of small-business interest was only possible thanks to the community getting involved in the borough's future. In 2012, when Walker took over at the MCDC, members held community meetings, formed focus groups and met with residents for a year before drafting a plan for Millvale's future.
MCDC also established four-year term limits for board members, so no one can completely control Millvale's development, says Walker.
"It has to come from the inside out," says Walker. "We need community cooperation from the ground up to do anything. We are very fortunate it is set up that way."
The MCDC has only one part-time employee and is primarily run by volunteers, like Walker. She says this creates a commitment to the organization that runs deep. "To do this is not just a job, you have to feel it in your heart," Walker says.
With this mindset and community involvement, Millvale became one of the few communities in Allegheny County to draft an EcoDistrict plan. This plan focuses on sustainable growth and environmentally friendly practices. Walker says it has not only attracted small businesses focused on participating in the community, it also helped Millvale get a grant for a community garden and solar panels on the roof of the community library.
Millvale's borough manager, Amy Rockwell, concurs that businesses interested in Millvale are also interested in the sustainable practices preached by the community. "Businesses seem to be focusing on sustainable practices which focus on long-term commitment to address community challenges," writes Rockwell in an email. "Being a community-minded business allows for the business owners to shape and grow our communities. Millvale is at the forefront of the sustainable community practices."
Rockwell says this focus on sustainability has garnered the borough a Certified Gold Community award from Sustainable Pennsylvania, an organization that encourages municipalities to make goals to save money, conserve resources, and encourage innovation.
But it wasn't always smooth sailing in Millvale. Walker says it took a couple years for the MCDC, the community and the borough government to get on the same page.
Zaheen Hussain, Millvale's sustainability coordinator, says that even after the groups came together to create the EcoDistrict plan, it didn't take off right away, even though it has now gained widespread support. "Early on in 2012, the room of active participants had maybe 10 or so people," Hussain wrote in an email. "Last year, as we kicked off our second round of EcoDistrict planning, we had nearly 100 people fill up our community center, with a majority of those folks being residents and business owners, and the rest being regional professionals interested in partnering with Millvale.
"There is a genuine desire from community leaders to learn from residents so that programming can be developed to fit the needs of the community. This means not only making participation an option, but actually increasing ease of participation by having multiple platforms of involvement to fit into people's busy schedules."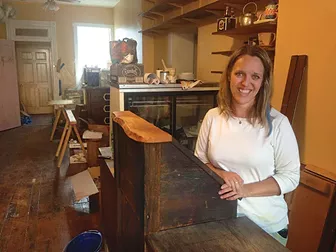 One of those new businesses actively participating in the community is Tupelo Honey Teas, which is set to open this month, right next to the Millvale Community Library. Tupelo owner Danielle Spinola grew up in Millvale and is actually a descendent of Simon Girty, the namesake of the creek that runs through town. She participated in New Sun Rising's Millvale business incubator and was convinced to open up shop in Millvale after attending an EcoDistrict meeting.
"There was this collective idea to raise the community up without gentrifying it," says Spinola. "This is definitely the right time to come in. I feel back at home again."
Spinola says that so far the borough has experienced manageable, controlled growth. Walker says this is intentional, because MCDC doesn't want to see multi-national chains move into the borough. Spinola says this commitment to small business builds a loyalty between residents and business owners that is common in small towns.
"When you come in and are loyal to the town, they are loyal back," says Spinola.
Either way, the town might need to continue this growth to tackle some of its long-term problems. According to data compiled by Applied Graphic Solutions, at 6 percent, Millvale's unemployment rate is higher than the county average of about 4.5 percent.
A surge in economic growth has some people in the town worried that new wealthier residents will move in, drive up housing prices and rents, and push out longtime residents, as some say has happened in East Liberty and Lawrenceville.
"Gentrification is a very real fear, and it should be, as there are countless examples of it happening all over the country," wrote Hussain. But he believes that Millvale is ready to take on any gentrification challenge and cites Millvale's community garden as proof.
"The Gardens of Millvale had high interest from businesses who wanted to develop it into something else," wrote Hussain. "Understanding the importance of green space, residents not only banded together in support of the gardens, but also raised grant funds to formally purchase the property to protect it while also preserving good relationships with the businesses that are interested in growing in Millvale. I'm not sure that would have happened 10 years ago."