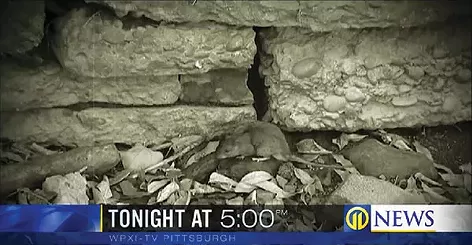 The November sweeps period has arrived in all of its glorious splendor. It's that special time of year when Pittsburgh news stations go that extra mile to tell you that you're going to die. It will be a gruesome death indeed, but because you tuned in, you might be spared. Sweeps is often referred to as "goosing the ratings," but it turns out that rats, an archetypal harbinger of untimely death, will also do.
In fact (insert sarcastafont here), rats are taking over the Castle Shannon T station, and WPXI is in a tizzy about it. "Viewers, calling Channel 11 for help with rats!" says anchor Peggy Finnegan.
"One day I come here and it looked like the movie Willard," says a concerned, mustachioed resident who wants to "change the station's reputation." (To clarify, he's talking about the T, not WPXI.)
"While we [WPXI] were there, the rats stayed down in the creek," reporter Katherine Amenta says. If so, these seriously could be an especially smart breed of rat that we should fear. But, turns out, the real problem is just people feeding the ducks there, says Jim Ritchie of Port Authority.
Holy Scott Hamilton! WPXI's Target 11 investigation unearthed "news" that workers in South Park have been burying old ice skates in a hole on site for the past 30 years. Poor Andy Baechle — the clueless Allegheny County Parks director — retorts somberly with this promise: "We will never bury ice skates again."
If all went according to plan, the skates have been dug up and disposed of in a landfill by now. I say, let's stop judging the park director and set him up with a Pinterest account so he can repurpose all of those skates?
WPXI posted a story on its Facebook page, from clickbait source Newsy, about a Texas woman who claims to have been infected by a kissing bug — named such because they love biting you on the lips. The bugs carry a tropical parasitic disease known as chagas, which in its rarest cases could lead to heart failure. But, says the Texan, "I've never left the United States, I've never even been on a cruise."
Ryan Biek, a "reporter" asks, "So it had to be here?"
I think that might be the definition of a loaded question.
If WPXI really cared about you, they would have told you about this last year, when it actually was news. Let me help you calm down. As reported in a July 2014 edition of The Washington Post: "Susan Montgomery, an epidemiologist with the CDC, said there have been only 23 reported cases of the disease being contracted in the United States since 1955. There is virtually no risk of anyone contracting the disease inside the country because of how the disease is transferred between species."
In a special Target 11 report (are any of them not special?), TRAINS ARE GOING TO KILL YOU!!!!

"A new safety system stops trains that are going too fast — but it won't be coming to Pittsburgh for years!" Giving you plenty of time to die!
But, if something DOES happen to you, it's Bofta Yiman from WTAE to the rescue, with her eye-opening report about how we can find you by tracking your cell phone. I mean, do I have to say it? This is so 2005, Bofta. "Apple says your iPhone keeps track of your locations in order to learn places that are significant to you. … But some would prefer to turn the service off now that they know it exists." By some, Yiman means four young Point Park University students to whom she broke the news. Startling revelations are made: "Oh my goodness. It says wherever you've been."
If you watch the story for nothing else, tune in to see the female private investigator in a long, black wig warning, "It's extremely dangerous … it's frightening."
While you're running from rats, trains, kissing bugs and people who are tracking your smartphone, wouldn't it be nice to know if that fitness tracker you paid a hundred bucks for is accurately crediting you for every step?
In a "story" for ProSource magazine, KDKA's consumer editor, Susan Koeppen, tests out several and you are going to love the results. "I started walking and counting, getting all the way to 1,000 steps. In our very unscientific test [emphasis Koeppens'], the brands all came close, within 200 steps, but none was perfectly on the mark."
Whether you wear a fitness tracker or not, my advice to you is keep on running, before November sweeps kills you.