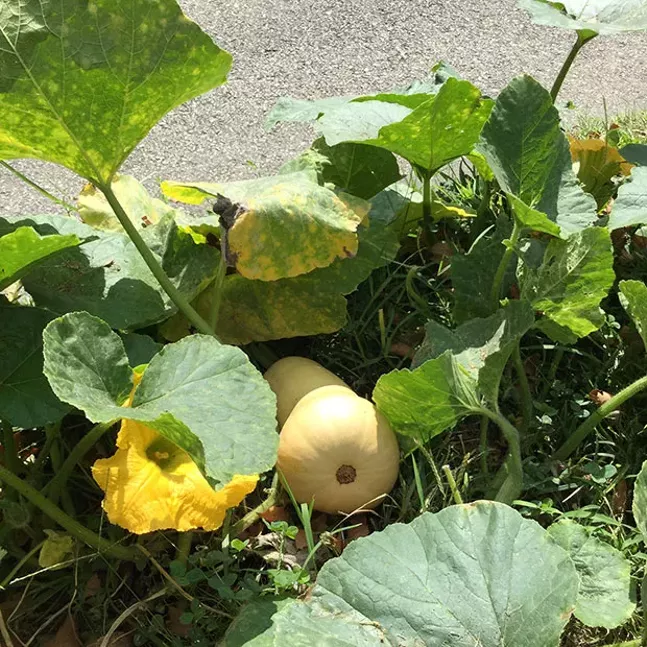 Urban foraging is all the rage, but even that takes some effort. Imagine my delight when I discovered a squash plant growing in a tiny patch of dirt on the curb outside my house. I ignored it, and yet it thrived. Time passed, and one day, there was a fully grown butternut squash. As I picked it, I gave a few fleeting thoughts to its origin — a seed dropped by squirrel? A bit of organic matter that escaped a trash bag? Or perhaps it was the handiwork of a guerrilla gardener, a modern-day Johnny Gourdseed?
No matter — a squash on the curb is as good as one in the grocery cart, and a reason to make this fall soup. This soup calls for apples, which add sweetness and additional bulk; it's also a great way to use up some failing apples. Sometimes, I toss in other squashes, none of which I can remember the names of, but which tend to pile up this time of year. It all goes into the blender, and emerges sweet, spicy and seasonally delicious.
Ingredients
1 large butternut squash, peeled and chopped into small chunks
2 apples, cored and cubed (skin is OK)
1 large onion, chopped
2 tbsp. olive oil
2 tbsp. butter
2 bay leaves
1 tsp. mild or hot curry powder
4 cups chicken or vegetable stock, or water
Salt and pepper, to taste
Heat oil and butter in large heavy saucepan. Add bay leaves, salt, pepper and onions; stir over low-medium heat until onions soften. In another saucepan, heat the stock or water. Add curry powder to onions; stir, then add chopped squash and apples. Stir until squash is lightly caramelized. Add hot liquid, then cover and simmer until squash is very soft (10-30 minutes, depending on how hard squash is). Remove from heat. Discard bay leaves, and purée soup using a blender or food processor. Return to pan and re-heat, adjusting seasoning and/or thickness, by adding more liquid. Serve with crusty bread.