Consider the humble newspaper box: a dispenser of information, a piece of street-furniture to lean against, a refuge for very short people hiding from the bitter winds of a Frankenstorm. 
And now: a work of art. 
This summer, City Paper invited artists to submit designs for turning our newspaper boxes into aesthetic objects. We received a deluge of entries, and City Paper commissioned 10 of those — the ones you see below — to be built and positioned around town. 
 That's where you come in. The artist whose box is our readers' favorite will win $500, in addition to the glory of becoming part of Pittsburgh's urban fabric. To vote for your favorite design — and to find all 10 box locations around town — visit the ArtBox Project page. Polls close Nov. 30, with the winning artist to be announced in early December.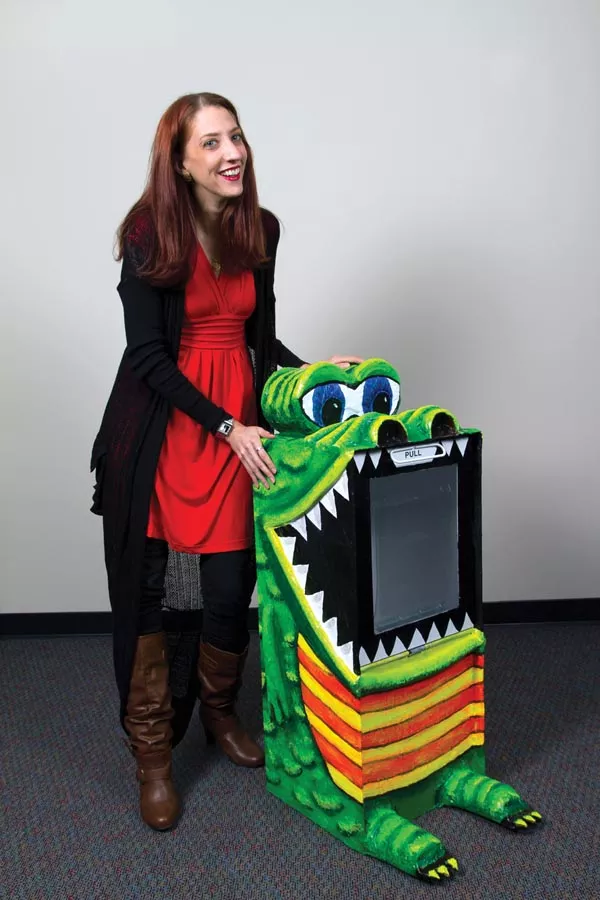 Kristen Barca, Brighton Heights
Age: 30
As a puppetmaker, I wanted to bring the ArtBox to life as some sort of creature. Using the door for the mouth was obvious, and the disproportionate size of the mouth just screamed monster (figuratively). My only goal was to create something fun that would make people smile. I've been calling it a dragon, but when I showed my 3 year old niece, she said it was a crocodile. She is probably right. Either way, I hope people are kind to him, just in case he figures out how to breathe fire.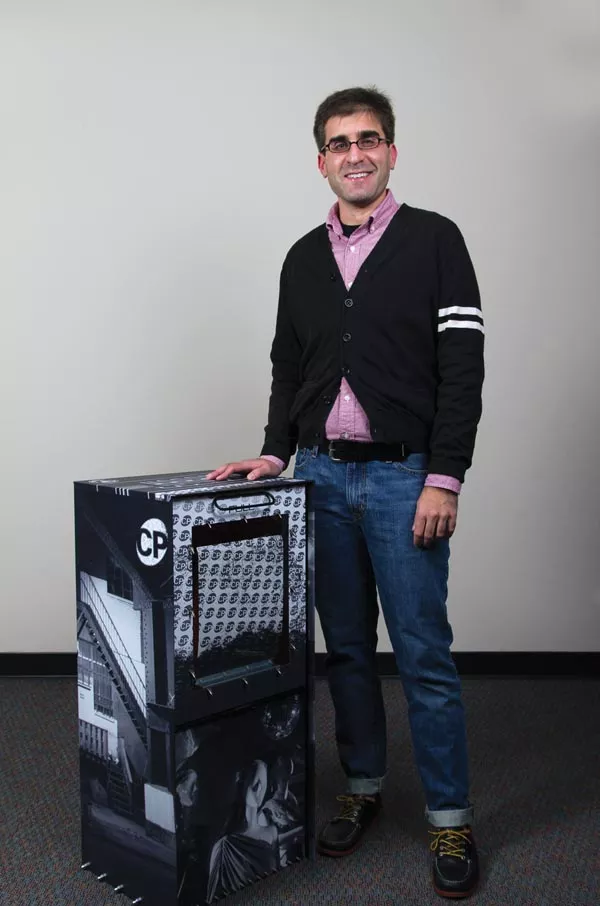 David Bruno, O'Hara
Age: 33
My original idea was to present a night theme of Pittsburgh. To play with images of entertainment, culture and industry. I wanted the exterior of the box to be shadowy and metropolitan. As project planning progressed, I felt the box should reflect a punk alternative and pop art feel. This is how the chrome acorn nuts, spiked studs and repeating CP pattern with splatter effect came to fruition. In comparison the interior of the box is meant to reflect an opposite sense. I wanted something bright, retro and fun. Red interior walls featuring a white daisy print fit this need. Collectively thoughts of renewal, growth and a reminder to look deeper.
Laura Gyre, Brighton Heights
Age: 33
I do a lot with rainbows, and I had been thinking of doing a piece with a Pittsburgh skyline for a while - it's so distinctive. I also wanted to get in other things I love about the city, like the overgrown green spaces and the bridges. When I started thinking about newspaper boxes, I thought about the posters pasted on them sometimes, so that gave me the idea of a collage, which worked well with some pieces of newspaper worked in. And then it just seemed like the top needed something else, so glitter. It's definitely a more-is-more type of approach.
Moira Ernst, Highland Park
Age: 29
When coming up with the design for the art box, I knew I wanted it to be sort of an optical illusion. The idea was to make it look like the people are inside of the box looking for something that lets them be who they are. The slogan, "Let YOUR city out" is about finding that part of Pittsburgh that speaks to you through the help of the City Paper. When you open the box, you see a painting of downtown Pittsburgh as if to say, "You found it! You found YOUR city!"
David Edwards, Glenshaw
Age: 50
Title: Flaars N'at. Recently I have been working with aluminum, stainless steel and recycled metals to create wind and sun energy harvesting public sculptures. Sustainable design with a do-it-yourself message is the focus of many of my art projects. This ArtBox is a sculptural piece created with metals and techniques familiar to my larger works. On the lighter side, I like shiny stuff and the ArtBox project is a great way to get in touch with my inner crow. I'm hoping a fellow Pittsburgher seeing the box will say, "hey Deb, look err...flaars n'at"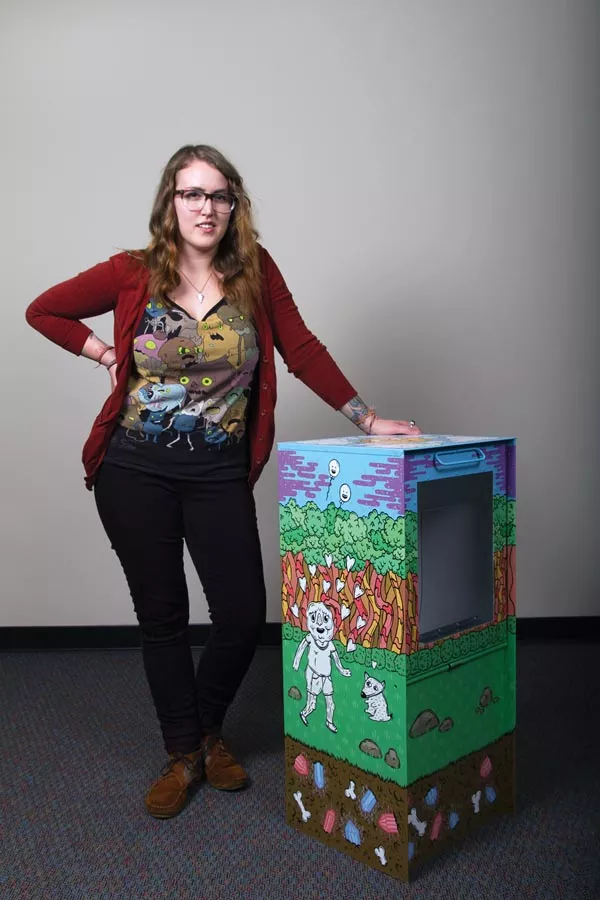 Jes LaVecchia aka 'Jeshaka', North Side
Age: 24
I am in love with cartoons, and I like to think I create my pieces as if they could come to life. Sometimes I wish the public art around here was a bit more playful, so I combined a past layering design and my recent illustration style to make the ArtBox as bold, colorful and fun as possible. When people see it, all I can hope they think is that it had a lot of effort put into it and that it looks cool.
Kristofer Boban, Allison Park
Age: 29
Pittsburgh is known worldwide for its strong history and, of course, its bridges. On the right side of the box are the extinct bridges of the downtown area including (L to R) the Manchester, Union, Point Bridge I, Point Bridge II, Wabash, and Seventh St. The left side of the box, the modern bridges, include (L to R) the Rachel Carlson, Fort Duquesne, Fort Pitt, Smithfield St, Liberty, and 10th St. The designs on the front and back symbolize the old mixing with the new to form today's triangle, represented on the top of the box by the characteristic "point."
Walt Srocki, Deer Lakes
Age: 51
Right away I wanted my ArtBox to have an urban feel to it, so I decided to use the medium of graffiti. I had done a painting with a pigeon in a city setting before, so I used that idea in my design. I cut out stencils of our city skyline using cardboard to wrap around the ArtBox, spray painted them, then I hand painted the pigeon on all sides of the box. What I hope people do take away from my design is how wonderful and creative a medium graffiti can be.
Mundania Horvath, Wilkinsburg
Age: 34
The design I included on my ArtBox was part of a collage series I had been working on which included cyclists from the early 1900's. A friend on twitter informed me about the contest and I thought it was an interesting idea. I decided to submit one of the bicycle collages since cycling on our streets is a topic that a lot of us are talking about. For me this particular piece also represents how our city is constantly in motion and moving forward (like cycling).
Sarah Ulrich, Garfield
Age: 34
I am a fiber artist so when I envision art it is almost always in terms of fabric and yarn. Recently, I have been enchanted with the yarn-bombing movement (graffiti using yarn). I'm one of those people who would love to cover every surface with soft, colorful knit cozies. And yes, there are many of us out there. Knitting, crocheting, sewing are crafts which traditionally yield a functional object. People knit sweaters to warm their bones. They sew patches on their pants to hide their hairy knees. I just love the concept of using these same skills to create seemingly useless works of art. Knitting for knit sake.
When people see my Artbox I hope they will think two things. First... That cover looks so colorful and snuggly, I want to give it a big fat hug. And second... Wow check out those amazing stitches, that thing must have taken forever to make