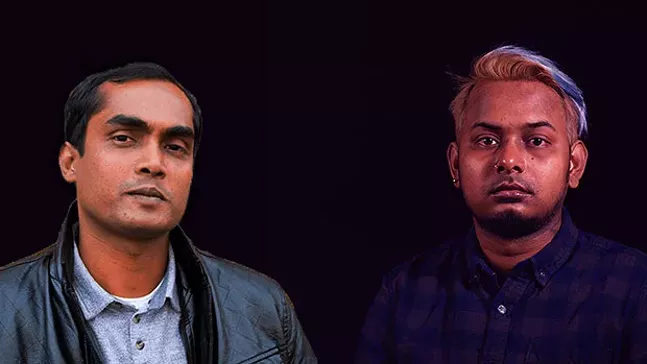 Ali Asgar left Bangladesh after two friends were murdered by Islamic terrorists, finding shelter in the U.S. embassy in the capital of Dhaka. Tuhin Das was named an "enemy of Islam" by al-Qaida and fled when the Bangladeshi government would not offer him security.
Both Asgar and Das departed their native Bangladesh for the U.S., fearing for their lives. They'll talk about those respective journeys while also presenting some recent artistic works at Displacement & Belonging, hosted by City of Asylum, on Thursday.
In the small but populous country of Bangladesh in South Asia (some 162 million people occupy the country, which is similar in size to Illinois), freedom of expression is nearly nonexistent. A primarily Muslim nation, it retains a law from British colonial rule that bans homosexuality.
"Religion plays a complex role in Bangladeshi society," Asgar says.
Asgar, who is genderqueer and uses they/them pronouns, is an artist, activist and trained printmaker. Nonbinary people are slowly being recognized in Bangladesh, but the LGBT community is mostly ignored as a whole.
"Growing up in Bangladesh, anyone who is young and identifies as queer or gay or LGBTQ, finding a community — now it is much easier because of the internet, but that wasn't the case 10 years ago," Asgar says.
In the U.S., Asgar is free to be out, to continue their art and to study at the Art Institute of Chicago.
"It's good that no one is chasing me with a machete to kill me," they say.
Still, it is "a weird time" to be in America, especially since many are unaware of their struggles.
Through their latest project, "No One Home," Asgar aims to bridge that gap of inexperience. Participants in "No One Home" spend 15 minutes discussing the meaning of home with Asgar.
"They understand there is a role of empathy that we both have to play," they say. "... They are welcome to come and talk with me rather than being afraid or that I'm not going to understand."
Das left Bangladesh for a similar reason. A poet, activist and political columnist, Das organized and led protests that demanded a ban on religious political parties, a firm separation of religion and government, and improved women's rights. Then came the threat from the Bangladeshi branch of al-Qaida.
"I felt unwanted and I felt unsecured, and I left the country," Das says.
Das found security at City of Asylum, which provides a safe place for endangered literary writers, on the North Side. He is one of two such writers, along with Venezuela native Israel Centeno, who is a current exiled writer-in-residence at City of Asylum.
At Displacement & Belonging, Das — who has published seven books of poetry, all in Bengali — will read 10 of his new poems, which touch on love, nature and human relationships. One of them comes to a close with a question about Das' exile that is hard to answer: "Will anyone call me back?"
__
Displacement & Belonging: Ali Asgar and Tuhin Das
8 p.m. Thu., June 28. City of Asylum, 40 W. North Ave., North Side. Free. alphabetcity.org