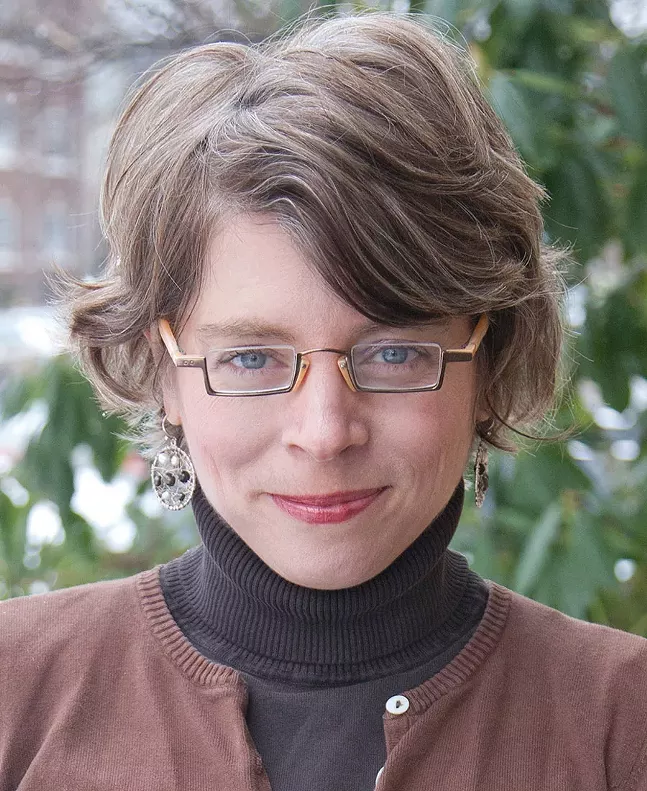 In the introduction to her most recent book,
These Truths: A History of the United States
, historian Jill Lepore compares the founding of the country to an experiment. She then spends the next 900-plus pages trying to figure out whether the mad scientists of the American Revolution — Benjamin Franklin, Thomas Jefferson, James Madison, Alexander Hamilton, and the rest of the Founding Fathers — got it right.
What emerges is a stunning recounting of U.S. history told through the prism of the country's greatest achievements, and its most abject failures.
Lepore, who appears Jan. 14 at Carnegie Music Hall in Oakland as a guest of Pittsburgh Arts & Lectures, took time to answer questions via email for
Pittsburgh City Paper
.
Historians – and many citizens – regard the Constitution in somewhat sacred terms. You write that it is "a stunning rhetorical feat, an act of extraordinary political courage." But in the next sentence, you write "It also marked a colossal failure of political will, in holding back the tide of opposition to slavery by ignoring it, for the sake of a union that, in the end, could not last." In your opinion, what would the country look like today if the anti-slavery faction had been more steadfast? Would the United States we know still exist?
Historians try very hard not to engage in counterfactuals. What if? We don't know. In 1970, Ralph Ellison wrote an essay for
TIME
called "What America Would Be Without Blacks" that traced the history of another counterfactual, the long and troubling tradition in American history of imagining a past, fantasizing about a past, from which blacks could be simply erased. I sometimes think the question about what America would be without slavery is that same sort of question. The truth is the United States was at once the first modern democracy and the last bastion of chattel slavery. Both of those elements constituted the nation.
James Madison sensed that technologies of communication would play an important part in forming public opinion. You credit newspapers for helping to forge the two-party system by way of their partisanship. Newspapers eventually evolved and played an important role in disseminating news. But now, it seems, we are in danger of losing that element, especially at the local level. What are your thoughts about the ever-shrinking role of newspapers in the country?
Newspapers helped found the two-party system. They made the democratization of American politics possible. They ushered in the Progressive era. No political reform in American history has happened without the help of newspapers. It's hard for me to see how the forces of reform can be marshaled without them.
In the introduction, you write that history is not only a subject but also a method. Your method is to let the "dead speak for themselves." Did you find in the course of your research (and that research is astounding in its depth and breadth) unexpected voices? Was there anyone who especially surprised you?
Sure. History is full of surprises. That's what makes it so much fun. I learned a lot about people I thought I knew well, like William Jennings Bryan or Phyllis Schlafly. And I learned a lot about people I hadn't known enough about before, Maria Stewart or Pauli Murray. The book is essentially a political and intellectual history. That's some heavy lifting. I decided to deliver those ideas by way of the people who held them. So the book is full of characters, each advancing important ideas.
America seems to constantly find ways to divide itself – slavery, immigrants, guns, abortion. And yet it somehow endures. What's the glue? What binds us together, no matter our divisions?
The person who can answer that question deserves to be elected President.
Some might say the country is a tipping point with Trump in the White House. But those who lived through World War II will tell you this is nothing compared to that time, or to the Communist scare of the '50s, or the national unrest during the '60s. Is the idea that "a nation born in revolution will forever struggle against chaos" both the country's Achilles heel and, in a contrarian way, its greatest strength? That is because we are used to chaos we know how to navigate these waters?

This is nothing compared to slavery or Jim Crow. History is full of beauty but it's also full of tragedy. These are hard times. Still, the past is worse.