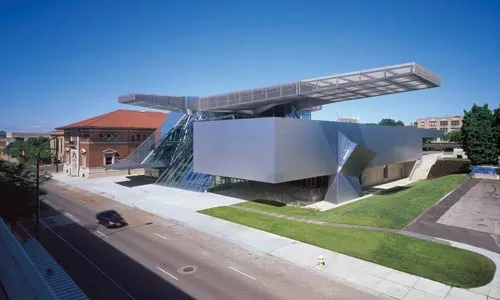 They call it "the Bilbao effect," for Frank Gehry's Guggenheim Museum in Bilbao. Take one crappy, down-on-its-luck industrial town and add one piece of outrageously sculptural, headline-grabbing architecture. Then watch the sequential floods, first of magazine covers and then of tourists. In fact, Gehry's building and the subsequent revitalization are such old news that Ohio, of all places, is experiencing a full-fledged Bilbao effect. Just look at Akron, where the new addition to the Akron Museum of Art, by Viennese architects Coop Himmelb(l)au, is the latest example of the phenomenon.
Pittsburghers more than most people know what it's like to suffer a lingering bad reputation long after the real causes have faded away. Until now, the threat that it would be Not as Good as Cleveland has kept me away from Akron. But the Bilbao effect is real. The threat of missing a building by Coop Himmelb(l)au was enough to get me in the car for the two-hour drive.
Coop Himmelb(l)au's name means "group of the blue sky" or "of the sky building," depending on those annoying parentheses. It has been a rhetorically and geometrically avant-garde firm since its founding in 1968, by partners Wolf Prix and Helmut Swiczinsky.
"Architecture is not domesticated," Prix has declared in one of his many manifestoes. "It moves around in urban areas like a panther in the jungle." The firm has built enough over the years, mostly in those European countries where hyperintellectualized explosions of angular glass and beams clinging to the tops or entries of historic buildings are more acceptable than, say, giant HMO advertisements.
For work of this sort, Coop Himmelb(l)au was grouped into the 1988 MoMA exhibition "Deconstructivist Architecture," which loosely combined architects who tried to apply literary deconstruction to architecture, or who tried to emulate Russian constructivism, or who simply made buildings that looked like they were coming apart. It didn't make too much sense then either, except to identify a rising generation of architects with similarly frenetic aesthetic styles.
Who would have known that nearly 20 years later, deconstructivism would be the official avant-garde architectural style of the state of Ohio? Zaha Hadid now has the Rosenthal Center for Contemporary Art, in Cincinnati. Frank Gehry has the Peter B. Lewis Building, at Case Western in Cleveland. The University of Cincinnati has structures by Peter Eisenman and Bernard Tschumi. Their styles have diverged over the years, but all of them were in the 1988 show.
Only Coop Himmelb(l)au had yet to build in the U.S., let alone in the Buckeye State.
But the firm won a 2001 design competition, and its building opened in mid-July. Not incidentally, it was the subject of widespread news coverage even before it was open.
The new structure adjoins a modest Renaissance revival structure of 1899 that has housed the museum's collection of 19th- and 20th-century art. The addition triples the square footage, but it expands the wow factor almost infinitely. The galleries inhabit an aluminum-sheathed rectilinear box that extends above the street in a 51-foot cantilever. Connecting this to the original structure is the "Crystal," the 57-foot high mountain of irregularly angled glass enclosing the lobby, with its cubist concrete elevator tower, metal grand stair and transverse skybridge. Topping the whole structure is the "Sky Cloud," an immense, 327-foot horizontal cross. The architect and museum director call it "a three-dimensional sign."
Its real job seems to be to reach over the old wing of the building and hug it, as if it were the normal cousin in a new architectural Addams Family.
Meanwhile, every major criticism of the building thus far has complained that the gallery spaces are uninspired, but that the Crystal is really wonderful. I totally agree.
And I can only wonder about Pittsburgh by comparison. We have the Children's Museum, whose architecture is quite good, but relatively restrained by comparison. And we have the Convention Center, which though urbanistically flawed is also good, assuming you can ignore its structural problems.
These make me think of buildings in Akron by James Polshek and Gwathmey Siegel. Nice buildings by good architects, but not quite worthy of a special trip. For that it took an architectural explosion by Coop Himmelb(l)au.
Spectacle alone is insufficient reason or justification for multi-million dollar constructions. But I still think Pittsburgh could use some more, and the city that makes me think that is not Bilbao, but Akron.