In March 2002, Ron Gulla signed a lease to allow drilling for natural gas on his property, 141 acres in rural Washington County. Gulla, a heavy-equipment salesman, had purchased the stretch of wooded hillsides and open fields 12 years earlier, hoping to farm it. He says he didn't trust the agents running around little Hickory, Pa., signing people up for leases. But the drilling company, Ohio-based Great Lakes Energy, promised free natural gas, and the 13.5 percent royalty payments didn't sound bad, either.
Today there are four wells on Gulla's property, all bearing his name, as in "Gulla No. 1." But Gulla now regrets signing that deal. "Once you lease, you've just signed your life away," he says.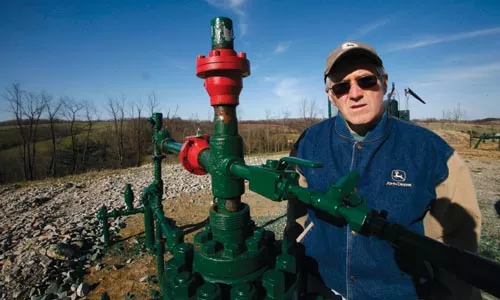 Gulla, 53, has iron-gray hair and a brow that seldom unfurrows. Walking his property, he stops repeatedly to recount the affronts of four years of drilling activity. First came the dirt and noise of road-building and truck traffic. It worsened when drilling began, on sites including the hillsides above his house and his big fish pond. The well water became undrinkable, he says. His pond filled with sediment runoff. His fish died.
"I used to drink that water right out of the bank," he says, walking past a spring. "Last fall it was like a rust color. ... I don't know what's in it. I won't drink it. No way."
Gulla's wells are operated by Texas-based Range Resources, which bought out Great Lakes. In early April, the wellpads sit in muddy, graveled clearings, with their big, dark-green tanks and their pumps bristling with pipe and gauges. They are mostly silent, though one machine shudders and coughs occasionally.
"Nothing's put back right," says Gulla at another well site, while a gas-industry helicopter repeatedly sweeps overhead, a long cable bearing loads of seismic gear used to sound for new wells. "It was a beautiful piece of land."
A Range Resources spokesman denies responsibility for Gulla's water troubles, and parts of the dispute are being played out in the courts. As for the royalty checks? "I don't care if this place was making $5 million. I'm concerned about my health," says Gulla, who lives with his wife and two young children. "I wake up at 2 o'clock almost every morning just thinking: Why did I trust these people?"
Critics of the gas industry worry that more Pennsylvanians may someday be asking the same question.
Natural gas has become a booming industry, featuring names like Halliburton, and it already casts a large shadow over the state. The gas, a mix of methane and ethane, heats most of this region's homes, and the Marcellus Shale, a geologic formation underlying most of Pennsylvania, may contain the nation's largest untapped deposit of natural gas. In what some call a modern Gold Rush, land agents are buying mineral rights from property owners across the state.
Developers have already paid millions in bonuses and royalties in places like Washington County. And in coming years, drilling companies expect to sink thousands of new wells, many of which will require millions of gallons of water each to exploit the deeply buried gas.
Drilling for gas is a dirty process, and the impact on air, land and water will be large. Already deep-drilling has raised alarms about contaminated drinking water. And skepticism about the leases -- and about Marcellus drilling in general -- is growing. Groups like the Sierra Club are working with activists such as Lisa Graves-Marcucci, of Jefferson Hills, to inform people of the possible risks of leasing.
"We're creating the next generation of robber barons," says Graves-Marcucci, a staffer with the Environmental Integrity Project who herself has been approached by land men. She's an area native whose outlook is informed by coal-mining's history of subsidence and acid mine drainage. "We sure don't want to get another legacy wrong for another generation."
Drill Teams
The Marcellus Shale is a layer of black rock underlying 31 million acres of Appalachia, at depths of a mile to a mile-and-a-half. That includes two-thirds of Pennsylvania, in a wide swath beneath the state's southwestern, north-central and northeastern regions. The formation is 400 million years old, and has been known for decades to contain natural gas, which is increasingly touted as a critical component of U.S. energy policy (see sidebar, "Is Natural Gas Clean?"). Higher gas prices and new technology made drilling the Marcellus commercially feasible. The extraction techniques include "horizontal drilling," which allows hundreds of acres to be milked from a handful of well pads.
Of the state's more than 60,000 gas wells, fewer than 100 Marcellus sites are yielding gas. But estimates of how much recoverable gas the Marcellus holds have risen. The most-cited figure is 363 trillion cubic feet -- enough to supply the entire country's needs for 14 years, and worth perhaps $1 trillion.
In recent years, the gas industry has spent $4 billion in Pennsylvania, $3 billion of that on leasing, says Range Resources spokesman Matt Pitzarella. Range alone leases 1.4 million acres in Appalachia.
Lease pitches to landowners have been lucrative. Signing bonuses, once a few dollars an acre, at one point rose to $2,000 or more. (They've since fallen.) Property owners' royalties are typically 12.5 percent. Payments fluctuate with the price of gas, but Range still promises land-owners $2 million in royalties over the multi-decade life of a well.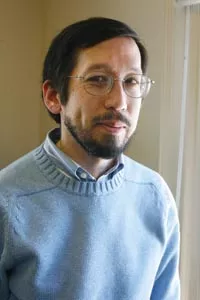 The state is looking to cash in, too. Last year, the Department of Conservation and Natural Resources opened 74,000 acres of state forests to gas drilling, producing $190 million in leasing fees. Gov. Ed Rendell has also proposed a "severance tax" specifically on Marcellus gas, meant to raise $107 million. Meanwhile, acting Department of Environmental Protection secretary John Hanger -- whom Rendell appointed last summer, as controversy over drilling began to mount -- cites Penn State University figures suggesting the Marcellus could yield up to $125 billion in royalty payments. At Penn State's estimated 8,000 new jobs for every $1 billion in royalties, that could mean 1 million new jobs.
The emphasis on such lofty figures worries some. "The decisions on the Marcellus Shale are being driven by short-term economics, and we're not looking down the road," says Myron Arnowitt, Pennsylvania state director of the nonprofit Clean Water Action.
In fact, on April 1, the state made it much easier to drill for natural gas.
Prior to that date, some authority over gas wells belonged to the state's 67 county-based "conservation districts." Staff in each district handle everything from maintaining nature trails to permitting construction projects. The latter function includes overseeing how construction firms control erosion and stormwater runoff, a major water pollutant. But this month, state environmental officials stripped the districts of their role in permitting or prohibiting new wells.
Industry officials expressed approval. Hanger, says Pitzarella, "has done an incredible job of getting that agency moving very quickly to match the needs of the industry."
The DEP called the policy changes "streamlining": "The only thing that's changed is who's doing the permitting reviews," says DEP spokesperson Teresa Candori. (Conservation districts retain permitting authority for the large-bore pipelines that transport the gas.) Candori says that different conservation districts had been applying different standards, and that it makes sense for DEP staff, who inspect the wells, to do the permitting.
Environmental watchdogs differ. By stripping conservation districts of their authority, "You've taken the local presence out of the system," says Deb Simko, a biologist and consultant for groups like the Mountain Watershed Association, in Westmoreland County.
So far, 11 northeastern Pennsylvania counties have formally protested. "We believe that district involvement should be enhanced, not eliminated," wrote Monroe County commissioners in an April 7 letter urging Hanger to rescind the decision.
"DEP doesn't have the staff in place, nor will they have the staff in place in the near future" to handle the permitting, says Gary Stokum, conservation district manager for Washington County.
Stokum's jurisdiction includes one of the busiest permitting locales in the state. In 2008, 86 Marcellus Shale drilling permits were issued in the county -- nearly one-fifth of the state's total. Stokum says he had two full-time employees each spending half their time reviewing permits and seeking revisions to erosion-and-sediment-control plans issued by drilling concerns.
DEP, he says, is "greatly underestimating the volume of work that the Marcellus gas is generating." So on one hand, Stokum worries DEP's policy change might actually hinder permitting. But he also fears that DEP staff in regional offices -- in this case, Pittsburgh -- won't know the terrain well enough to protect the environment from things like heavy trucks serving well sites. Much of Stokum's staff grew up nearby, and he's been on the job since 1983. "I understand the soil in my county, I understand the slope," he says. "I understand the limitations."
What's more, DEP did not publicize these policy changes: Had conservation districts and environmental groups not objected, the public might not have heard about them at all. Even the conservation districts didn't hear they were being cut out of the process until March 18 -- two weeks before the changes took effect.
Another permitting change, one that provides for fast-tracking of stormwater-discharge permitting, was also implemented without public notice. Tracy Carluccio, of Philadelphia-based Delaware Riverkeepers, sounded the alarm after she learned of the change during a talk by a DEP official ... at a gas-industry conference in March.
Some activists contend the latter change violates state law, because it did not undergo a process of public notice and comment. And there are suspicions that corporate interests -- and the lure of millions in potential tax revenue -- are overtaking efforts to safeguard the environment. Environmentalists are especially disturbed that the changes are taking place under Hanger, who until last year was himself an environmental activist.
"It's not his job to balance the economy and health interests," says Arnowitt. "It's his job to protect health and the environment."
Un-Well?
Even before Hanger's appointment, interest in gas drilling was exploding. From 2001 to 2006, production in Pennsylvania rose from 145 billion cubic feet to 191 bcf.
Horizontal wells make up just a fraction of that. Much more common are conventional gas wells, which are drilled vertically into, say, shallow sandstone. Of roughly 8,000 gas-drilling permits issued in Pennsylvania last year, only about 450 were for Marcellus gas. Most Marcellus sites are drilled by a few large companies, including Range Resources, Oklahoma-based Chesapeake Energy, and Coraopolis-based Atlas Energy.
But the Marcellus wells are of special concern, because of the technologies they use to extract gas from the shale: horizontal drilling and hydrofracturing.
In horizontal wells, the drill starts out boring vertically but is angled to one side as it descends. By the time it reaches its target, 5,000 to 8,000 feet below the surface, it's made a virtual 90-degree turn. The shaft is less than 9 inches wide. But that sideways bore -- imagine a pencil poked laterally through a layer cake -- can continue for more than half a mile, and it gives the well shaft maximum exposure to the rock, which is usually 250 feet thick or less.
Hydrofracturing, or "fracking," involves blasting large quantities of liquid down the well at high pressure. The liquid cracks the shale, and the trapped gas migrates into the shaft. Processing and transport, usually by pipeline, follow.
Up to six wells, each bored in a different direction, can be drilled from a single location. That disrupts the landscape less than more numerous, widely spaced conventional wells would. But horizontal drilling doesn't eliminate environmental impacts: It merely drives them underground -- while taxing water supplies at the same time.
Fracking a single horizontal well requires from 3 to 5 million gallons of water each year, which isn't always easy to replace. Last year, for instance, drillers effectively drained dry two Washington County creeks. The frack water is mixed with sand -- used to prop open fractures -- and chemicals that reduce friction and kill bacteria that might corrode pipe or contaminate the gas. A list of 54 common fracking chemicals released by the DEP last year includes formaldehyde, butoxyethanol and others with known carcinogenic and toxic effects.
Once underground, the water can become contaminated not only by the added chemicals, but by salts and heavy metals picked up beneath the surface. These too, can include such known carcinogens as arsenic and chromium.
Much of the frack water remains underground, but anywhere from 20 to 80 percent, it's estimated, is recovered on the surface. In the past, some drilling companies have brought that wastewater to area water-treatment plants, which -- unequipped to treat the briny mix -- simply diluted it before dumping it into waterways. This was legal, but the wastewater was considered to be one cause in the high level of "total dissolved solids" found in the Monongahela River last fall. (Other TDS sources include acid mine drainage.)
And critics wonder whether knocking new fissures in the rock will permit gasses or liquids to migrate upward into water supplies. In drilling areas from Pennsylvania to Wyoming, residents have complained of foul-smelling, bad-tasting water. According to published 2008 reports by Abrahm Lustgarten, of nonprofit news service ProPublica, investigators have found high levels of methane -- the principal component of natural gas -- and other substances in groundwater.
The gas industry contends that the well shaft's sheathing is enough protection from contamination. But because water is not routinely tested before drilling begins, it's sometimes difficult to detect contamination. Not always, though: Last year, for instance, a TV-news camera recorded a Colorado woman in a drilling area lighting the water from her kitchen faucet on fire.
The gas industry often notes that a 2004 U.S. EPA study concluded that hydrofracturing was safe. That led to drilling's exemption from the federal Safe Drinking Water Act. In 2005, the oil and gas industry received further exemptions under the federal Energy Policy Act. The act was crafted under the guidance of Vice President Dick Cheney, a former CEO of Halliburton --which pioneered deep-well fracking.
But Lustgarten's articles questioned the EPA study, partly because of documented negotiations between Halliburton and the EPA over its conclusions, and partly because the very same report showed that hazardous fluids can migrate through sediment.
Researchers like Conrad Dan Volz, of the University of Pittsburgh's Center for Healthy Environments and Communities, also worry that we don't know exactly what's in the wastewater, or in what amounts. The companies won't hand it over for testing.
Volz also notes that even seemingly benign compounds in frack water are increasingly believed to cause reproductive damage to fish. And what, he wonders, about the plastic-lined open pits where wastewater is often stored on drilling sites? How stable are those? "I'm concerned about the whole process," he says.
Pressure Regulators
With the state DEP in the regulatory driver's seat, a recent policy change on stormwater permitting also worries environmentalists. Drilling operations larger than five acres are required to say how they'll manage erosion, sediment and stormwater, which can contaminate local streams and wetlands. Starting April 1, the DEP provided a "streamlining" option on such plans: If an engineer or other qualified professional signs off on a plan, it is now subject only to administrative review by the DEP -- to ensure that the proper forms are completed -- and not a more thorough technical review by the agency.
Responding to questions about permitting changes, a written statement issued by DEP spokesperson Teresa Candori says that such a change was merely proposed. But later in the same statement, DEP acknowledges having already instituted an "expedited review process" and other changes. And Steve Rupert, Range Resources' vice president of regulatory and government affairs, confirms that new permitting policies allow for approval by an engineer hired by the drilling company in lieu of technical review by the DEP.
The new policy "limits public review ... and quite frankly the department's ability to review what's going on," says Emily Collins, a supervising attorney in the University of Pittsburgh School of Law Environmental Law Clinic.
"The department is basically instituting a self-permitting type of process," says Matt Royer, a staff attorney with the Philadelphia office of the nonprofit Chesapeake Bay Foundation.
Rupert says the process is reliable because engineers who sign off on the plans are "putting their license on the line."
Royer and representatives of nearly three dozen other environmental groups signed a March 31 letter to Hanger complaining about the changes. The letter called the shifts "illegal, irresponsible, and a violation of DEP's public duties," and faulted the agency for not providing public notice about them. Environmentalists also say they've been largely excluded from developing new gas policies.
The DEP didn't even notify its own state-chartered oversight group, the Citizens Advisory Council, whose 18 volunteer members are appointed by the governor and state legislators. "This is a very controversial issue," says CAC executive director Susan Wilson. "We would have hoped we would have gotten more upfront information."
Instead, environmentalists have been marginalized, with little opportunity to discuss concerns like protecting ecologically sensitive areas. A task force convened in January to address wastewater pollution, for example, included representatives of DEP and industry, but none from environmental groups. (The Pennsylvania Campaign for Clean Water, an umbrella group, has met twice with Hanger on Marcellus issues, most recently on April 13.)
Some contend the drilling industry was already underregulated: Sites less than five acres, for instance, are exempt under federal law from stormwater-permitting requirements -- even though those requirements apply to residential and commercial construction sites of the same size.
"There could be a 4.9 acre [gas-drilling] project that is particularly harmful, but it's not going to be subject to public scrutiny," notes Collins. And in fact, gas companies often keep drilling sites just under the 5-acre limit.
In recent months, the state has addressed some environmental concerns. Firms must document their plans for securing frack water. And following reports of wastewater discharges into drinking-water sources, the DEP now requires the wastewater to be taken to licensed treatment facilities. Moreover, permitting fees were raised for the first time in 25 years, with the additional revenue used to hire 37 new DEP gas-and-oil staffers.
But environmental groups point out that much of the new staff's time will be consumed simply handling new permits -- especially with the conservation districts removed from the picture. And a new DEP proposal for regulating wastewater will allow wastewater discharges to continue until new studies suggest tighter limits -- limits that wouldn't be enforced until 2011.
Critics are also skeptical of promises that gas drilling offers long-term prosperity. They note Appalachia's coal history, which left mining regions impoverished while the profits accrued elsewhere. Meanwhile, drilling could harm other parts of the economy -- for instance by damaging popular trout streams. With contaminated waterways, "Who will come here?" asks Stephanie Simmons, a wastewater consultant and Sierra Club Allegheny Group activist. "What industry can? What recreation enthusiast could?"
Activists note that other states have done more to limit drilling, or to slow it pending further study. Colorado, a drilling hotbed, recently required additional disclosure on fracking chemicals and better protection for wildlife. In New York, Gov. David Paterson instituted a moratorium on drilling in the Upper Delaware basin, which supplies New York City's drinking water.
Industry has protested that overregulation will send drilling elsewhere. And as Hanger told Reuters in March, about fears of water contamination, "We have processes that go on in our lives all the time that involve these chemicals, and we run a certain amount of risk because of the benefits."
But "[t]he gas has been here for 400 million years," says Deb Simko, the watershed consultant. "You've got time to take it out of the ground."
Is Natural Gas "Clean"?
Natural gas generates 22 percent of U.S. electricity (about the same as nuclear energy, less than half as much as coal). Most of the rest heats homes and businesses, or is used by industry. Natural gas also serves as feedstock for fertilizer, pharmaceuticals and plastics; byproducts of gas drilling include propane and butane.
Because the U.S. is nearly self-sufficient in natural gas, the fuel is often seen as an alternative to foreign oil. And marketers have long called it "clean-burning." Is it?
Natural gas is mostly methane, a greenhouse gas that is 20 times more potent than carbon dioxide at trapping heat on earth. But in gas drilling, methane is released into the atmosphere only during leaks or other accidents. And indeed its emissions of such pollutants as soot, nitrous oxide and sulfur dioxide are negligible, especially when compared to coal.
But burning natural gas releases carbon dioxide. So in global-warming terms, natural gas is "clean" only relative to other fossil fuels: It releases half as much CO2 as coal, and 23 percent less than oil. And while it would be hard to outdo, say, coal's legacy of mine disasters, subsidence and acid mine drainage, scientists and environmental advocates largely agree that the only way to achieve a sustainable economy is to break our dependence on fossil fuels.