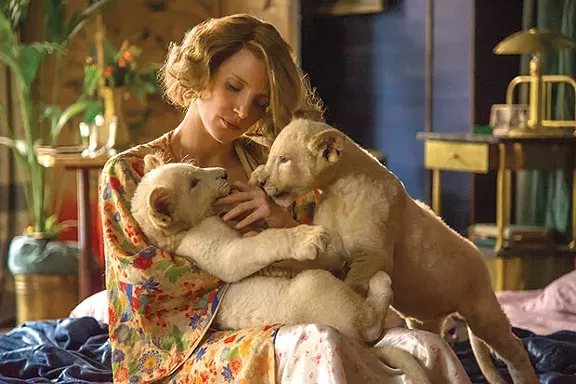 The extraordinary efforts of ordinary people during terrible times form the basis of The Zookeeper's Wife, an adaptation of the best-selling book by Diane Ackerman, directed by Niki Caro (Whale Rider, North Country).
The backdrop for this based-on-real-life story is World War II and, in particular, the Holocaust. In Warsaw, Poland, husband and wife Jan and Antonina Zabinski run a well-established zoo, while living in a sprawling house on site. Then comes the German invasion, and things turn dire, particularly for the city's Jewish population.
At the zoo, most of the animals are killed, and the facility is put under the control of Lutz Heck (Daniel Bruhl), a.k.a."Hitler's zoologist." He immediately has an American bald eagle shot, mounted and installed in his office; he also starts a breeding program for an extinct German buffalo. Antonina (Jessica Chastain), for whom Heck has an affinity, works to appear accommodating to the new regime. Jan (Johan Heldenbergh) makes delivery trips to the Jewish ghetto, returning with residents hidden in his truck, who are then given shelter on the zoo grounds.
Caro's film is an effective piece of war-based melodrama (I'd have jettisoned Chastain's "Polish" accent), even as it treads familiar ground. There are smaller moments of tension, but it's no spoiler to say that the larger outcome is not in doubt. The actors play it low key, and Heldenbergh is especially good as the soulful zookeeper who seems as much crushed as he is heartened by his heroic efforts. Starts Fri., March 31