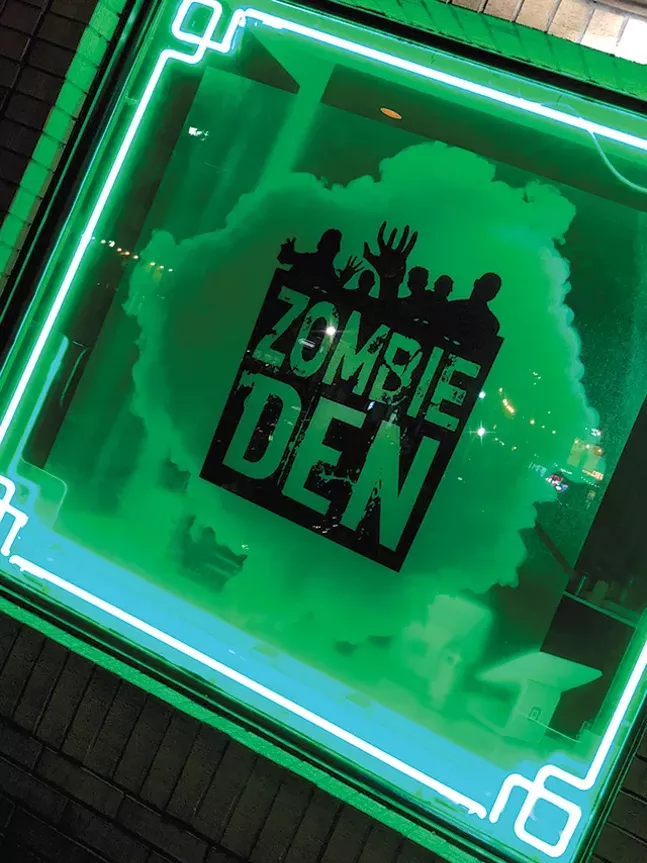 The Zombie Den: Bar of the Living Dead was brought to life by the masters behind the popular ScareHouse in Etna, who teamed up with The Original Oyster House and the Pittsburgh Downtown Partnership. It pays homage to the Night of the Living Dead, filmed in the Pittsburgh area 50 years ago. The press release states patrons "will enter a bunker-like environment designed to be a 'safe house' during a vicious zombie outbreak in Pittsburgh" and "guests will encounter a band of survivors who staff the bar while serving up potent cocktails." The Zombie Den is located within The Original Oyster House. Chefs Michael McCoy and Brian Laing (formerly of Sienna Mercato), created the cocktail menu.
I entered The Zombie Den knowing nothing about the bar, except where it was and that ScareHouse was involved. I'm not big on haunted houses and was dreading the idea of people jumping out to scare me while I'm enjoying a beverage. Luckily, the night that I visited nothing of the sort happened.
Upon entering, guests are immediately greeted by a smoky, fog-filled atmosphere. A dead-looking woman strapped to a table is visible through the front window. It looks like a prop from a movie set, very cool and very realistic.
Located in the back was the kitchen. Guests order at what looks like a counter from an old-school diner. While the food menu looked enticing, I was only there for the booze.
The cocktail menu was on a burnt-up piece of paper and featured a little something for everyone. All the specialty cocktails were served in a plastic souvenir "Zombie Den" cup with a zombie head on a pick sticking out. They also served beer, wine, and test-tube shots.
The standout was "Noche De Los Muertos," a tequila-based cocktail with mango habanero whiskey, apple spice, soda, and a mezcal mist. It was smooth going down but had a bite at the end from the habanero. The perfect balance of sweet and spicy.
Another favorite was, "A Sure Way To Kill 'Em," a bourbon-based drink with amaretto, pumpkin spice, and an egg (totally not what I thought it was going to be). This had the depth from the bourbon but so much pumpkin spice that it tasted almost like an autumn-inspired White Russian.
Open Wed.-Sun. in October. 20 Market Square, Downtown. scarehouse.com/about/zombie-den

click to tweet
The flickering neon lights, the mismatched tables, the dense fog, the vintage Pepsi cooler behind the bar, and the old school menu board at the food counter all created a place that really did have that, "dive bar scene from a zombie movie" feel to it. Except this dive bar and its zombie fighting staff were ready to serve up delicious cocktails and mouthwatering eats. A perfect way to spend a night out this Halloween season.