My top 5 albums of 2015
(Not including Kendrick Lamar's To Pimp a Butterfly, because that's too obvious)

5. Deeper Than Before — Fields and Planes
This Columbus quintet is another indication of how much Ohio's capital city is dominating Midwest music culture. Clever lyrics abound and the melodies are top-notch. Deeper than Before is the best thing to happen to indie-pop since the ukulele.
4. Dying Surfer Meets His Maker — All Them Witches
All Them Witches dropped, perhaps, the best debut of the year. Dying Surfer, a bluesy, psychedelic guitar-rock album, with obvious nods to Zeppelin, is more homage than plagiarism. It manages to be heavy and sentimental at the same time and straight up rocks.
3. Black Liberation Theology — Jasiri X
The Pittsburgh based rapper/activist gave us a powerful collection of black experiences and a springboard from which to transcend America's institutional racism. Jasiri X's bio reads, "freeing minds one rhyme at time" and Black Liberation Theology, with its dynamic production and skillful flow is certainly capable of achieving such a goal.
2. Sermon on the Rocks — Josh Ritter
Josh Ritter is one of best songwriters in the game and Sermon on the Rocks is his best offering to date. Full of words, Ritter offers an apocalyptic yet hopeful message with an infectious delivery.
1. Golden Ticket — Golden Rules
U.K. producer Paul White and Florida native Eric Biddines team up to give us Golden Ticket, a hip-hop/soul fusion with smooth Southern delivery. This album is high art.
— Seth Pfannenschmidt
Biggest Tools in Music of 2015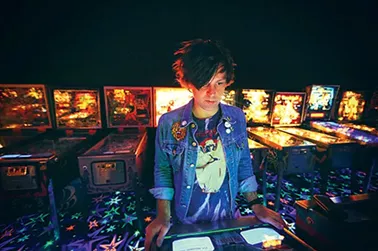 Ryan Adams for mansplaining Taylor Swift's 1989
Producer Dr. Luke for his rape and abuse of Kesha
Sun Kil Moon's Mark Kozelek for his harassment of journalist Laura Snapes
— Caralyn Green
Best Pittsburgh Bands of 2015
Dendritic Arbor — Sadly, the band recently broke up, but its full-length Romantic Love is the year's best metal album.
Come Holy Spirit — The best live band in Pittsburgh?
Radon Chong — These experimental weirdoes may not be for everyone, but no one else in town is doing anything like this.
Dream Phone — This retro super group has become one of Pittsburgh's biggest draws.
Night Vapor — What the world needs now is a Pittsburgh-centric music mockumentary called Being John Roman.

— Andrew Woehrel
Tough decisions of 2015
Or, four times when there were two good concerts on the same night and, while I don't regret the one I went to, I probably would have enjoyed the other show more:
April 2: When I chose Delicate Steve at the Thunderbird over alt-j at the Benedum.
June 7: When I watched Alvvays at Arts Fest instead of Wire at Mr. Small's.
Sept. 3: When I caught Swervedriver at Club Café instead of Tal National at the Thunderbird.
Sept. 25: When I saw Ghost at Stage AE instead of Television at the Carnegie Music Hall in Oakland.

— Brian Conway