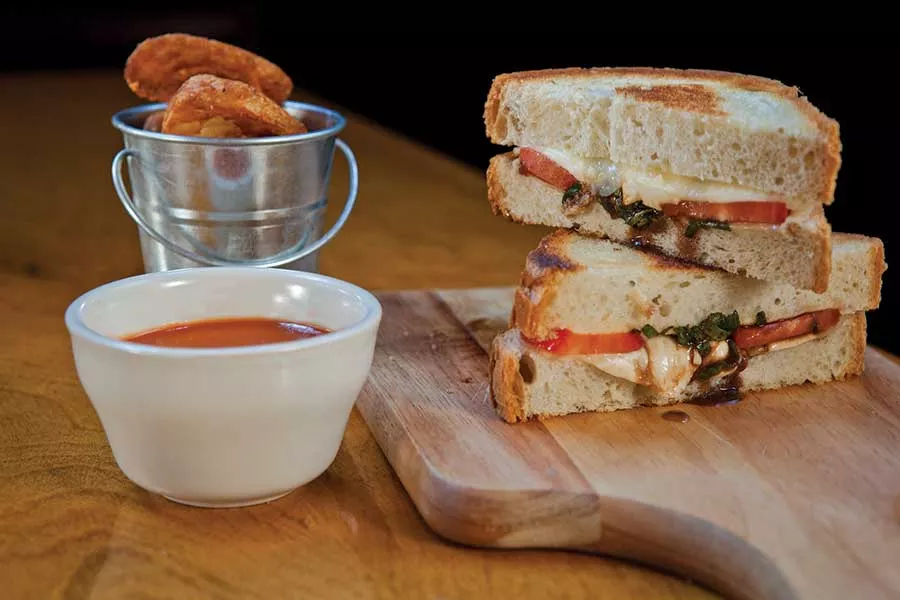 The gastropub concept — a menu of upscaled pub grub to accompany a curated selection of microbrews on draft — is relatively recent, but its coincidence with the foodie revolution has created a juggernaut in the casual-dining market. Indeed, the field has become so crowded that merely designating potatoes as "hand-cut" and replacing American cheese with sheep's-milk Fontina is no longer enough. For a new gastropub to stand out, it needs, if not a gimmick, at least an angle.
The Yard in Shadyside clearly understands this, positioning itself as Pittsburgh's go-to for grilled-cheese sandwiches. So simple, yet so susceptible to the salutary effects of more and better ingredients, grilled cheese is such a perfect candidate for the Cinderella treatment, we're surprised it hasn't happened sooner.
At The Yard, this starts with Texas-toast-thick slabs of excellent bread from local Allegro Hearth bakery. At least a dozen kinds of cheese and many more filling combinations vie for your palate, including eggs, sausage, crabmeat, several varieties of bacon and, because this is Pittsburgh, even pierogies, fries and pasta. The sandwich with the fewest fillings (the "simple Jack") has three, while most average four or five and few top out at six. A few combos aren't even especially cheese-forward, and one sandwich — a variation on another kid favorite, peanut butter and jelly — has no cheese at all.
We couldn't possibly try them all, so we sampled the one that most tickled our fancy on the night we visited — an intriguing yet comparatively straightforward setup of cheddar, fried green tomatoes, smoked hickory bacon, roasted red-pepper mayo and lettuce. The latter seemed like an unnecessary afterthought, since the tomatoes provided ample vegetal presence. They were not battered and fried, as traditional fried green tomatoes are, but rather softened and gently warmed in an oiled skillet; in the context of the sandwich, this worked fine, as it let the bacon and toast take on the role of textural resistance. All of the ingredients were of high quality and in satisfying proportion to one another, and a cup of tomato soup served alongside was a sweet, simple accompaniment. Our only quibble was that the sandwich was so thick, it was actually uncomfortable to eat.
On to bar food. A pound of medium-size wings retained some crispness beneath the sauce, a mild Buffalo that was full-flavored with a little bit of kick. The list of sauces wasn't overlong, but it covered all the bases, with jerk rub, garlic parmesan, honey sriracha and sweet Thai chili.
The Yard's poutine served as a reminder that trends lead to imitators. In this case, the curds that define poutine were supplanted by melted floes of "homemade beer cheese." To be clear, it was delicious, as was a deep, rich and slightly sweet gravy made with microbrewed stout, but it wasn't meaningfully poutine-like. However, the fries deserve their own mention. The Yard cuts them into broad spirals that, at their best, were light and crispy with lots of surface area for deep browning. However, the non-uniform shape led to uneven cooking and too much variation in quality.
Sliders come in two forms: pulled pork with spicy sriracha slaw, for which Jason can vouch from a prior visit, and traditional sliders made with a house blend of beef and topped with, among other things, house-made mayo. All too many sliders dry out and toughen, as the window for perfect cooking is, like the patties themselves, so small. But these were excellent, beefy and moist, and along with ripe plum tomatoes and brioche buns, made for a pretty convincing burger.
Instead of pizza, The Yard offers flatbread, shaped long and narrow. Prosciutto and diced shrimp, arrayed atop buffalo mozzarella, red onion and greens, were savory and sweet, but the best part may have been the crust, which was New York thin and seemed to be baked in an oiled pan or sheet, because the bottom was crisp and bubbly like a good Roman pizza, but lighter because it's thinner.
Finally, we tried pierogies and kielbasa, one of The Yard's five "supper" entrees. What could have been a mere sop to local tradition got as much love as everything else on the menu. The excellent pierogies, thin slices of kielbasa fried crisp, and caramelized onions studded with pork belly offered another complement to the sauerkraut, savory-sweet and soft against the bright crispness of the cabbage.
Though the bar is frequently packed with drinkers, you don't need a buzz on to enjoy a meal at The Yard.